Teac Belt-driven turntable with S-shaped tonearm-TN-400S-CH
Teac Belt-driven turntable with S-shaped tonearm-TN-400S-CH
Teac Belt-driven turntable with S-shaped tonearm-TN-400S-WA
Inspiring Analog Performance for the Digital World
Combining high style with high fidelity, TEAC's new TN-400S is the vinyl word in modern turntables. Featuring three-speed operation and an S-shaped tone arm the TN-400S weds cutting edge performance with a sleek, stylish design. Forged from TEAC's decades of innovation in audiophile analog and digital technology, the TN-400S combines an all new motor assembly, phono and line level outputs and integrated digital conversion to deliver a modern rendition of old-school cool. Give one a spin.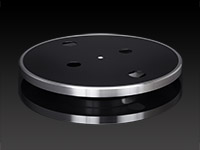 Precision belt-drive turntable
The TN-400S features a high-inertia aluminum die-cast platter driven by a high torque DC motor via a durable Neoprene® rubber belt, and a newly designed low-friction spindle machined from a stainless steel block, delivering precise speed consistency and tonal accuracy. The durable bronze spindle holder maintains high precision speed for long period of time.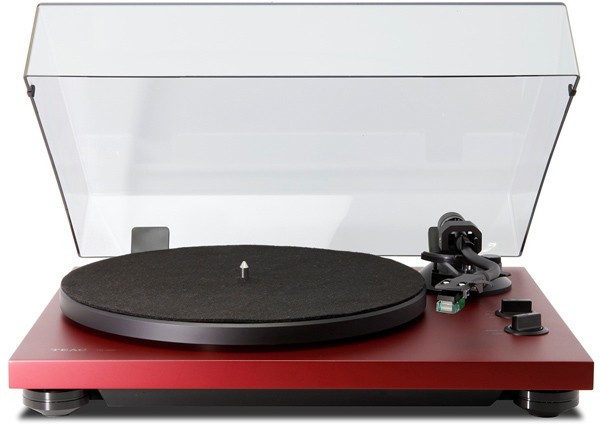 A powerful combination of form and function
The heavy MDF cabinet is designed to minimize unwanted resonance, while the sleek, matte finishes deliver a sophisticated and stylish accent to any design scheme.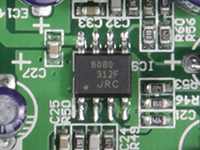 MM type cartridge phono equalizer amplifier
Enjoy your favorite vinyl with any amplifier. The TN-400s supports both phono and line level output, allowing you to play vinyl with or without a phono equalizer.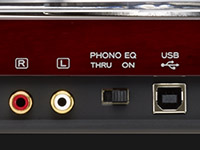 Built-in USB Digital Output and Analog Phono/Line Output
The Texas Instruments-made Analog to Digital converter allows you to transfer music via USB to your PC for easy archiving of your vinyl collection. In addition, a pair of gold-plated RCA connectors are employed for reliable, durable connections to your receiver's Line Level or Phono inputs.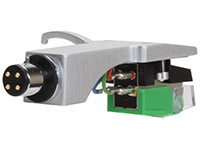 Corrosion resistant gold plated terminals
Gold-plated terminals on the head-shell connectors prevent oxidation of the head shell connectors and help to ensure years of reliable performance and to deliver stunning audio fidelity.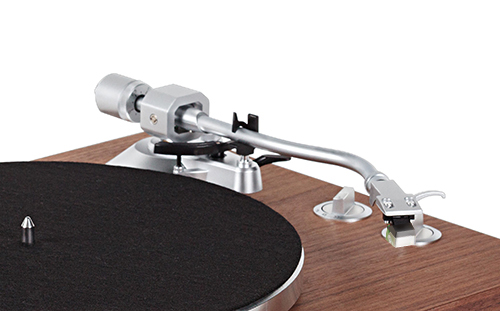 Static balanced S-shape tone arm
Static-balanced S-shape Tone-arm with Universal Head-shell ensures fast and easy setup and delivers excellent tracking
3-speed Turntable including 33-1/3, 45, and 78 RPM for LP/EP record playback
The TN-400S will play LPs, EPs, and singles at 33-1/3, 45 and 78 RPM. When combined with the high quality analog-to-digital conversion capabilities of the TN-400S, this powerful turntable is the ideal choice for enjoying - and archiving- your favorite music.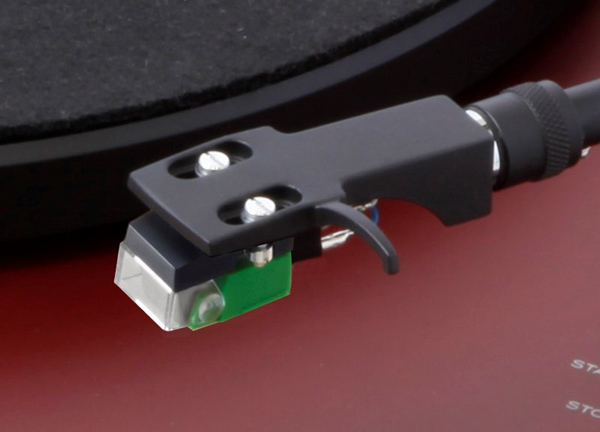 audio-technica AT100E MM(VM)type phonograph cartridge
The TN-400S comes with a replaceable audio-technica AT100E equivalent MM cartridge designed for highly accurate reading. As soon as you set up the TN-400S, you can enjoy the high quality sound with outstanding clarity and detail.
Feature List
Three-Speed Turntable plays all the hits – both old and new
Aluminum Die-cast Platter and upgraded motor assembly provide years of service and stability
Newly designed, low-friction spindle reduces platter drag, resulting in enhanced speed consistency and tonal accuracy
Integrated USB Port for Digital Output allows PC Recording for easy archiving
Anti-skating Mechanism stays in the groove so you can stay in the groove
Static-balanced S-shape Tone-arm with Universal Head-shell for improved tracking
Built-in Phono EQ Amplifier and Switchable Phono/Line Outputs ensures easy setup with any Amp or Receiver
High-density MDF Chassis dampens vibrations and delivers rock solid performance
Detachable Dust Cover enables you to customize the experience to fit your own personal style
Upgraded Audio-Technica AT100E equivalent MM equivalent cartridge for accurate and detailed sound reproduction
Available in Gloss BLack, Gloss Cherry, Natural Walnut and Matte Bordeaux finishes
Turntable section
Drive System
Belt Drive
Motor
DC Motor
Speed
33 1/3 RPM, 45 RPM, 78 RPM
Rotation Speed Variation
+/–2%
Wow and Flutter
0.2%
Signal-to-Noise Ratio
67dB or higher (A-weighted, 20kHz LPF)60dB or higher (unweighted, 20kHz LPF)
Platter
Aluminum Die-cast
Diameter of Platter
12", 30cm
Tonearm section
Type
Static Balanced, S-shaped
Effective Arm Length
8.8", 223mm
Stylus Pressure Range
0 to 5g
Supported Cartridge Weight
3.5 to 6.7g13.5 to 16.5g (including head shell)
Anti-skating Adjustment
Supported
Cartridge section
Type
MM type (audio-technica AT100E factory installed)
Stylus Shape
Joint-oval 0.3 x 0.7 mil
Stylus Construction
Bonded Round Shank
Mount
Half inch
Frequency Response
20Hz to 20kHz
Channel Separation
27dB at 1kHz
Output Balance
1.5dB
Needle Pressure
1.0 to 1.8g (approximate value 1.4g)
Vertical Tracking Angle
23 degrees
Supported Load Impedance
47k ohms
Output Voltage
4.5mV (1kHz, 5cm/sec.)
Cartridge Weight
6.5g
Replacement Stylus
audio-technica AT100E
Phono Equalizer Amplifier
Type of Amplifier
MM type (On/Thru switchable)
Analog Output
Connector
RCA Pin jack (Gold-plated)
Output Voltage
Phono/Line switchable
Phono Output
4.5mV (± 3dB)
Line Output
230mV (–13dBV)
USB Output section
Connector
USB B type
Output Signal
PCM 48kHz/16-bit
Supported OS
Windows 7Windows 8Windows 8.1Windows 10OS X Lion (10.7)OS X Mountain Lion (10.8)OS X Mavericks (10.9)OS X Yosemite (10.10)OS X El Capitan (10.11)macOS Sierra (10.12)
POWER
Power
AC 100 to 240V, 50/60Hz
Power Consumption
Power Consumption
1.5W (less than 0.5W at Standby)
Overall Dimensions(W x H x D)
Overall Dimensions(W x H x D)
16.5" x 4.6" x 14.0"420 x 117 x 356 mm
Weight
Weight
Approx. 10.8 lbs. 4.9 kg
Accessories
Accessories
Felt Mat, EP Adapter, Counter Weight, Head-shell (audio-technica AT100E equivalent installed), Turntable(Platter), Dust Cover, Dust Cover Hinges, RCA Audio Cable with GND wiring, AC Adapter (GPE053A-V120050-Z), Owner's Manual (including Warranty Card)