Definitive Technology Floorstanding Bipolar Tower Speaker with Built-In 12" Powered Subwoofer in Piano Black - DM80

Or as low as $283.63/month over 12 months. Apply Now

Definitive Technology Floorstanding Bipolar Tower Speaker with Built-In 12" Powered Subwoofer in Piano Black - DM80
DM80
$3,299.00
Literature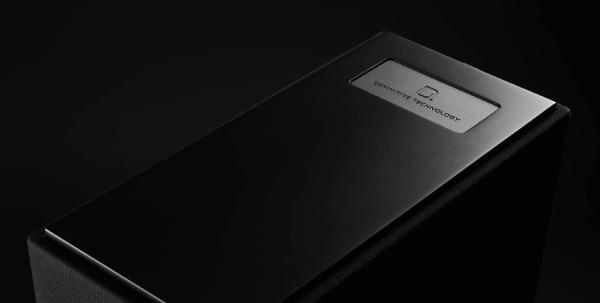 Dymension™ DM80 Flagship Tower Speaker
Expansive, Room-Filling Sound
Dymension™ DM80 tower speakers deliver dynamic, room-filling sound with extended bass by leveraging Definitive Technology's signature bipolar arrays, proprietary drivers, and integrated 12" subwoofer.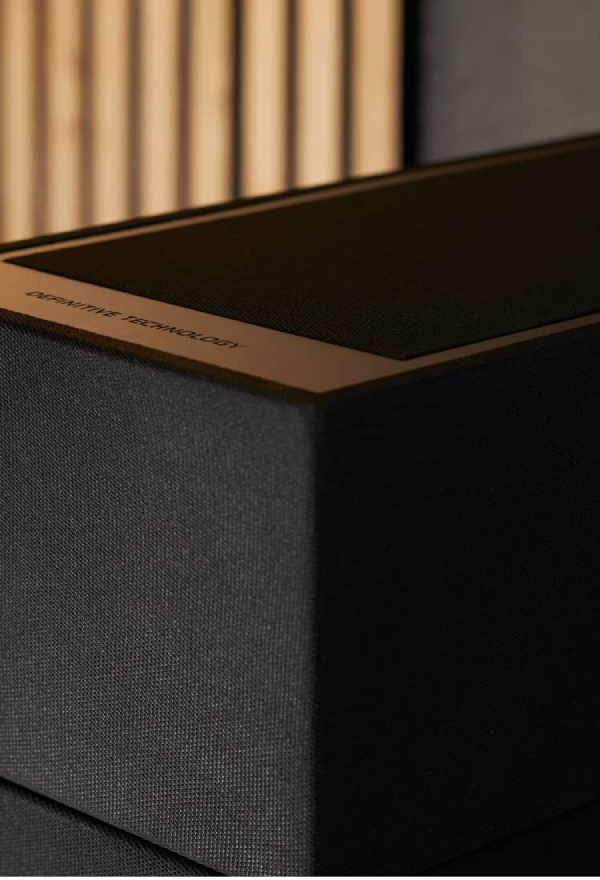 Shockingly Spacious Sound
A fully balanced, adjustable BDSS™ bipolar array fills the room with enveloping sound
Deep, Extended Bass
A newly designed 12" powered subwoofer is optimized with 3XR™ Architecture for thunderous bass
Crystal Clear Highs
An aluminum oxide tweeter delivers smooth, crisp, sparkling highs throughout the room
Spacious, Immersive Soundstage
Anatomy of an Iconic Speaker
The Dymension DM80 fills your home theater with dynamic, expansive sound. Crystal clear highs, incredible depth-of-field, and thunderous bass envelop you whether you're enjoying the latest blockbuster or your favorite songs. Innovations include aluminum oxide tweeters, an adjustable Balanced Double Surround System (BDSS) bipolar array, an integrated powered subwoofer with 3XR Architecture, and a cutting-edge GaN FET amplifier.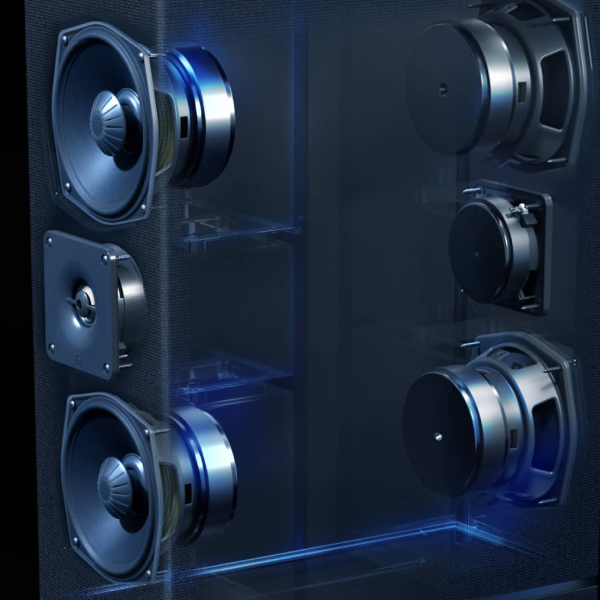 Fully Balanced, Adjustable Bipolar Array for a spacious, immersive soundstage
Bipolar driver arrays direct more sound in more directions than traditional speakers, for incredible depth-of-field and a truly enveloping listening experience. Adjustable to optimize for room placement.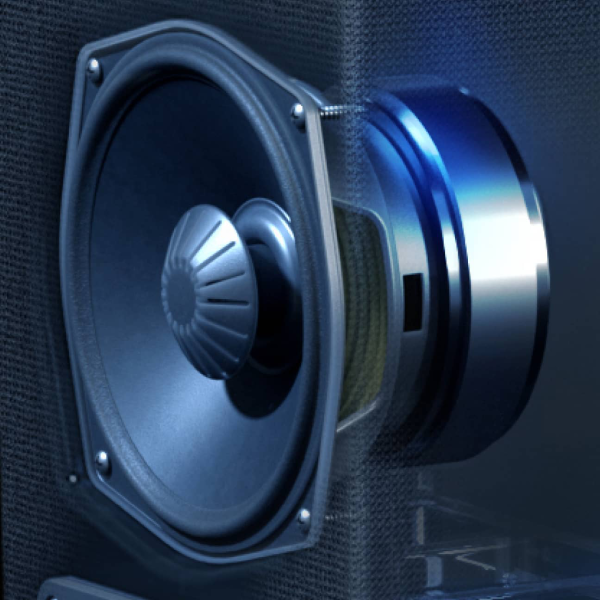 BDSS System and Linear Response Waveguide for smooth midrange and lifelike imaging
Our patented Balanced Double Surround System (BDSS) technology improves the midrange and provides a uniform soundstage with seamless bass and mid integration. A Linear Response Waveguide™ extends and smooths off-axis dispersion for great sound everywhere in the room.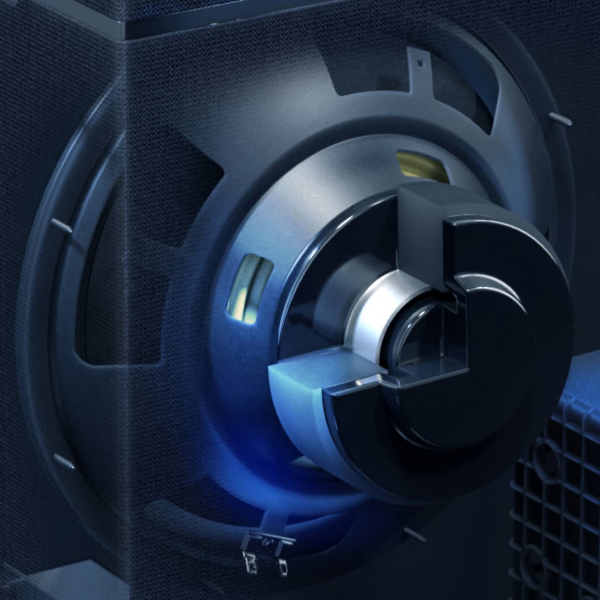 Built-In 12" Powered Subwoofer for thunderous bass
An integrated 12" subwoofer, powered by an all-new, high-performance GaN FET 400W amplifier, delivers clean, detailed bass that perfectly blends with mids and highs and feels consistent no matter where you sit.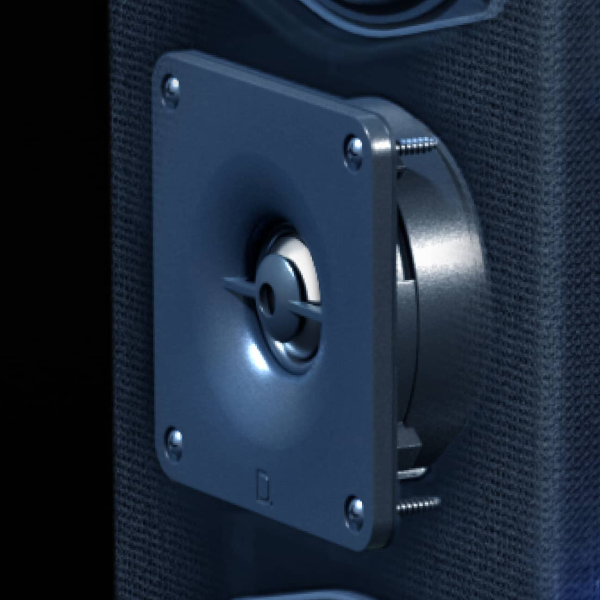 Aluminum Oxide Tweeters for crystal clear highs
New driver designs provide smooth extended response with crisp transients, exceptional definition, and pinpoint-precise imaging, for incredible clarity and lifelike realism.
3XR Architecture with Dual Passive Radiators for seamless, balanced bass
3XR Architecture combines a subwoofer and two passive radiators to produce huge, balanced bass that you can feel, with less distortion than traditional ported designs.
The Ultimate Atmos Experience for immersive sound that pulls you inside the action
Bring the thrills of the movie-theater experience home with stunning sound enveloping you from every angle, transporting you inside every scene and song.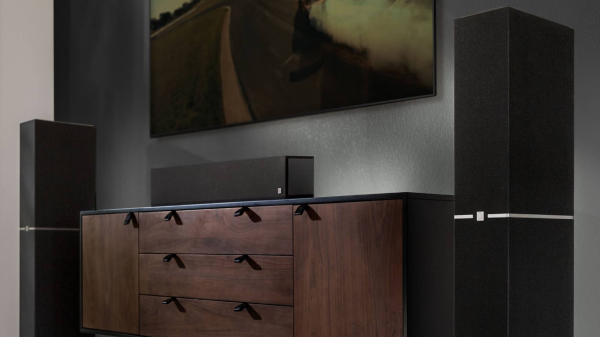 Movies
Cinematic Movie Magic
Get swept away by the action onscreen as you're enveloped in a deep, defined soundstage. From a whisper to a roar, experience it all in striking realism.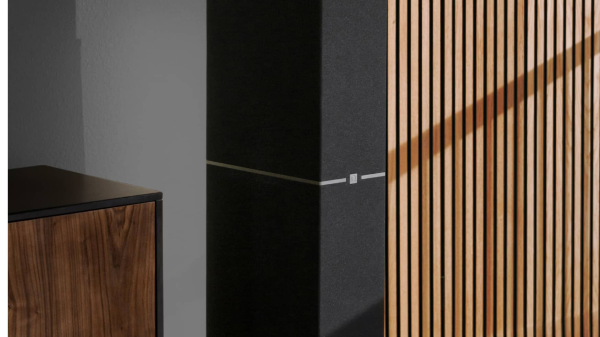 Music
A Concert in Your Living Room
Fully balanced bipolar arrays fill the entire room with enveloping sound. Your speakers seem to vanish as you hone in on every voice and pinpoint every instrument—just like being there live.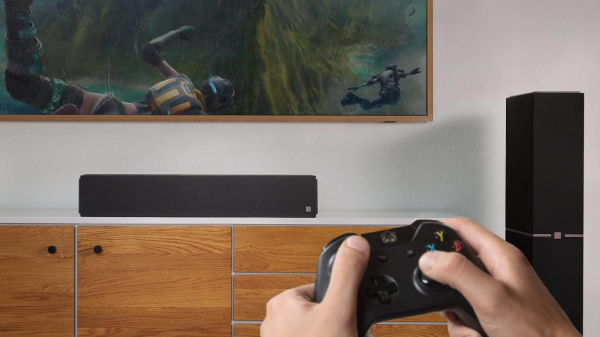 Games
Level Up Your Gaming Environment
Whether you're fighting evil or exploring new universes, unlock the ultimate experience when you hear sonic details in dazzling new dimensionality.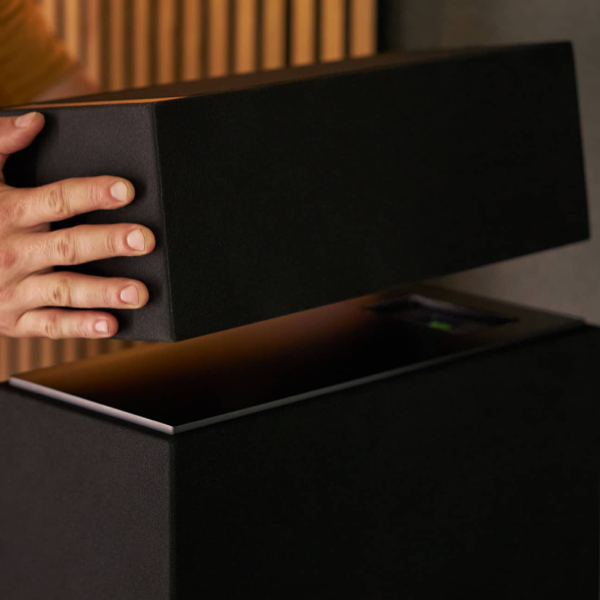 DM90 Integrated Height Module Option for unforgettable Atmos experiences
Available separately, a DM90 Atmos-certified and DTS:X-compatible height module connects to the top of the DM80 to extend sound above you for total sonic immersion and hyperrealistic overhead effects.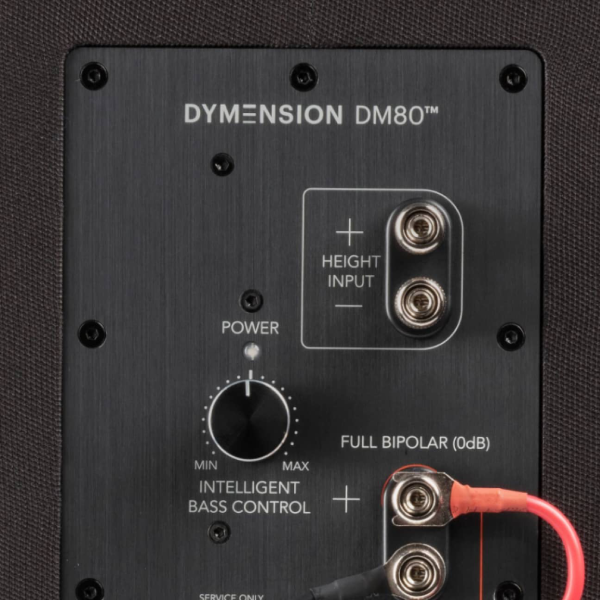 Patented Intelligent Bass Control for precise low-end tuning
With the DM80, bass will never get in the way of dialogue and other critical soundtrack elements. Sophisticated digital processing blends subwoofer output with mids and highs to provide powerful deep-bass performance without sacrificing midrange clarity.
Timbre-Matched for seamless Definitive Technology sound
Consistent sound across other Definitive Technology series gives you the flexibility to mix and match Dymension™ and all Definitive Technology in-wall and in-ceiling speakers to design your dream home theater and whole-home system.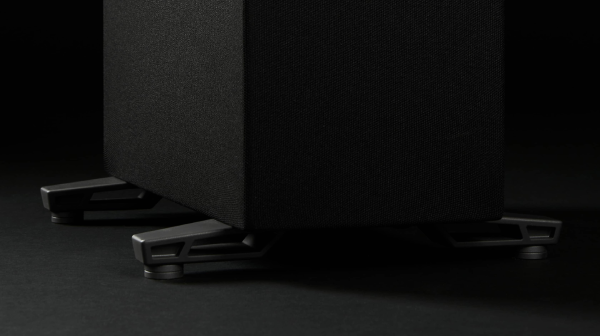 Stability and versatility for flexible placement
Included cabinet foot spikes and pads provide the ideal way to place and level DM80 speakers on virtually any floor surface, providing acoustic isolation and stability.
Specifications
Included Accessories
(4) Adjustable hard floor glides, (4) Adjustable carpet spikes
Warranty
2 years
Intelligent Bass Control
Variable +/ 12dB
Subwoofer Amplifier
500W (Peak) GaN FET
Recommended Amplifier Power Rating
50300W
Nominal Impedance
4Ω (8Ω compatible)
Sensitivity
90dB (2.83V/1m)
Frequency Response
23 Hz–30 kHz (10dB), 28 Hz–23 kHz (3dB)
Subwoofer System Driver Complement
(1) 12 in. subwoofer, (2) 12 in. passive radiators
Bipolar Array Adjustment
Fully bipolar (default), forward focus 6dB, variable via biamping
Bipolar Array
Fully balanced, adjustable
Midrange/Midbass
(4) 5.25 in. BDSS™ with Linear Response Waveguide™
Tweeter
(2) 1 in. aluminum oxide domes
Grille Material
Acoustically transparent black cloth (not removable)
Color
Black
Weight
83.1 lbs (37.7 kg)
Dimensions (H x W x D)
49.4 x 11.3 x 16.0 in. (1255 x 287 x 407 mm), 55.4 x 11.3 x 16.0 in. (1407 x 287 x 407 mm) w/ optional DM90 height module, sold separately