Panasonic Discreet Home Monitoring Camera with Ambient Light - KXHNC855

Or as low as $57.91/month over 6 months. Apply Now

Panasonic Discreet Home Monitoring Camera with Ambient Light - KXHNC855
KXHNC855
$329.99
Literature
Discreet Home Monitoring Camera with Ambient Light
The HomeHawk Floor Camera blends discreetly with your decor and is not easily identifiable as a camera.However, it can keep a reliable eye on your valuables with 1080p full HD quality, color night vision and 140-degree (diagonal) wide view.You can view from anywhere via your smartphone or tablet.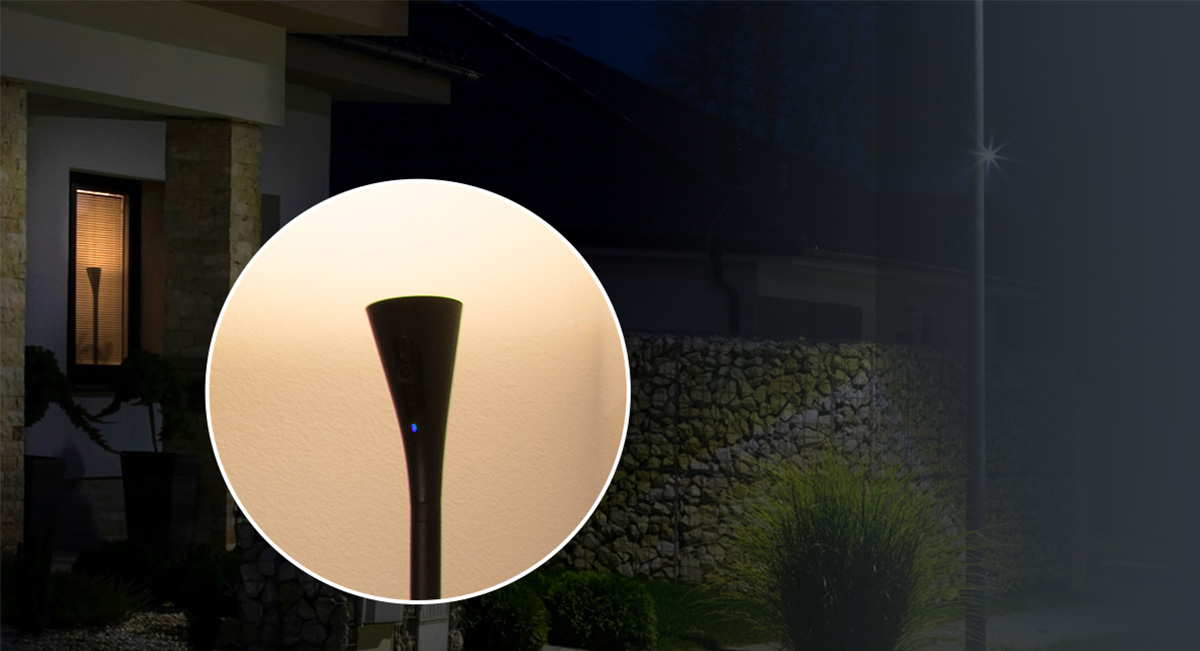 Protection even when you are away from home
This camera functions as a floor lamp.If anyone passes by the HomeHawk Floor camera, the light automatically turns on.It can also control indoor lighting, switching it on and off at anytime or according to a preset schedule and anywhere, via your smartphone or tablet. While you're away on a trip, you can make it seem like someone is home, helping to deter burglars from entering.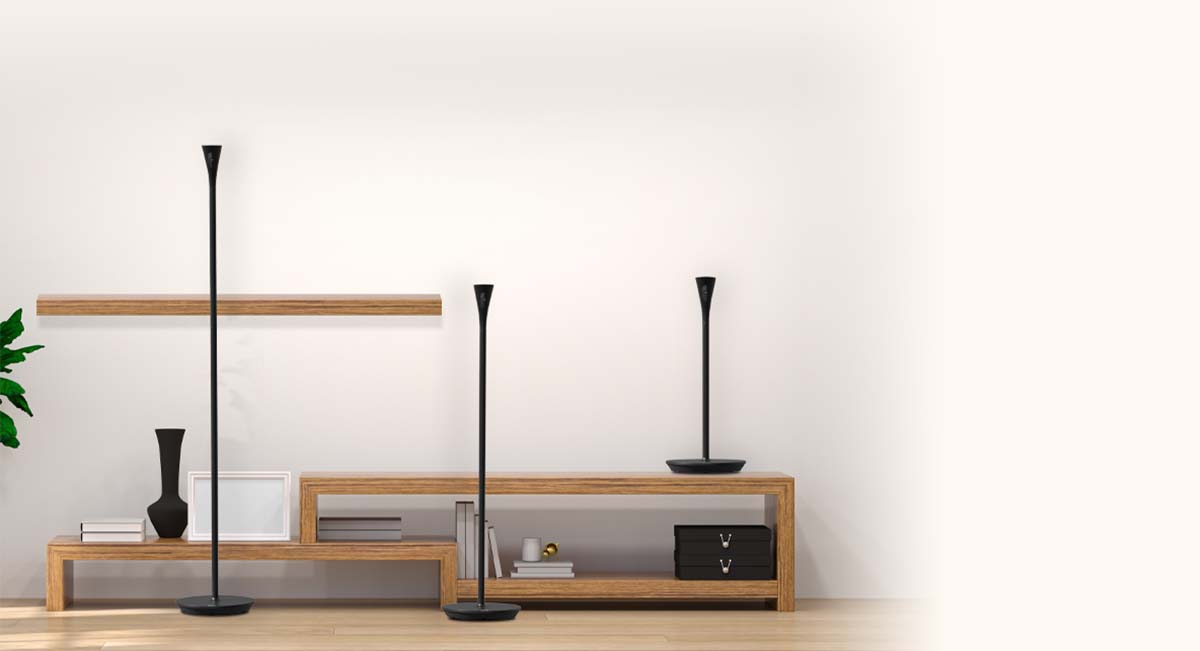 Easy setup with 3 height options
No tools required. Just place the camera in the perfect location on the floor or shelf and plug into the nearest available outlet. No drilling, cutting, or mounting required.The Panasonic HomeHawk Floor camera includes three 60 cm (2 feet) pole sections to customize the height to your individual preference.
No Contracts, No Fees
Because this camera records and stores video data on a microSD card, there's never an outside service contract to sign, no monthly fees to pay and no cloud or other fees for recording or storing video data.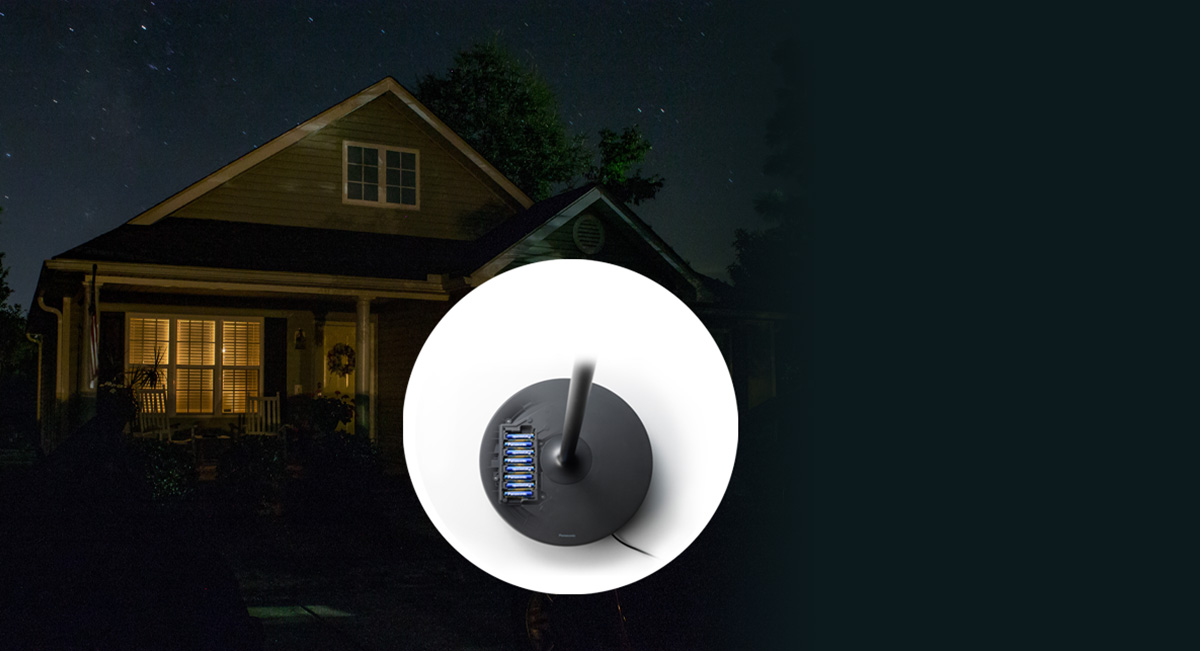 Works during Blackout
In the event of a power outage, the camera will keep on recording and keep the LED light on*1, thanks to the AA alkaline batteries*2. Video is stored on the internal microSD card*2.*1 During battery operations' LED brightness can only be set to the low setting.*2 Not supplied.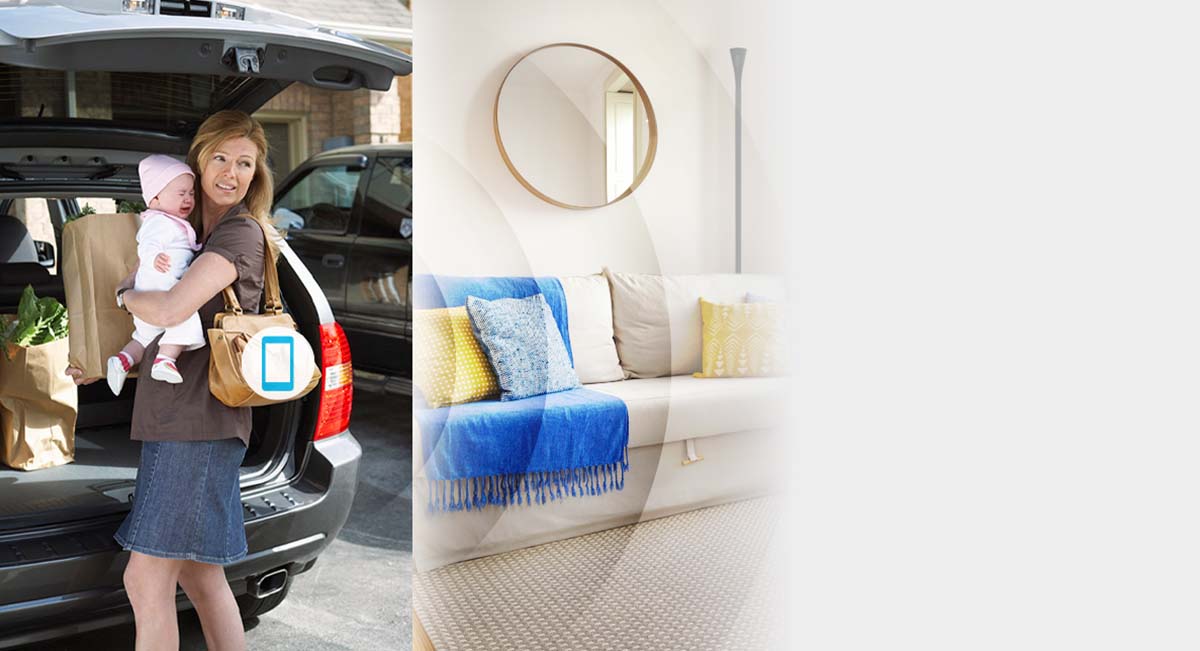 Automatic Camera and Light Control
With Geo-fencing*, you can set your HomeHawk Floor Camera to adjust its settings when you are nearby the preset area, using the GPS in your mobile device.For example, when you return home, you can have the light turn on, turn on privacy mode or turn off push notifications automatically.* Geo-fence is the generic name for functions that behave according to the position of a smartphone or other device based on your preset distance.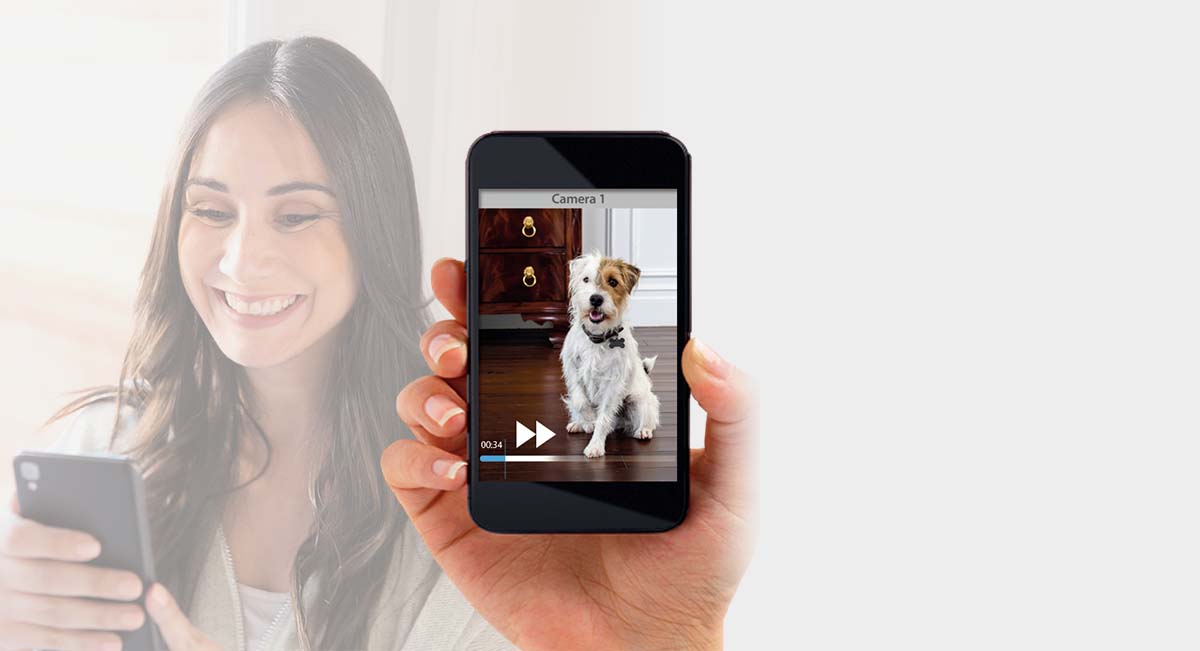 Easy preview to save time
No more reviewing hours of recorded clips. The Rapid Playback feature lets you preview your recordings in fast-motion to save valuable time.*This screen image on HomeHawk application is simulated.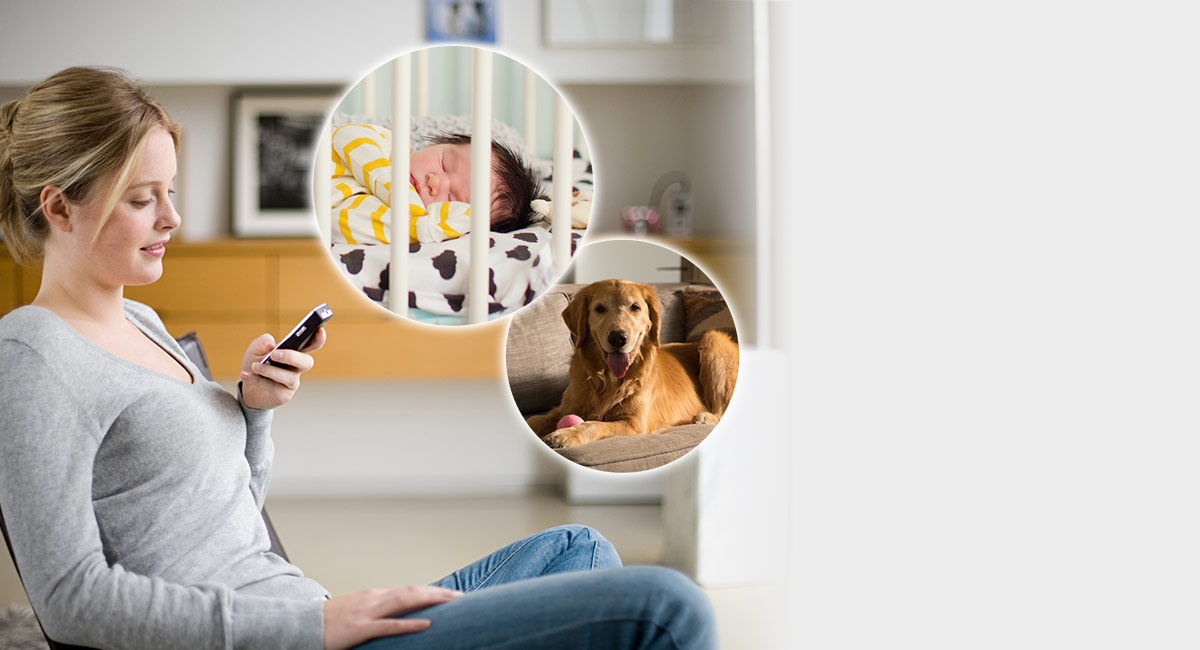 Keep an eye on your loved ones and enjoy peace of mind
This is ideal for baby monitoring and pet monitoring.When activated, motion and sound detectors in the camera send an alert to your smartphone or tablet.You can view your baby or pet at anytime, even at night with color night vision, so you'll always have peace of mind. Privacy can be assured with "privacy mode".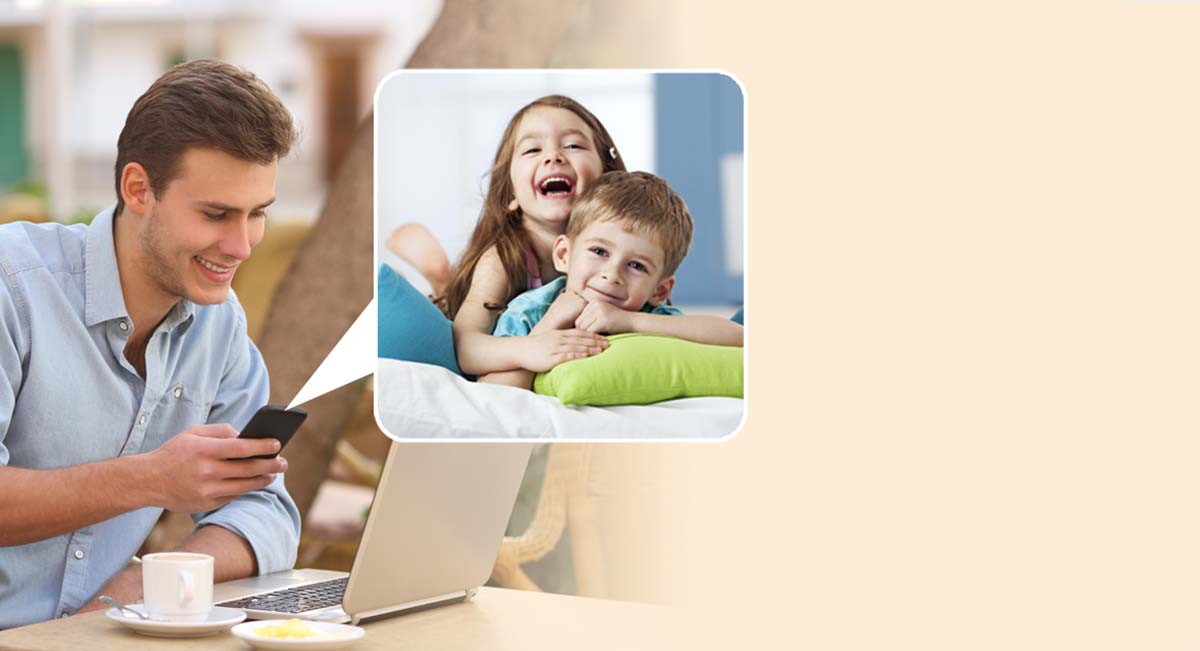 Communicate with kids while you are away
The camera features an optimized microphone and speaker for clear 2-way communication, so you can speak to family, pets, or intruders.
Camera Angle
Diagonal
Approx. 140°
Video Compression
Video Compression
H.264
Image Sensor
Image Sensor
2.0 megapixel CMOS
Camera Resolution
Camera Resolution
1920 x 1080 pixels (Full HD), 1280 x 720 pixels (HD), 640 x 480 pixels (VGA)
Max Frame Rate
Max Frame Rate
Up to 30 fps
Focal length
Focal length
Fixed (0.2 m (8 inches) - infinity)
Color
Color
Black
Wireless Network
Standards
IEEE 802.11 a/ b/ g/ n
Frequency Range
2.412 GHz – 2.462 GHz5.180 GHz – 5.320 GHz5.500 GHz – 5.600 GHz5.650 GHz – 5.700 GHz5.745 GHz – 5.825 GHz
Encryption
WPA2-PSK (TKIP/ AES), WPA-PSK (TKIP/ AES), WEP (128/ 64 bit)
Number of Cameras per Mobile Device
Number of Cameras per Mobile Device
Up to 32 cameras
Number of Mobile Devices per HD Camera
Number of Mobile Devices per HD Camera
Up to 8 mobile devices
Simultaneous Access
Simultaneous Access
Up to 4 devices *¹
Camera Angle
Horizontal
Approx. 118°
Vertical
Approx. 63°
Wide Dynamic Range
Wide Dynamic Range
-
High Dynamic Range
High Dynamic Range
-
IR Cut
IR Cut
Yes
Minimum Illumination required
Minimum Illumination required
0 lx *²
Recording Time
Recording Time
4 GB card: 4 hours8 GB card: 9 hours16 GB card: 18 hours32 GB card: 36 hours64 GB card: 72 hours128 GB card: 145 hours*³, *⁴, *⁵, *⁶
Pre-Recording
Pre-Recording
Yes *⁷
Monochrome Night Vision [Range]
Monochrome Night Vision [Range]
Yes [Approx. 5 m (16 feet 4 27/32 inches)]
Color Night Vision [Range]
Color Night Vision [Range]
Yes [Appprox. 3 m (9 feet 10 7/64 inches)]
Sensor
Sensor
Visual sensor (for motion detection)Temperature sensorSound sensorIlluminance sensor
Selectable Area Detection
Selectable Area Detection
Yes
SPEAKER
Speaker
Yes
Microphone
Microphone
Yes
2 Way audio with SP and MIC
2 Way audio with SP and MIC
Yes
Playing a Lullaby
Playing a Lullaby
-
Smart Ambient Light
Smart Ambient Light
Up to 600 lumens with 2700K LEDs
Dimmable Button
Dimmable Button
Yes (High, Medium, Low and Off )
Privacy Mode
Privacy Mode
Yes
Status Indication
Status Indication
LED (Blue/ Green/ Red/ Yellow/ White)
Setup Button
Setup Button
Yes
microSD Card Slot
microSD Card Slot
Yes
Wall Mountable
Wall Mountable
-
Adjustable Mounting Angles
Horizontal
-
Vertical
-
Compatible with Amazon Alexa
Compatible with Amazon Alexa
Yes (Live monitoring, Light on/off/dimmer, Check temperature, Privacy mode on/off)
Compatible with Google Assistant
Compatible with Google Assistant
Yes (Live monitoring, Light on/off/dimmer, Check temperature, Privacy mode on/off, Home/Away mode)
POWER SOURCE
Power Source
120 V AC, 60 Hz
Backup Battery for power outage
Backup Battery for power outage
Yes (AA Alkaline Battery x 8) *8
Operating Conditions
Operating Conditions
0 °C – 40 °C (32 °F – 104°F)20% - 80% relative air humidity (dry)
Power Consumption
Standby
4.2 W
Maximum
12.5 W
Dimensions/ Weight
Camera Dimensions (H x W x D)
3 poles: Approx. 1,800 mm x 306 mm x 306 mm(5 feet 10 7/8 inches x 12 1/32 inches x 12 1/32 inches)2 poles: Approx. 1,275 mm x 306 mm x 306 mm(4 feet 2 3/16 inches x 12 1/32 inches x 12 1/32 inches)1 pole: Approx. 750 mm x 306 mm x 306 mm(2 feet 5 1/2 inches x 12 1/32 inches x 12 1/32 inches)
Power Cord Length
Approx. 1.8 m (5 feet 10 7/8 inches)
Weight
3 poles: Approx. 4,100 g (9.04 lb)2 poles: Approx. 3,650 g (8.05 lb)1 pole: Approx. 3,200 g (7.05 lb)
Note
Note
*1 4 mobile devices (at home), or 2 mobile devices (at home) + 2 mobile device (away from home), or 1 mobile device (at home) + 2 mobile devices (away from home).*2 The infrared LEDs that surround the camera lens will illuminate in low-light conditions.*3 When Camera Resolution is set to "HD (1280 x 720)" and Frame Rate is set "25 fps".*4 Recorded files will be stored via the microSD/ microSDHC/ microSDXC card.*5 All times are approximate.*6 Maximum continuous recording time is 15 minutes.*7 Imaging actually begins two seconds before the camera's motion sensor activates the recording process.*8 AA Batteries are not included