Sony Media Receiver With Bluetooth - XAVAX8000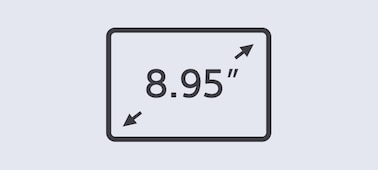 Oversized touchscreen offers everything at a glance
Whether you are getting directions, looking for a song on your smartphone or customizing your sound, the oversized 22.7-cm (8.95") anti-glare touchscreen makes everything easy to see at a glance for safer use on the road.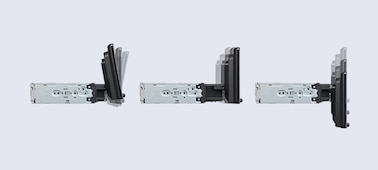 Three-way adjustable mount
A sturdy and adjustable mount works in three directions. With flexible installation options, it can be installed in a variety of vehicles.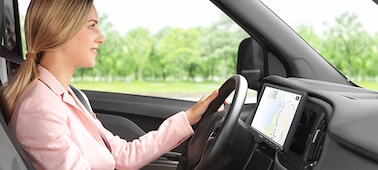 Smarter driving with intelligent voice control
Connect your smartphone to the XAV-AX8000 media receiver and speak through the supplied microphone. Voice control makes it safer and easier than ever to navigate, communicate and play music on the road.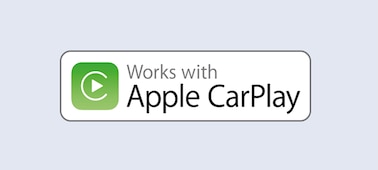 Siri with Apple CarPlay
Easily access the iPhone features you know and love, just by talking to Siri. Music, maps, phone calls and messages are all under your control.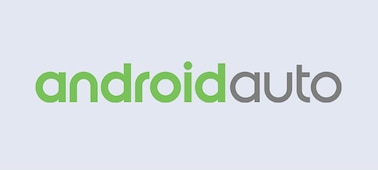 Voice Control with Android Auto
Use voice commands to dictate messages, take phone calls or get help from Google Maps. You can even control music playback, just by talking.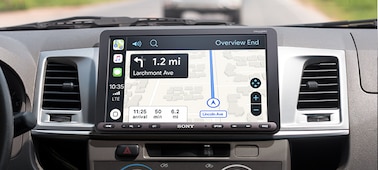 Navigating with Apple CarPlay
Tell Siri where you're going and it will give you real-time directions as you drive.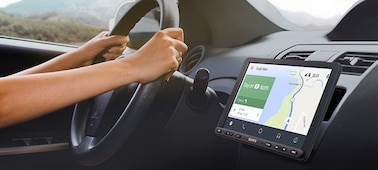 Navigating with Android Auto
Use Google Maps to get directions and traffic updates whenever you need them.
WebLink Cast compatible
WebLink is a lightweight app delivery platform designed especially for in-vehicle use. Using the Android or iOS device connection, it is now possible to mirror your smartphone screen right on the XAV-AX8000 display—for reliable, responsive infotainment anytime on the road.
Hear music your way
Multiple customization options let you adapt the audio experience to your liking. And with the built-in 4 x 55 W amplification, music sounds clear even at high volumes.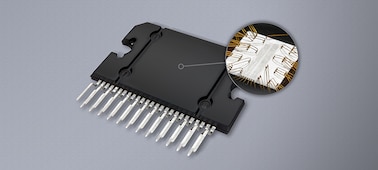 Powerful, clear amplification with Dynamic Reality Amp 2
Advanced signal processing from the 4 x 55 W Dynamic Reality Amp 2 removes interference, so music sounds clear and detailed. Even when you crank up the volume.
Music that jumps from your dashboard
Sound waves are directional, so if your speakers are in your doors or under your dash, the audio may seem muddy or unclear. Dynamic Stage Organiser adjusts the signal, improving the stereo positioning so music sounds like it's coming from the dashboard.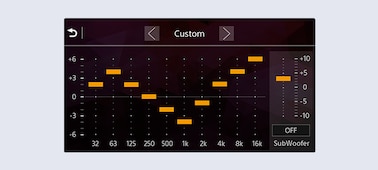 Sculpt your sound with 10-band graphic equalizer
Tailor the sound to your personal preference with the 10-band graphic equalizer.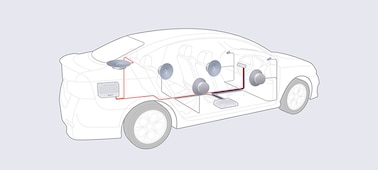 Build your own sound system
With the three 5x volt pre-outs, you can add components of your choice, like extra amplifiers and subwoofers.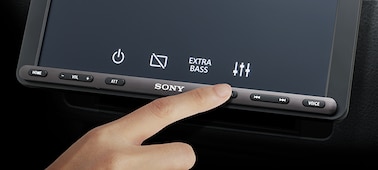 Simple button controls
Get instant access to commonly used features such as volume, source, sound settings and voice control, for safe and easy operation on the road.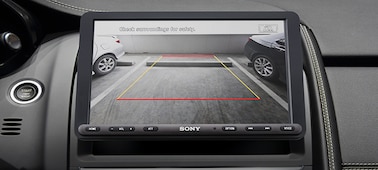 Rear view camera ready
Have a rear camera installed? View its feed through the screen, along with customizable guidelines that help you back in safely.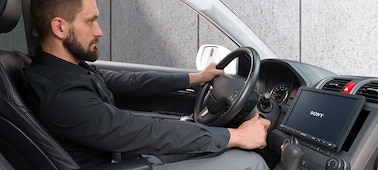 Quick wake up
With Sony Quick Wake Up, you're ready to go right after turning on the ignition.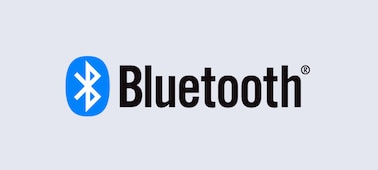 BLUETOOTH® wireless technology
Make hands-free calls and stream wireless audio from your smartphone with Bluetooth®.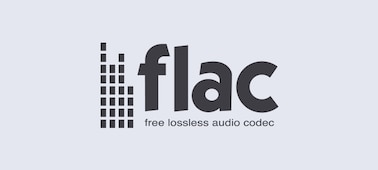 FLAC-compatible
FLAC compatibility lets you play lossless audio files, so you can enjoy every detail of the music.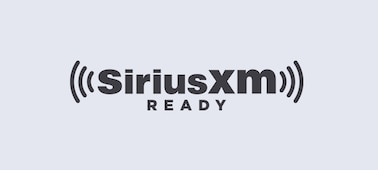 Sirius XM Radio ready
Connect your Sirius XM Radio satellite tuner (not supplied) to enjoy commercial-free music, sports, news and entertainment.
Size & Weight
Dimensions (W x H x D)
229 x 136 x 253 mm
Weight
2.4 kg
General Features
Output Power
55 W x4
Pre Out
3 Pre (Front/Rear/Sub x 1)
Rear View Camera in
Yes
USB
Yes (Rear x1)
Firmware upgradability
Yes
DSO (Dynamic Stage Organizer)
Yes
Equalizer
10-Band Graphic Equalizer
EXTRA BASS
Yes (Off/1/2)
Album artwork Indication
Yes
Connectivity
Bluetooth
Yes
Tuner Features
Preset
FM18 / AM12
Auto Memory
BTM
RDS / EON
Yes (RBDS)
Bluetooth Profile
HFP 1.5
Yes (1.6)
A2DP
Yes (1.3)
AVRCP
Yes (1.3)
PBAP
Yes (1.1)
Bluetooth Features
Speed Dial
Yes (6 memories)
Recent Calls (# of)
Yes
Last Dialed Call
Yes (select from the dialled call history)
Phonebook Access via PBAP
Yes
Alphabetical Phonebook Sorting
Yes
Ring Volume Level Control
Yes
Call Volume Level Control
Yes
External Microphone
Yes
Phone Battery Level Reminder
Yes
Signal Strength Indication
Yes
Bluetooth Audio Features
Audio Codec (Bluetooth Audio)
SBC / AAC
Pause (Bluetooth Audio)
Yes
CUE / REV
Yes
TRACK +/-
Yes
Group (Folder) +/-
Yes
Audio Level Adjustment
Yes (-8 dB to +18 dB)
Repeat Control (Audio Device side)
Yes
Shuffle Control (Audio Device side)
Yes
Meta Data Indication
Yes
Panel Design
Panel Surface Finish Color
Black
Key Illumination
Yes (White)
Monitor(AVC)
LCD Type
TFT Active Matrix
Screen Aspect
16:9
Screen Diagonal (inch / mm)
8.95 inch
Screen Size (W x H mm)
198.0 x 111.7 (mm)
Resolution (DOT)
800 x 480
Dimmer
Yes
Contrast Ratio
500
Brightness
400 cd / m2
Display Panel
KEY ILLUMINATION
Yes (White)
Dimmer Adjust
Yes
User Interface
Touch Panel
Resistive + AG
Gesture Command
Yes
Remote Commander
RM-X170
Parking Control
Yes
Parking Line Adjust
Yes
Aspect Ratio Select
Yes
Rear View Camera-In Marker Setting
Yes
USB Mass Storage Device Control Feature
USB Device Control (Repeat)
TRACK/FOLDER/DRIVE
USB Device Control (Shuffle)
OFF/FOLDER/DEVICE
USB Device Control (Pause)
Yes
USB Device Control (Resume Play)
Yes
USB Device Control (Audio Codec)
PCM/MP3/WMA/AAC/FLAC
USB device control (audio playable file extension)
.wav/.mp3/.wma/.m4a/.flac
USB Device Control (Video Codec)
MPEG4-SP/AVC (H.264 Baseline)/WMV/FLV/MKV/XviD
USB device control (video playable file extension)
.mp4/.wmv/.mkv
Multi-Language
Menu
English/Spanish/French/German/Italian/Russian/Portuguese/Thai/Simplified Chinese/Traditional Chinese/Korean/Arabic/Indonesian
Caution
English/Spanish/French/German/Italian/Russian/Portuguese/Thai/Simplified Chinese/Traditional Chinese/Korean/Arabic/Indonesian
ID3 Tag
English/Spanish/French/German/Italian/Russian/Portuguese/Thai/Simplified Chinese/Traditional Chinese/Korean/Arabic/Indonesian
Specifications
What's In The Box
Warranty Card, External Microphone
What's In The Box
Remote