SONY α7 E-Mount Camera With Full Frame Sensor - ILCE7KB
Sony, one of the world's leading makers of image sensors, combined its top new technologies to achieve the highest resolution and image quality in history. This revolutionary 35 mm full-frame Exmor® CMOS image sensor collects light with record efficiency to achieve high sensitivity, a wide dynamic range and an incredible new level of realism while significantly reducing noise.
The exceptional performance of the image sensor was achieved through various advanced sensor features. First, compressing circuitry height dramatically increases the amount of light collected by each pixel, while photodiode expansion technology increased the size of the photodiode at every pixel to improve the sensor's dynamic range and further raise sensitivity while maintaining low noise and achieving a high S/N ratio.
Sony proudly introduces the new BIONZ X image processing engine, which faithfully reproduces textures and details in real time, as seen by the naked eye, via extra high-speed processing capabilities. Together with front-end LSI (large scale integration) that accelerates processing in the earliest stages, it enables more natural details, more realistic images, richer tonal gradations and lower noise whether you shoot still images or movies.
Two new technologies bring out the full performance of sensor and lenses. Detail reproduction technology prevents the overemphasized outlines that plague most digital images. Diffraction reduction suppresses the effects of diffraction, which causes points of light to appear blurred especially at small aperture settings (large F-numbers). By taking the aperture setting into account, this technology faithfully restores clarity to points of light and other fine details, for beautiful landscapes, portraiture, and more.
Area-specific noise reduction is now more powerful than ever. It selectively divides the image into areas based on patterns (such as edges, textures and evenly coloured areas like blue skies), and then applies the most appropriate noise reduction for each area to improve image quality, especially at high-sensitivity settings. Working together with Sony's detail reproduction, it gives supremely clear, detailed images.
16-bit image processing and 14-bit RAW output help preserve maximum detail and produce images of the highest quality with rich tonal gradations. The 14-bit RAW (Sony ARW) format ensures optimal quality for later image adjustment (via Image Data Converter or other software).
Despite compact dimensions, the α7 features front and rear dials for intuitive setting of exposure, a control wheel for setting ISO, and an exposure compensation dial. Quick Navi Pro displays all major shooting options on the LCD screen so you can rapidly confirm settings and make adjustments as desired without searching through dedicated menus. Button customization empowers you to shoot just the way you like, with frequently used functions assigned to the customizable buttons of your choice. You can easily assign any of 46 functions to any of 9 buttons; up to 12 key functions can be assigned to the Fn button for quick access.
7.5 cm, 1.2 million dot LCD offers high resolution and flexible composition options.
Thanks to this outstandingly light and strong metal, the α7 weighs 474 grams with battery—less than half the weight of leading DSLRs—but has the durability for years of performance.
The α7 is 25% less bulky than leading DSLRs, but still features a full-size grip for all-day shooting comfort.
To keep your photos blemish free, an anti-dust mechanism vibrates ultrasonically whenever you switch off the camera to remove any particles adhering to the image sensor. An anti-static coating also helps prevent dust and other particles from adhering to the sensor when changing lenses.
Durability-enhancing measures include sealing around the buttons and dials, as well as a protective double-layered structure that tightly interlocks panels and components.
This viewfinder features high 1024x768 resolution, OLED improvements and the same 3-lens optical system used in the flagship α99 despite the compact body. The viewfinder displays the effects of your camera settings, so you can accurately monitor the results. You'll enjoy rich tonal gradations and three times the contrast of the α99. High-end features like 100% frame coverage, wide viewing angle, information display modes, peaking function, and focus magnifier are also provided.
The unique combination of 35mm full-frame sensor, audio production features and flexible lens interchangeability means a new level of portable moviemaking. The new accelerated BIONZ X image-processing engine also enables area-specific noise reduction and detail reproduction technology to be applied to movies for the very first time, resulting in ultra-fine detail and exceptionally low noise. Features like Picture Effect, full HDMI output for an external monitor, P/A/S/M modes, and full 1080p AVCHD Progressive format, and the choice of 60p/24p recording further expand the options.
During movie recording and playback, you can monitor the sound using headphones connected to the α7 via the headphone jack, check levels with the display controls, or attach professional sound gear using the industry-standard XLR terminal adaptor kit.
Numerous features contribute to the α7's autofocus capabilities: the new lightning-fast BIONZ X, high-speed full-frame image sensor output, and a newly developed Spatial Object Detection AF algorithm that conducts focusing analysis in real-time using spatial frequency information to optimally control the lens drive.
Even when capturing a subject partially turned away from the camera with a shallow depth of field, the face will be sharply focused thanks to extremely accurate eye detection that can prioritize a single pupil. A green frame appears over the prioritized eye when focus has been achieved for easy confirmation. Eye AF can be used when the function is assigned to a customizable button, allowing users to instantly activate it depending on the scene.
Lock-on AF adjusts the target frame size based on subject characteristics and makes use of a wide AF area to ensure usage of the optimal AF point for smooth, stable autofocusing. Just press the shutter button halfway to activate it. New BIONZ X ensures swifter subject tracking and detection performance than ever before. When using the Flexible Spot AF area setting, you can select a small, medium-sized or large AF area to match the size of your subject and help ensure the camera focuses on the intended area. Wide and Zone focus area settings are also available.
When using the Flexible Spot AF area setting, you can select a small, medium-sized or large AF area to match the size of your subject and help ensure the camera focuses on the intended area. Wide and Zone focus area settings are also available.
Create movies of amazing clarity that play extra smoothly by recording them at Full HD resolution (1920 x 1080 pixels) in the AVCHD Ver. 2.0 (Progressive) format - at the extremely high frame rate of 60 fps. The α7 also supports 24p movie recording, which gives your movies a subtle look that movie lovers everywhere associate with the cinema.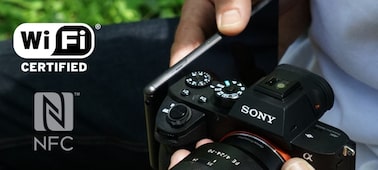 One-touch remote lets you use your smartphone or tablet as a viewfinder and remote control for a digital camera, and one-touch sharing lets you transfer your photos and videos from your camera. Either way, by installing Imaging Edge Mobile app to your NFC-enabled Android smartphone or tablet, you can avoid complex set-up sequences and establish wireless connection simply by touching your device to the camera. You are now ready to control your camera from your smartphone to take a photo from a previously out-of-reach spot, or simply be in your own group shot, as well as transfer them instantly to your smartphone for sharing on SNS. No NFC? No problem. You can also pair the devices manually.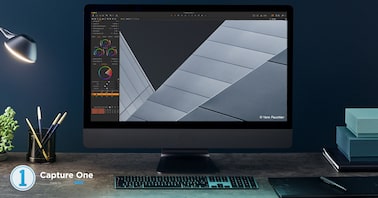 Capture One Express (for Sony) is a free award-winning image editing software that provides high-end image quality RAW development, easy management of your image files, and powerful editing tools. Capture One Pro (for Sony) can be bought for even more editing tools and tethered shooting capability.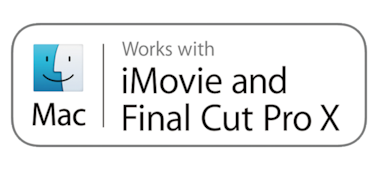 This product is compatible with Final Cut Pro X and iMovie.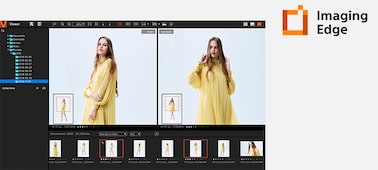 Imaging Edge app suite can maximise image quality, improve production efficiency and help you finely adjust RAW-based images. Use its "Remote" to remotely control shooting; "Edit" to develop RAW data into high-quality photos; and "Viewer" to view, rate and select photos from a list of shots.
Lens
Lens Mount
Sony E-mount lenses
WHATS IN THE BOX
What s In The Box
AC Adaptor AC-UB10Accessory shoe capBody capEyepiece cupMicro USB cableRechargeable Battery NP-FW50SEL-2870 zoom lensShoulder strap
Lens
Lens Compatibility
Sony E-mount lenses
Sensor
Sensor Type
35 mm
Sensor
35 mm full frame (35.8 x 23.9mm) Exmor CMOS sensor
Number Of Pixels (Effective)
24.3MP
Number of Pixels (total)
Approx. 24.7 megapixels
Image Sensor Aspect Ratio
3:2
Anti-Dust System
Charge protection coating on Optical Filter and ultrasonic vibration mechanism
Recording (still images)
Recording Format (Still images)
Exif Ver.2.3JPEG (DCF Ver. 2.0MPF Baseline compliant)RAW (Sony ARW 2.3 format)
Image Size (pixels), 3:2
35mm full frame L: 6000 x 4000 (24M)APS-C L: 3936 x 2624 (10M), M: 3008 x 2000 (6.0M), S: 1968 x 1312 (2.6M)M: 3936 x 2624 (10M)S: 3008 x 2000 (6.0M)
Image Size (pixels), 16:9
35mm full frame L: 6000 x 3376 (20M), M: 3936 x 2216 (8.7M), S: 3008 x 1688 (5.1M)APS-C L: 3936 x 2216 (8.7M), M: 3008 x 1688 (5.1M), S: 1968 x 1112 (2.2M)
Image Size (pixels), Sweep Panorama
Standard: horizontal 8,192 x 1,856 (15M), vertical 3,872 x 2,160 (8.4M)Wide: horizontal 12,416 x 1,856 (23M), vertical 5,536 x 2,160 (12M)
Image Quality Modes
JPEG Extra FineJPEG FineJPEG StandardRAWRAW&JPEG
RAW Output
14 bit RAW
Picture Effect
13 types: Posterization (colour)HDR Painting(High/Mid/Low)High Contrast MonochromeIllustration(High/Mid/ Low)Miniature(Auto/Top/Middle(H)/Bottom/Right/Middle(V)/Left)Partial colour (R/G/B/Y)Pop colourPosterization (B/W)Retro PhotoRich-tone MonochromeSoft Focus(High/Mid/Low)Soft High-keyToy Camera(Normal/Cool/Warm/Green/Magenta)Watercolour
Creative Style
(Contrast (-3 to +3 steps)Autumn leavesBlack & WhiteClearDeepLandscapeLightNeutralNight ScenePortraitSaturation (-3 to +3 steps)SepiaSharpness (-3 to +3 steps))StandardStyle Box(1-6)SunsetVivid
Dynamic Range Functions
Off, Dynamic Range Optimizer (Auto/Level (1-5)), Auto High Dynamic Range (Auto Exposure Difference, Exposure Difference Level (1-6 EV, 1.0 EV step))
Recording (movie)
Recording Format
AVCHD 2.0 / MP4
Video Compression
AVCHD: MPEG-4 AVC/H.264MP4: MPEG-4 AVC/H.264
Audio Recording Format
AVCHD: Dolby Digital (AC-3) 2chMP4: MPEG-4 AAC-LC 2ch
Image Size (pixels), PAL
1920 x 1080(24p, 17M, FH)1920 x 1080(24p, 24M, FX)1920 x 1080 (60i, 17M, FH)1920 x 1080 (60i, 24M, FX)720 STD (1280 x 720, 30fps)AVCHD:1920 x 1080 (60p, 28M, PS)AVC MP4: 1440 x 1080(30fps)MPEG 4: 720 Fine (1280 x 720, 30fps)VGA(640 x 480, 30fps)
Movie Functions
Audio Level Display,Audio Rec Level,Auto Slow Shutter,HDMI Info. Display
Storage Media
Compatible Recording Media
Memory Stick PRO-HG DuoMemory Stick PRO DuoMemory Stick XC-HG DuoSDHC memory cardSD memory cardSDXC memory card
Noise Reduction
Noise Reduction
Long exposure NR: On/Off , available at shutter speeds longer than 1 sec.
Multi Frame NR
Auto/ISO 100 to 51200
White Balance
White Balance Modes
AutoCloudyColour Temperature 2500 to 9900K & colour filter G7 to M7(15-step), A7 to B7(15-step)CustomDaylightFlashFluorescent : Warm White / Cool White / Day White / DaylightIncandescentShadeUnderwater
AWB Micro Adjustment
G7 to M7, 15-step / A7 to B7, 15-step
Bracketing
3 frames, H/L selectable
Focus
Focus Type
Fast Hybrid AF(phase-detection AF/contrast-detection AF)
Focus Sensor
"Exmor" CMOS sensor
Focus Point
35mm full frame: 117 points (phase-detection AF) APS-C: 99 points (phase-detection AF) / 25 points (conotrast-detection AF)
Focus Sensitivity Range
EV0 to EV20 (ISO100 equivalent with F2.8 lens attached)
AF Mode
AF-S (Single-shot AF), AF-C ( Continuous AF), DMF (Direct Manual Focus), Manual Focus
Focus Area
Multi Point (117 points (phase-detection AF), 25 points(contrast-detection AF)) / Zone / Center-weighted / Flexible Spot (S/M/L)
Other Features
Lock-on AF, Eye Focus, Predictive control, Focus lock, Eye-Start AF (only with LA-EA2 or LA-EA4 attached(Sold separately))
Type
—
AF Illuminator range
Approx. 0.3m - approx. 3.0m (with FE 28-70mm F3.5-5.6 OSS attached)
Exposure
Metering Type
1200-zone evaluative metering
Metering Sensor
"Exmor" CMOS sensor
Metering Sensitivity
EV0 to EV20 (at ISO100 equivalent with F2.8 lens attached)
Metering Mode
Center-weightedMulti-segmentSpot
Exposure Modes
Aperture priority (A)iAUTOManual (M)Movie (Programmed AE (P) / Aperture priority (A) / Shutter-speed priority (S) / Manual (M) )Programmed AE (P)Scene SelectionShutter-speed priority (S)Superior AutoSweep Panorama
Scene Selection
Anti Motion BlurHand-held TwilightLandscapeMacroNight portraitNight scenePortraitSports actionSunset
Exposure Compensation
+/- 5.0EV(1/3 EV, 1/2 EV steps selectable) (with exposure compensation dial : +/- 3EV (1/3 EV steps))
Auto (AE) Bracketing
Bracket: Cont./Bracket: Single, With 1/3 EV, 1/2 EV, 2/3 EV, 1.0 EV, 2.0 EV, 3.0 EV increments, 3/5 frames (2.0 EV, 3.0 EV : only 3 frames) selectable
AE Lock
Locked when shutter button is pressed halfway. Can be disabled from the Menu. Available with AE lock button.
ISO Sensitivity (Recommended Exposure Index)
ISO 50–25600
Viewfinder
Viewfinder Type
0.5"-type electronic viewfinder (color)
Number of Dots
2 359 296 dots
Brightness Control (Viewfinder)
Auto/Manual (5 steps between -2 and +2)
Color Temperature Control
Manual (5 steps)
Field Coverage
100%
Magnification
approx. 0.71 x (with 50mm lens at infinity, -1m-1) diopter
Dioptre Adjustment
-4.0 to +3.0 m-1 diopter
Eye Point
Approx. 27 mm from the eyepiece lens, 22 mm from the eyepiece frame at -1 m-1 diopter (CIPA standard)
Viewfinder Display
Graphic Display,Display All Info, No Disp. Info, Digital Level Gauge, Histogram
Real-time Image Adjustment Display
On/Off
LCD Screen
Monitor Type
3.0" type TFT LCD
Total Number of Dots
921,600 dots
Brightness Control (LCD)
Manual (5 steps between -2 and +2), Sunny Weather mode
Adjustable Angle
Up by approx. 90 degrees, Down by approx. 45 degrees
LCD Display
Display All InfoFor viewfinderGraphic DisplayHistgramLevelNo Disp. Info
Real-time Image Adjustment Display (LCD)
On/Off
Focus Magnifier
Yes Focus Magnifier (35mm full frame: 5.9x, 11.7x APS-C: 3.8x, 7.7x)
Quick Navi
Yes
Peaking MF
Yes (Level setting: High/Mid/Low/Off, colour: White/Red/Yellow)
Other Features
Face Detection
Face registrationFace selection (Max. number of detectable faces: 8)OffOn/On (Regist. Faces)
Auto Object Framing
Still images
Clear Image Zoom
Approx. 2x
Smart zoom (Still Image)
35mm full frame: M:approx 1.5x, S:approx 2xAPS-C: M:approx 1.3x, S:approx 2x
Digital zoom (Still Image)
35mm full frame: L:approx 4x, M:approx 6.1x, S:approx 8x; APS-C: L:approx 4x, M:approx 5.2x, S:approx 8x
Digital zoom (Movie)
35mm full frame: approx 4x APS-C: approx 4x
PlayMemories Camera Apps
YES
Lens Compensation
Peripheral Shading, Chromatic Aberration, Distortion
Image Processor
BIONZ X
Self-Portrait
Yes (3 sec delay/OFF selectable)
Smile Shutter
Smile shutter (selectable from 3 steps)
Touch Shutter
YES
Shutter
Shutter Speed
Movies: 1/8000 to 1/4(1/3 steps)\n up to 1/60 in AUTO mode (up to 1/30 in Auto slow shutter mode)Still images:1/8000 to 30 sec, Bulb
Flash Sync. Speed
1/250 sec.
Electronic Front Curtain Shutter
Yes (On/Off)
Image Stabilization
Steadyshot
Not supported (image stabilization supported on lens)
Flash Control
Flash Control
Pre-flash TTL
Flash Compensation
+/- 3.0 EV (switchable between 1/3 and 1/2 EV steps)
Flash Modes
AutoflashFill-flashFlash offHi-speed sync.(With compatible external flash)Rear Sync.Red-eye reduction (on/off selectable)Slow Sync.Wireless control (With compatible external flash)
External Flash Compatibility
Sony α System Flash compatible with Multi Interface Shoe, attach the shoe adaptor for flash compatible with Auto-lock accessory shoe
Wireless Control
Yes
Drive
Drive Modes
Bracket Cont.,WB BracketBracket SingleContinuous shootingDRO BracketSelf-timer (10/2 sec delay selectable)Self-timer (Cont.) (with 10 sec delay 3/5 exposures selectable)Single ShootingSpeed Priority Continuous shooting
Continuous Drive Speed (approx. max.)
5 fps (in Speed Priority Continuous Shooting mode)
Playback
Playback Modes
9/25-frame index viewAuto Review (10/5/2 sec,Off)DeleteEnlarged display mode (L: 18.8x, M: 12.3x, S: 9.4x)Folder selection (Date/ Still/ MP4/ AVCHD)Forward/Rewind (movie)Image orientation (Auto/Manual/Off selectable)Panorama (Standard): 25.6x, (Wide): 38.8xPanorama scrollingProtectSingle (with or without shooting information RGB histogram & highlight / shadow warning)Slideshow
Interface
PC Interface
Mass-storage, MTP, PC remote
NFC
Yes (NFC forum Type 3 Tag compatible)
HD Output
4K still image PBBRAVIA Sync (link menu)HDMI micro connectorPhotoTV HD
Multi Interface Shoe
Yes
Interfaces
Headphone minijackMicrophone minijackMulti/Micro USB TerminalMulti Interface ShoeVertical Grip Connector
Smart Accessory Terminal 2
Remote Control(RMT-DSLR2 (sold separately));Headphone Terminal(3.5 mm Stereo minijack);Vertical Grip Connector
Audio
Microphone
Built-in stereo microphones or ECM-CG50/ XLR-K1M (sold separately)
Speaker
Built-in, monaural
Print
Compatible Standards
Exif Print, Print Image Matching III, DPOF setting
POWER
Supplied Battery
NP-FW50 W-series Rechargeable Battery Pack
Battery Life (Still Images)
Up to 340 shots
Battery Life (CIPA, Movies)
Actual Recording:Approx. 60 minutes (Viewfinder), Approx 65 minutes (LCD screen) (CIPA standard)Continuous Recording:Approx. 100 minutes (Viewfinder), Approx 100 minutes (LCD screen) (CIPA standard)
External Power
AC Adaptor AC-PW20 (sold separately)
Internal Battery Charge
Yes
Size & Weight
Dimensions (W x H x D)
126.9 x 94.4 x 54.8 mm, 126.9 x 94.4 x 48.2 mm (from grip to monitor); 5 x 3 3/4 x 2 1/4 in, 5 x 3 3/4 x 1 15/16 in (from grip to monitor)
Weight (with battery and memory card included)
416 g (Body Only) / 474 g (With battery and media)
Wi-Fi®
View on Smartphone
Yes
Upload to PC
Yes
View on TV
Yes
Wireless & Network Capabilities
Downloadable Camera AppsNFC One-touch functionalityWi-Fi
Compatible OS
Compatible OS
Windows Vista SP2, Windows 7 SP1, Windows 8, Mac OS X (v10.5-v10.8)
Footnotes
Continuous movie recording is possible for approximately 29 minutes (limited by product specifications).
Indicated recording time is defined by repeating the following cycle: Power on, start recording, zoom, stand-by and power off.
Indicated recording time is defined by repeating the following cycle: Pressing the MOVIE button. No other operations such as zoom are performed.