SONY RX10 IV WITH 0.03s. AF/25X OPTICAL ZOOM - DSCRX10M4/B

Or as low as $189.14/month over 12 months. Apply Now

SONY RX10 IV WITH 0.03s. AF/25X OPTICAL ZOOM - DSCRX10M4/B
DSCRX10M4/B
$2,199.99
Literature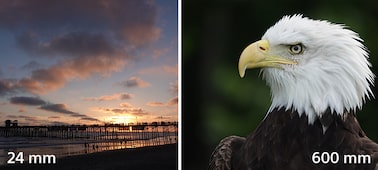 24–600 mm F2.4–4 large-aperture optical zoom lens
This 25x optical zoom lens features remarkable 24–600 mm extra-wide-angle to ultra-telephoto range plus macro capability, AA (advanced aspherical) and ED (Extra-low Dispersion) glass elements, ZEISS T Coating, and large F2.4–4 aperture. These help the camera to provide high optical performance for high resolution and beautiful bokeh.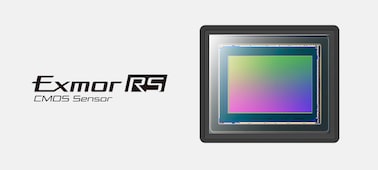 Exmor RS CMOS sensor for speed
315-point focal-plane phase-detection AF provides for extraordinarily fast, precise autofocusing and tracking. Furthermore, the 20.1 MP (effective) 13.2 x 8.8 mm (1.0-type) stacked CMOS image sensor with DRAM chip enables up to 960fps super slow motion shooting and up to 1/32000 s super high speed Anti-Distortion shutter.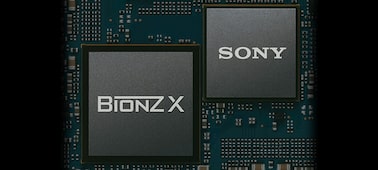 High-speed BIONZ X image processing engine
Achieving processing performance beyond its predecessor, the new BIONZ X image processing engine is remarkably reliable at capturing fast-moving subjects and continuous shooting of up to 24fps. Its newly developed image processing algorithm lets you capture high quality images with less noise across the sensitivity range while maintaining natural details.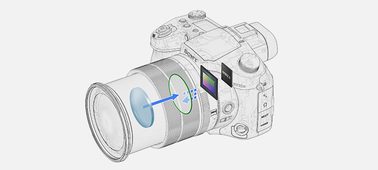 Fast Hybrid AF moves further ahead
For its RX10 series camera debut, Fast Hybrid AF is capable of lightning-fast 0.03 s autofocusing response. This groundbreaking AF system seamlessly integrates the superlative speed and tracking of focal-plane phase-detection AF plus the high accuracy of contrast-detection AF, and boosts the camera's capabilities to focus, track and capture sharp, clear still images of subjects in all situations, even in the middle of fast, dynamic action.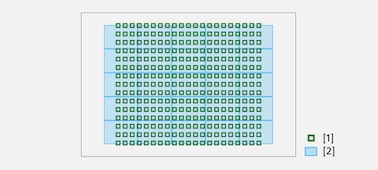 Wide high-density 315-AF-point coverage
The world's most focal-plane phase-detection AF points (315) cover approx. 65% of the entire image area of the RX10 IV's new image sensor. This makes AF coverage widespread and dense enough to quickly capture subjects, such as small or fast-moving ones that are otherwise difficult to focus on, throughout the image area. [1] Phase-detection AF coverage (315 points) [2] Contrast-detection AF coverage (25 points)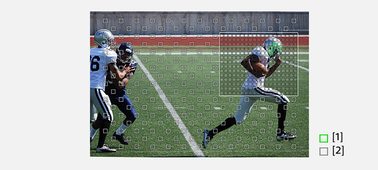 High-density Tracking AF Technology
Tracking performance is highly reliable, as the RX10 IV is the first Cyber-shot camera with High-density Tracking AF Technology that activates AF points to cover the area around a subject with outstanding precision and stability. [1] AF points that appear on actual screen [2] AF algorithm (not shown on actual screen)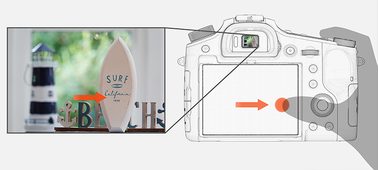 Easy, natural Touch Pad and Touch Focus
With the Touch Pad function, you can shift focus simply by sliding your finger across the LCD screen from one area to another while looking at the viewfinder. Whether you make the shift according to finger motion distance (relative position) or the area of the frame that you touch on the screen (absolute position), shifting is smooth and easy. For Touch Focus, simply touch the LCD at the point of the image that you want to focus on.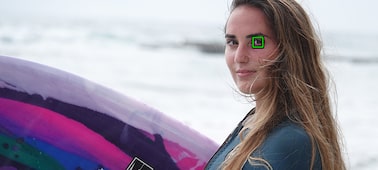 Enhanced Eye AF
Eye AF can capture intriguing facial expressions with highly precise eye detection that has been enhanced to automatically focus and track focus on a subject's eye, even as the face moves or turns to a 3/4 view. This capability extends your freedom to frame a great shot.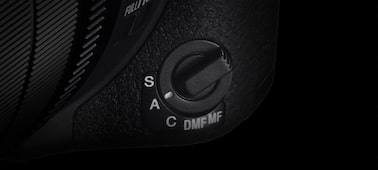 AF streamlines focus operation
Faster autofocusing relies on smart functions including Focus Range Limiter, which allows you to restrict focus to subjects that are 3 m or further away; AF-ON setting, which lets you trip the shutter without the lengthier half-press focus sequence; and AF-A mode, which automatically switches between AF-S (Single AF) and AF-C (Continuous AF) modes, according to changes in subject motion.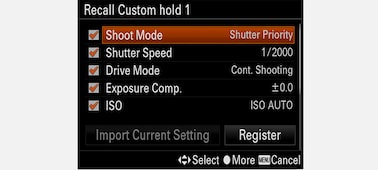 Recall Custom Setting during Hold
Memorized exposure settings (shutter speed, aperture, AF area, etc.) can be assigned to custom buttons for temporary recall while the button is held. For example, if you shoot sports in a stadium, you might want to quickly capture a shot of the scoreboard, requiring a temporary change in exposure, and then go back to the action.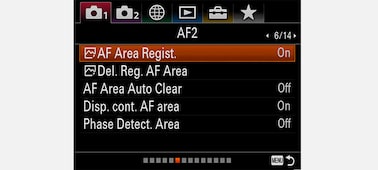 Focus Area Registration
Customize a button by assigning it to a frequently used focus area setting, then instantly recall that setting whenever you like. This can be handy if an ideal focus point frequently changes, for example between strokes in a tennis match. Focus point as well as focus area can be set as desired for optimal focus performance for the scene being photographed.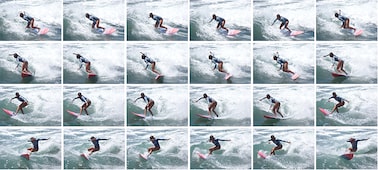 Continuous shooting capability expanded
The powerful combination of the Exmor RS 13.2 x 8.8 mm (1.0-type) image sensor and the BIONZ X image processing engine enables continuous shooting with AF/AE tracking at up to approx. 24fps for up to 249 frames at a time. Decisive moments of even fast-moving action can be captured assuredly as a result.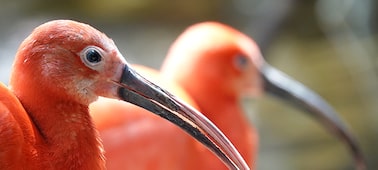 Silent shooting for sensitive situations
At performances, when close to wildlife and in other noise-sensitive situations, you can shoot in silence, even during continuous shooting, by muting the camera's shutter sound with a couple of simple settings ("Shutter type: Electronic" and "Audio signals: Off").
Anti-distortion shutter for fast-moving subjects
Fast data readout from the Exmor RS image sensor noticeably reduces distortion in images of fast-moving subjects such as the kicking of a ball. The anti-distortion electronic shutter achieves shutter speeds as fast as 1/32000 s. [1] Conventional electronic shutter[2] RX10 IV electronic shutter
Shooting movies with Fast Hybrid AF
When shooting movies, this advanced AF system is twice as fast, making focusing smoother and simpler and enabling the same wide-ranging use of phase-detection AF as when shooting still images. Drive speed/AF tracking settings can be made to express focus in creative ways. For example, by shooting at the low end of the AF speed range, you can achieve distinctive slow focus effects.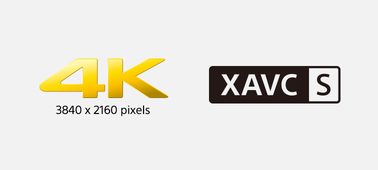 4K movie recording/XAVC S format
The RX10 IV can condense about 1.7 times as much data as is required for 4K output into 4K movie recordings. Full pixel readout and no pixel binning reduces moir
Sensor
Sensor Type
1.0"-type (13.2 mm x 8.8 mm) Exmor RS CMOS sensor, aspect ratio 3:2
Number of Pixels (Effective)
Approx. 20.1 Megapixels
Number of Pixels (total)
Approx. 21.0 Megapixels
Lens
Lens type
ZEISS Vario-Sonnar T* Lens, 18 elements in 13 groups (6 aspheric elements including AA lens)
F-number (Maximum Aperture)
F2.4(W)-4.0(T)
ND Filter
-
Focal length (f=)
f=8.8–220 mm
ANGLE OF VIEW (35MM FORMAT EQUIVALENT) (STILL IMAGE)
84 deg-4 deg 10 min (24-600 mm)
Focus Range (From the Front of the Lens)
AF (W: Approx. 3 cm (0.10 ft) to infinity, T: Approx. 72 cm (2.36 ft) to infinity, f=250 mm (35 mm format equivalent): Approx. 140 cm (4.59 ft) to infinity, Focus range from the image sensor: AF (W: Approx. 18 cm (0.59 ft) to infinity, T: Approx. 92 cm (3.02 ft) to infinity, f=250 mm (35 mm format equivalent): Approx. 157 cm (5.16 ft) to infinity
Optical Zoom
25x (optical zoom during movie recording)
Clear Image Zoom (Still Image)
20M Approx. 50x/10M Approx. 70x/5M Approx. 100x/VGA Approx. 380x
Clear Image Zoom (Movie)
4K: Approx. 37.5x;HD: Approx. 50x
Digital Zoom (Still Image)
20M Approx. 100x/10M Approx.140x/5M Approx. 200x/VGA Approx. 380x
Digital Zoom (Movie)
Digital Zoom Approx. 100x
Filter Diameter
72mm
Screen
Screen Type
7.5 cm (3.0-type)(4:3)/1,440,000 dots/Xtra Fine/TFT LCD
Adjustable Angle
Up by approx. 109 degrees, down by approx. 41 degrees
Display Panel (On Top)
Yes
Display Selector (Finder/Lcd)
Auto/EVF (Manual)/Monitor (Manual)
MS Assist Magnification
5.3x, 10.7x
Viewfinder
Screen Type/Number of Dots
1 cm (0.39-type) electronic viewfinder (XGA OLED), 2,359,296 dots
Field Coverage
100%
Magnification
Approx. 0.7x with 50-mm lens at infinity, -1m-1 (diopter) (35 mm equiv.)
Eye Point
Approx. 23 mm from the eyepiece, 21.5 mm from the eyepiece frame at -1m-1 (diopter) (CIPA standard)
Dioptre Adjustment
-4.0 to +3.0 m-1
Brightness Control
Manual (5 steps) / Sunny Weather
Camera
Image Processing Engine
Yes (BIONZ X)
Steadyshot
Optical; Yes (Intelligent Active Mode, Optical type with electronic compensation, Anti Rolling type)
Focus Type
Fast Hybrid AF(phase-detection AF/contrast-detection AF)
Focus Mode
Single-shot AF; Automatic AF; Continuous AF; DMF; Manual focus
Focus Area
Wide (315 points (phase-detection AF), 25 points (contrast-detection AF)); Centre; Flexible Spot (S/M/L); Expanded Flexible Spot; Lock on AF (Wide/Centre/Flexible Spot (S/M/L)/Expanded Flexible Spot)
LOCK ON AF
Yes
Light Metering Mode
Multi Pattern;Centre Weighted;Spot (Standard/Large);Entire Screen Avg.;Highlight
Exposure Compensation
+/- 3.0EV, 1/3EV step
ISO Sensitivity (Still Image)(Recommended Exposure Index)
Auto (ISO125–12800, selectable with upper/lower limit), 125/160/200/250/320/400/500/640/800/1000/1250/1600/2000/2500/3200/4000/5000/6400/8000/10000/12800 (Extendable to ISO80/100), Multi-Frame NR: Auto (ISO125–12800), 200/400/800/1600/3200/6400/12800/25600
ISO Sensitivity (Movie)
Auto:(ISO100Level–ISO12800Level, selectable with upper/lower limit), 100/125/160/200/250/320/400/500/640/800/1000/1250/1600/2000/2500/3200/4000/5000/6400/8000/10000/12800
Minimum Illumination (Movie)
Auto: 2.4 lux (shutter speed 1/30")
White Balance Modes
Auto; Daylight; Shade; Cloudy; Incandescent; Fluor.: Warm White; Fluor.: Cool White; Fluor.: Day White; Fluor.: Daylight; Flash; C.Temp./Filter; Custom
WB Micro Adjustment
YesG7 to M7,57-stepA7 to B7,29-step
Shutter Speed
iAuto (4"–1/2000*)/Program Auto (30"–1/2000*)/Manual Exposure (Bulb, 30"–1/2000*)/Aperture Priority (30"–1/2000*)/Shutter Priority (30"–1/2000*); *At F8 or greater aperture value. Fastest limit at F2.4 is 1/1000.
Electronic Shutter
iAuto(4"-1/32000)/Program Auto (30"-1/32000)/Manual Exposure (30"-1/32000.)/Aperture Priority (30"-1/32000)/Shutter Priority (30"-1/32000)
Aperture
iAuto (F2.4/F11)/Program Auto (F2.4/F16)/Manual (F2.4/F16)/Shutter Priority (F2.4/F11)/Aperture Priority (F2.4/F16)
Image Control
Contrast; Saturation; Sharpness; Creative Style; Colour Space (sRGB / Adobe RGB); Quality (RAW / RAW&JPEG / Extra fine / Fine / Standard)
Noise Reduction
Long exposure NR: On/Off, available for shutter speeds longer than 1/3 s; High ISO NR: Normal/Low/Off; Multi Frame NR: Auto, ISO 100–25600
Dynamic Range Functions
Off, Dynamic Range Optimizer (Auto/Level 1–5), Auto High Dynamic Range (Auto Exposure Difference, Exposure difference level (1.0–6.0 EV, 1.0 EV step))
Shooting Mode
AUTO (Intelligent Auto/Superior Auto); Program Auto; Aperture Priority; Shutter Speed Priority; Manual Exposure; MR (Memory Recall) [body 3 sets/memory card 4 sets]; Movie Mode (Program Auto, Aperture Priority, Shutter Speed Priority, Manual Exposure); HFR Mode (Program Auto, Aperture Priority, Shutter Speed Priority, Manual Exposure); Panorama; Scene Selection
Scene Selection
Portrait; Sports Action; Macro; Landscape; Sunset; Night Scene; Handheld Twilight; Night Portrait; Anti Motion Blur
Continuous Shooting Speed (maximum) (with max. recording pixels)
Continuous Shooting Hi: approx. 24fps, Continuous Shooting Mid: approx. 10fps, Continuous Shooting Low: approx. 3.5fps
Self-Timer
10 s. / 5 s / 2 s / 3 or 5 consecutive shots with 10 s 5 s or 2 s delay selectable / Bracketing shots with 10 s 5 s or 2 s delay selectable
Drive Modes
Single; Continuous shooting (Hi/Mid/Lo); Self-timer; Self-timer (cont.); Cont. bracketing; Single bracketing; White balance bracketing; DRO bracketing
Panorama (Shooting)
Sweep Panorama
Picture Effect
Still Image:Toy camera;Pop Colour;Posterization;Retro Photo;Soft High-key;Partial Colour;High Contrast Mono.;Soft Focus;HDR Painting;Richtone Monochrome;Miniature;Watercolour;Illustration;Movie:Toy camera;Pop Colour;Posterization;Retro Photo;Soft High-key;Partial Colour;High Contrast Mono.
Creative Style
Standard, Vivid, Neutral, Clear, Deep, Light, Portrait, Landscape, Sunset, Night Scene, Autumn Leaves, Black & White, Sepia, Style Box
Picture Profile
off/PP1-PP9(Black Level, Gamma(Movie, Still, Cine1-2, ITU709, ITU709 [800%], S-Log2, S-Log3), Black Gamma, Knee, Colour Mode, Saturation, Colour Phase, Colour Depth, Detail, Copy, Reset)
Number of Recognized Scenes
Still Image: Superior Auto: 44/iAuto: 33; 44
Flash
Flash Mode
Built-in, manual pop-up
Flash Type
Auto/Flash On/Slow Synchro/Rear Sync. /Flash Off/Wireless (with optional compatible flash)
AF Illuminator
Auto / Off
Bracketing
Yes
External Flash Mode
Sony α System Flash compatible with Multi Interface Shoe; attach the optional shoe adaptor for flash compatible with Auto-lock accessory shoe
Flash Range
ISO Auto: Approx. 1.0 m to 10.8 m (3.28 ft. to 35.43 ft.) (W) / Approx. 1.0 m to 6.5 m (3.28 ft. to 21.33 ft.) (T), ISO 12800: up to Approx. 20.8 m (68.24 ft.) (W) / Approx. 12.8 m (41.99 ft.) (T)
Recording
Compatible Recording Media
Memory Stick Duo; Memory Stick PRO Duo; Memory Stick PRO Duo (High Speed); Memory Stick PROHG Duo; Memory Stick Micro; Memory Stick Micro (Mark2); SD Memory Card; SDHC Memory Card(UHS-I); SDXC Memory Card(UHS-I); microSD Memory Card; microSDHC Memory Card; microSDXC Memory Card
Recording Format
Still Image: JPEG (DCF Ver. 2.0, Exif Ver. 2.31, MPF Baseline compliant), RAW (Sony ARW 2.3 format); XAVC S; AVCHD format Ver. 2.0 compatible
Recording Format (Movie Audio)
XAVC S:LPCM 2ch; AVCHD:Dolby Digital (AC-3) 2ch (Dolby Digital Stereo Creator)
Colour Space (Still)
sRGB, Adobe RGB
DCF/DPOF
DCF/DPOF/EXIF/MPF
Still Image Number of recorded pixels (Image Size)
Still Image: 3:2 mode: 20M (5472×3648)/10M (3888×2592)/5M (2736×1824), 4:3 mode: 18M (4864×3648)/10M (3648×2736)/5M (2592×1944)/VGA, 16:9 mode: 17M (5472×3080)/7.5M (3648×2056)/4.2M (2720×1528), 1:1 mode: 13M (3648×3648)/6.5M (2544×2544)/3.7M (1920×1920); 16:9 mode: 17M (5472×3080)/7.5M (3648×2056)/4.2M (2720×1528)
HFR
RecordingNTSC/PAL Selector: [PAL] mode XAVC S HD: 50p 50M (1920x1080/250fps), 50p 50M (1920x1080/500fps), 50p 50M (1920x1080/1000fps)/25p 50M (1920x1080/250fps), 25p 50M (1920x1080/500fps), 25p 50M (1920x1080/1000fps), NTSC/PAL Selector: [NTSC] mode XAVC S HD: 60p 50M (1920x1080/240fps), 60p 50M (1920x1080/480fps), 60p 50M (1920x1080/960fps)/30p 50M (1920x1080/240fps), 30p 50M (1920x1080/480fps), 30p 50M (1920x1080/960fps)/24p 50M (1920x1080/240fps), 24p 50M (1920x1080/480fps), 24p 50M (1920x1080/960fps)Sensor Readout Number of effective pixelsQuality Priority: 240fps/250fps (1824x1026), 480fps/500fps (1824x616),960fps/1000fps (1244x420)/Shoot Time Priority: 240fps/250fps (1824x616), 480fps/500fps (1292x436), 960fps/1000fps (912x308)
Still Image Number of recorded pixels (Image Size) during Movie
16:9 mode: 17M (5472×3080)/7.5M (3648×2056)/4.2M (2720×1528)
Proxy Recording
Yes
Interface
Input and Output Terminals
Multi/Micro USB Terminal, Hi-Speed USB (USB2.0), Micro HDMI, Microphone (3.5 mm stereo mini jack), Multi Interface Shoe, Headphones
NFC
NFC forum Type 3 Tag compatible, One-touch remote, One-touch sharing
WI-FI
Yes(IEEE802.11b/g/n(2.4GHz band))
Interfaces
-
Bluetooth
Yes (Bluetooth Standard Ver. 4.1 (2.4 GHz band))
POWER
Power Source
DC7.2 V (supplied battery)/DC5.0 V (supplied AC adapter)
Battery System
Rechargeable battery pack NP-FW50
Power Consumption (Camera Mode)
Approx. 2.2 W with LCD monitor and approx. 2.4 W with viewfinder
USB Charge/USB Power Supply
Yes (Shooting, Playback)
BATTERY LIFE(STILL IMAGES)(CIPA) 
Monitor: Approx. 400/Approx. 200 min., ViewFinder: Approx. 370/Approx. 185 min.
BATTERY LIFE(MOVIES ACTUAL SHOOTING)(CIPA) 
Monitor: Approx. 75 min., ViewFinder: Approx. 75 min.
BATTERY LIFE(MOVIES CONTINUOUS SHOOTING)(CIPA) 
Monitor: Approx. 135 min., ViewFinder: Approx. 135 min.
Others
PlayMemories Camera Apps
-
Shooting Functions
Eye AF; Face Detection; Face Registration; Still Image Recording (during movie recording); Smile shutter; Grid Line; Quick Navi; Digital Level Gauge (pitch and roll); WB Bracket; DRO Bracketing; MF Assist; Peaking; Zebra; Marker Display; Audio Level Display; Audio Out Timing; Step Zoom/Quick Zoom; TC/UB;Photographer Name & Copyright; ISO Auto Minimum Shutter Speed; PC Remote Control; Zoom Assist; Focus Hold; Gamma Disp. Assist; [Mov]AF Track Sensitivity; [Mov]AF Drive Speed; Set File Name; Focus Range Limiter
Playback Functions
BRAVIA Sync(Control for HDMI); 9/25-frame index view; Auto Orientation; Slide Show; Forward/Rewind (Movie); Delete; Protect; Motion Shot Video; Photo Capture; Automatic Image Rotation; Cont. Shoot Grouping
TRILUMINOS Color
Yes
4K image output
Yes
Operating Temperature
0 degrees C. - +40 degrees C. / 32 degrees F. - 104 degrees F.
Print
Print
Exif Print; PRINT Image Matching (PIM3)
Size & Weight
DIMENSIONS (W X H X D) (APPROX.)
132.5 x 94.0 x 145.0 mm (5 1/4 x 3 3/4 x 5 3/4 in) 132.5 x 94.0 x 127.4 mm (5 1/4 x 3 3/4 x 5 1/8 in) (from front of lens to monitor)
WEIGHT (CIPA COMPLIANT)
Approx. 1095 g (2 lb 6.7 oz) (Battery and SDXC Card included)/Approx. 1050 g (2 lb 5.1 oz) (Body Only)