SONY RX1R II PROFESSIONAL COMPACT CAMERA WITH 35 MM SENSOR - DSCRX1RM2/B

Or as low as $369.69/month over 12 months. Apply Now

SONY RX1R II PROFESSIONAL COMPACT CAMERA WITH 35 MM SENSOR - DSCRX1RM2/B
DSCRX1RM2/B
$4,299.99
Literature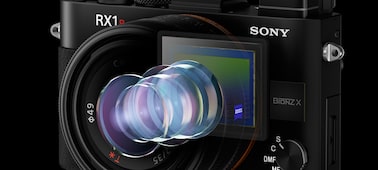 Higher quality framed in a compact footprint
Great camera capabilities fit better than ever in your palm, with the compact RX1R II. Full-frame format compatibility and other state-of-the-art image sensor and processing innovations ensure breathtaking image quality. The bright fixed focal length lens embodies the renowned optical integrity of ZEISS .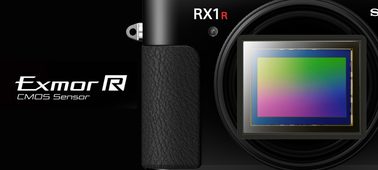 Higher-resolution full-frame CMOS sensor
The 35 mm full-frame Exmor R CMOS sensor provides for 42.4-megapixel resolution, sensitivity up to ISO 102400, wide dynamic range and low noise. The back-illuminated structure expands circuitry scale of a new copper wiring layer for 3.5 times faster data readout. The enhancements allow the RX1R II to deliver readout of images, AF response and continuous shooting capability, all at high speed.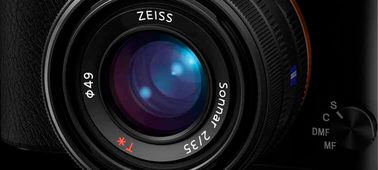 Large-aperture ZEISS Sonnar T 35 mm F2 lens
The premium-quality ZEISS Sonnar T 35 mm F2 lens with maximum F2 aperture features a proprietary AA (advanced aspherical) lens element and minimal lens unit movement that allow the lens barrel to be very light and compact. Lens and sensor imaging plane are calibrated to optimize resolution with consistent clarity throughout each image.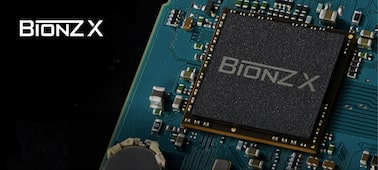 BIONZ X image processing engine upgraded
BIONZ X processes 42.4 megapixels of data from the 35 mm full-frame CMOS sensor to reproduce fine realistic details with noise reduced according to image area characteristics. This allows for fast, faithful depiction of nuanced light and texture. The fixed-lens design of the RX1R II also helps to optimize processing of image information for the lens and the sensor.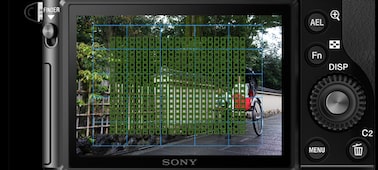 Speedy, accurate Fast Hybrid AF
399 focal plane phase-detection AF points and 25 contrast-detection AF points make Fast Hybrid AF extra quick and accurate under all conditions. The system features extensive phase-detection coverage (45% of image area) and 30% faster AF, as well as high tracking performance that assures capability to capture decisive moments.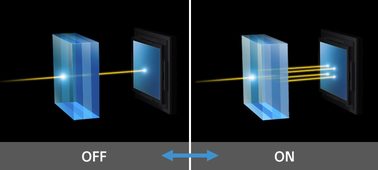 Optical variable low-pass filter
LPF effect settings take advantage of the sensor's high 42.4-megapixel resolution to deliver the ultimate image quality for your needs. Choose among Off (to prioritize image resolution), Hi (to reduce moir
Sensor
Sensor Type
35 mm full frame (35.9 x 24.0 mm), Exmor R CMOS sensor, aspect ratio 3:2
Number of Pixels (Effective)
Approx. 42.4 MP
Number of Pixels (total)
Approx. 43.6 MP
Number of Pixels (Gross)
Approx. 43.6 MP
Lens
Lens type
ZEISS Sonnar T*, 8 elements in 7 groups (3 aspherical elements including AA lens)
F-number (Maximum Aperture)
F2
Focal length (f=)
f=35mm
ANGLE OF VIEW (35MM FORMAT EQUIVALENT) (STILL IMAGE)
63deg. (35mm)
Focus Range (From the Front of the Lens)
Approx. 24 cm to infinity (Normal mode), approx. 14 cm to 29 cm (Macro mode)
Clear Image Zoom (Still Image)
[Still Image] 2x, [Movie] 2x
Digital Zoom (Still Image)
Up to 8x
Filter Diameter
49 mm
Max. Magnification (Standard/Macro)
0.15x / 0.26x (By Macro Switching Ring)
Optical Variable Low-Pass Filter
Yes
Aperture Type
Iris diaphragm (9 blades)
Digital Zoom
[Still Image] 42M approx. 4x / 18M approx. 6.2x / 11M approx. 8x, [Movie] Approx. 4x
Focus Range (From the Focal Plane)
Approx. 30 cm to infinity (Normal mode), approx. 20 cm to 35 cm (Macro mode)
Screen
Screen Type
7.5 cm (3.0 type) (4:3) / 1,228,800 dots / Xtra Fine / TFT LCD
Brightness Control
Auto / Manual (5 steps) / Sunny Weather mode
Adjustable Angle
Up approx. 109 degrees, down approx. 41 degrees, at max.
Display Selector (Finder/Lcd)
Auto / EVF / Monitor
MS Assist Magnification
5.0x, 12.5x
Viewfinder
Screen Type/Number of Dots
0.39-type electronic viewfinder (OLED), 2,359,296 dots
Field Coverage
100%
Magnification
Approx. 0.74x (with 50 mm lens equiv. at infinity, -1m-1)
Eye Point
Approx. 19 mm from the eyepiece lens, 18.4 mm from the eyepiece frame at -1m-1 (CIPA standard)
Dioptre Adjustment
-4.0 to +3.0 m-1
Viewfinder
1.0 cm-type electronic viewfinder (OLED)
Brightness Control
Auto, Manual (5 steps)
Camera
Image Processing Engine
BIONZ X
Steadyshot
Electronic type (for movies)
Focus Type
Fast Hybrid AF(phase-detection AF/contrast-detection AF)
Focus Mode
Single-shot AF (AF-S) / Continuous AF (AF-C) / Direct Manual Focus (DMF) / Manual Focus
Focus Area
Wide (399 points for phase-detection AF / 25 points for contrast-detection AF) / Centre / Flexible Spot (S/M/L) / Expand Flexible Spot / Lock-on AF (Wide / Centre / Flexible Spot (S/M/L) / Expand Flexible Spot)
Light Metering Mode
Multi Pattern / Centre Weighted / Spot
Exposure Compensation
+/-5.0 EV (in 1/3 EV steps), with exposure compensation dial: +/-3.0 EV (in 1/3 EV steps)
ISO Sensitivity (Still Image)(Recommended Exposure Index)
ISO 100–25600 (1/3 EV step) (expandable to ISO 50/64/80/32000/40000/51200/64000/80000/102400), AUTO (ISO 100-102400, selectable upper / lower limit), Multi Frame NR: ISO 100–102400 (1 EV step), AUTO (ISO 100–102400, selectable upper / lower limit)
ISO Sensitivity (Movie)
ISO 100-25600
White Balance Modes
Auto / Daylight / Shade / Cloudy / Incandescent / Fluor.: Warm White / Fluor.: Cool White / Fluor.: Day White / Fluor.: Daylight / Flash / C.Temp. / Filter / Custom
WB Micro Adjustment
Yes (G7 to M7 (57 steps), A7 to B7 (29 steps))
Shutter Speed
Program Auto (30"-1/4000* s) / Aperture Priority (30"-1/4000* s) / Shutter Priority (30"-1/4000* s) / Manual Exposure (Bulb, 30"-1/4000* s) / iAuto (4"-1/4000* s) *At F5.6 or greater aperture value. Fastest limit at F2 is 1/2000 s
Aperture
F2-22
Image Control
Contrast, Saturation, Sharpness, Creative Style, Colour Space (sRGB/Adobe RGB), Quality (RAW / RAW & JPEG / Extra fine / Fine / Standard)
Uncompressed RAW
Yes
Noise Reduction
Long exposure NR: On / Off, available for shutter speeds longer than 1 s, High ISO NR: Normal / Low / Off, Multi Frame NR: Auto / ISO 100–102400
Dynamic Range Functions
Off, Dynamic Range Optimizer (Auto / Level 1-5), Auto High Dynamic Range: Off, Auto Exposure Difference, Exposure difference level (1.0-6.0 EV, 1.0 EV step)
Shooting Mode
AUTO (Intelligent Auto / Superior Auto), Program Auto, Aperture Priority, Shutter Speed Priority, Manual Exposure, MR (Memory Recall) 1,2,3, Movie Mode (Program Auto, Aperture Priority, Shutter Speed Priority, Manual Exposure), Panorama, Scene Selection
Scene Selection
Portrait, Sports Action, Landscape, Sunset, Night Scene, Handheld Twilight, Night Portrait, Anti Motion Blur
Continuous Shooting Speed (maximum) (with max. recording pixels)
Speed priority continuous shooting: approx. 5fps, Continuous shooting: approx. 2.5fps (AF-S)
Self-Timer
10 s / 5 s / 2 s / 3 or 5 consecutive shots with 10 s, 5 s or 2 s delay selectable / Bracketing shots with 10 s, 5 s or 2 s delay selectable
Drive Modes
Single, Continuous shooting, Speed priority continuous shooting, Self-timer, Self-timer (cont.), Cont.-bracketing , Single-bracketing , White balance bracketing , DRO bracketing , LPF bracketing
Picture Effect
[Still Image] Toy camera, Pop Colour, Posterization, Retro Photo, Soft High-key, Partial Colour, High Contrast Mono., Soft Focus, HDR Painting, Richtone Monochrome, Miniature, Watercolour, Illustration, [Movie] Toy camera, Pop Colour, Posterization, Retro Photo, Soft High-key, Partial Colour, High Contrast Mono.
Creative Style
Standard, Vivid, Neutral, Clear, Deep, Light, Portrait, Landscape, Sunset, Night Scene, Autumn Leaves, Black & White, Sepia, Style Box
Auto Image Rotation
Yes
Metering Type
1200-zone evaluative metering
Number of Recognized Scenes
[Still Image] Superior Auto: 44, Intelligent Auto: 33, [Movie] 33
Raw Output
14 bit
Minimum Illumination
Auto:1.5lux(Shutter Speed 1/30")
Built-in Flash Red-Eye Correction
On / Off
Flash
Flash Mode
Flash Off / Autoflash / Fill-flash / Slow Sync. / Rear Sync. / Wireless (with optional compliant flash)
AF Illuminator
Auto / Off
Recording
Compatible Recording Media
Memory Stick Duo, Memory Stick PRO Duo, Memory Stick PRO Duo (High Speed), Memory Stick PRO-HG Duo, Memory Stick Micro , Memory Stick Micro (Mark2) , SD Memory Card, SDHC Memory Card, SDXC Memory Card, microSD Memory Card , microSDHC Memory Card , microSDXC Memory Card
Recording Format
[Still Image]: JPEG (DCF Ver.2.0, Exif Ver.2.3, MPF Baseline compliant), RAW (Sony ARW 2.3 format), [Movie]: XAVC S, AVCHD format Ver.2.0 compatible, MP4
Recording Format (Movie Audio)
XAVC S: LPCM 2ch/AVCHD: Dolby Digital (AC-3) 2ch (Dolby Digital Stereo Creator)/MP4: MPEG-4 AAC-LC 2ch
Colour Space (Still)
sRGB, Adobe RGB
Still Image Number of recorded pixels (Image Size)
[3:2] L: 42M (7952 x 5304) / M: 18M (5168 x 3448) / S: 11M (3984 x 2656), [4:3] L: 38M (7072 x 5304) / M: 16M (4592 x 3448) / S: 9.4M (3536 x 2656), [16:9] L: 36M (7952 x 4472) / M: 15M (5168 x 2912) / S: 8.9M (3984 x 2240), [1:1] L: 28M (5296 x 5296) / M: 12M (3440 x 3440) / S: 7.1M (2656 x 2656), [Sweep Panorama] Standard (3872 x 2160 / 8192 x 1856) / Wide (5536 x 2160 / 12416 x 1856)
Movie Recording Mode (NTSC)
AVCHD: 28M PS (1920 x 1080/60p) / 24M FX (1920 x 1080/60i) / 17M FH (1920 x 1080/60i) / 24M FX (1920 x 1080/24p) / 17M FH (1920 x 1080/24p), XAVC S HD: 60p 50M (1920 x 1080/60p) / 30p 50M (1920 x 1080/30p) / 24p 50M (1920 x 1080/24p) / 120p 50M (1280 x 720/120p), MP4: 28M (1920 x 1080/60p)/16M (1920 x 1080/30p)/6M (1280 x 720/30p)
Movie Recording Mode (PAL)
AVCHD: 28M PS (1920 x 1080/50p) / 24M FX (1920 x 1080/50i) / 17M FH (1920 x 1080/50i) / 24M FX (1920 x 1080/25p) / 17M FH (1920 x 1080/25p), XAVC S HD: 50p 50M (1920 x 1080/50p) / 25p 50M (1920 x 1080/25p) / 100p 50M (1280 x 720/100p), MP4: 28M (1920 x 1080/50p)/16M (1920 x 1080/25p)/6M (1280 x 720/25p)
Interface
Input and Output Terminals
Multi/Micro USB Terminal , Micro HDMI, Microphone (3.5 mm Stereo minijack), Multi Interface Shoe
NFC
NFC forum Type 3 Tag compatible, One-touch remote, One-touch sharing
WI-FI
Yes (IEEE802.11b/g/n (2.4GHz band))
Wireless Capabilities
Eye-Fi, NFC forum Type 3 Tag compatible, One-touch remote, One-touch sharing, Wi-Fi
POWER
Power Source
DC3.6V (supplied battery) / DC5.0V (supplied AC Adapter)
Battery System
Rechargeable Battery Pack NP-BX1
Power Consumption (Camera Mode)
Approx. 2.5W with LCD monitor and approx. 2.7W with viewfinder (CIPA standard)
USB Charge/USB Power Supply
Yes (supplied AC adaptor)
BATTERY LIFE(STILL IMAGES)(CIPA) 
[Still Images] : Monitor: Approx. 220 shots / Approx. 110 min., Viewfinder: Approx. 200 shots / Approx. 100 min., [Movies (actual shooting)] : Monitor: Approx. 30 min., Viewfinder: Approx. 30 min. (In [MP4 28M] mode, max. continuous shooting time is approx. 20 min. and max. file size is 4 GB.), [Movies (continuous shooting)] : Monitor: Approx. 50 min., Viewfinder: Approx. 50 min. (In [MP4 28M] mode, max. continuous shooting time is approx. 20 min. and max. file size is 4 GB.)
Supplied Battery
Rechargeable battery pack NP-BX1
Others
PlayMemories Camera Apps
Yes
Shooting Functions
Smart Teleconverter (approx. 1.4x / 2x) / Eye AF / Lock-on AF / Face Detection / Face Registration / Smile shutter / Grid Line / Quick Navi / Digital Level Gauge (pitch and roll) / Exposure Bracketing / White Balance Bracketing / DRO Bracketing / Flash Bracketing / LPF bracketing / MF Assist / Peaking / Zebra / Marker Display / Photographer Name & Copyright / ISO Auto Minimum Shutter Speed / PC Remote Control / Auto Object Framing
Playback Functions
BRAVIA Sync (Control for HDMI) / Single (with or without shooting information, RGB histogram & highlight/shadow warning) / 9/25-frame index view / Enlarged display mode / Auto Orientation / Slide Show / Panorama scrolling / Auto Review (10 s/5 s/2 s/off) / Forward / Rewind (Movie) / Delete / Protect / 4K still image playback
Operating Temperature
Approx. 0°C to 40°C (32°F to 104°F)
Index Playback
9 / 25 images
Playback Zoom
Depends on Image Size
Print
Print
Exif Print, PRINT Image Matching (PIM3)
Size & Weight
DIMENSIONS (W X H X D) (APPROX.)
113.3 x 65.4 x 72.0 mm
WEIGHT (CIPA COMPLIANT)
480 g (1 lb 0.9 oz) / 507 g (1 lb 1.9 oz) (With battery and Memory Stick PRO Duo)