Sony Full HD SXRD Home Cinema Projector VPLHW65ES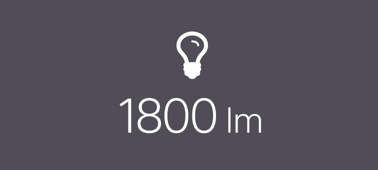 1800 lumens brightness for a vivid picture
Savor the action with the brightness you need to get high contrast across the screen. A 215W lamp generates the brightness required for vibrant images in living theatre environment.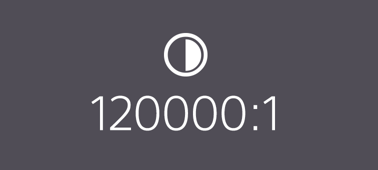 120,000:1 dynamic contrast for greater detail
A dynamic contrast ratio of 120,000:1 makes every scene spring to life with finer detail and realism. The video processor is optimized for deep blacks and vibrant color.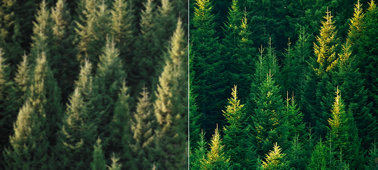 Resolution on a grand scale
Get closer to the 1080p original and see more details and colors in your movies with Reality Creation, our intelligent resolution technology.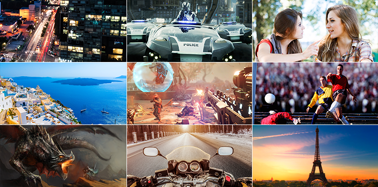 Select from nine picture calibration modes
Quickly calibrate the picture to what you're watching or playing. Select from nine picture calibration modes, including two cinema film modes, cinema digital, reference, TV, photo, game, bright cinema, and bright TV. An advanced HSV manual color tuning tool gives you even more control.
Action stays smooth with Motionflow™
Whatever you're watching, you'll enjoy a silk-smooth on-screen look in fast-moving action sequences with Motionflow. This innovative technology creates and inserts extra frames between the original frames by first comparing key visual factors on successive frames, then calculating the split second of missing action in the sequences. True Cinema 24p mode mimics true movie projection for cinema purists.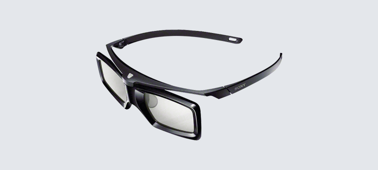 Built-in 3D transmitter synchronizes entertainment
An industry-standard RF 3D transmitter synchronizes the optional glasses with the projector, so you can start watching 3D movies faster. Upscale 2D films to 3D and enjoy classic movies in a whole new dimension.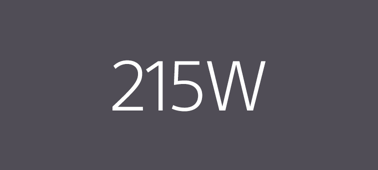 Watch for longer with a 215 W high-pressure lamp
Enjoy up to 6000 hours of watch time (in low mode) from a long-lasting mercury lamp. This means fewer lamp swaps, simpler maintenance, and lower running costs.
Environmental notice
The lamp in this product contains mercury. Disposal of these materials may be regulated due to environmental considerations. For disposal or recycling information, please contact your local authorities or association.
Size & Weight
DIMENSIONS (W X H X D)
16 1/8" x 7 1/8" x 18 3/8"
WEIGHT
Approx. 9 kg / 20 lb
WHATS IN THE BOX
Whats In The Box
Remote Control (RM-PJ28) Size AA (R6) manganese batteries (2) AC Power Cord (1), Lens Cap (1) Operating Instructions (CD-ROM) Quick Reference Manual
Display
DISPLAY SYSTEM
SXRD panel, projection system
DISPLAY RESOLUTION
Computer signal input : Maximum display resolution: 1920 x 1080 dots (HDMI Input only) / Video signal input : 480/60p, 576/50p, 720/60p, 720/50p, 1080/60i, 1080/50i, The following items are available for HDMI input only. 1080/60p, 1080/50p, 1080/24p
LIGHT SOURCE
High-pressure mercury lamp, 215 W type
General Features
CONTRAST RATIO
120,000:1 (Dynamic Contrast)
EFFECTIVE DISPLAY SIZE
0.61 in x 3
EFFECTIVE PIXELS
6,220,800 (1920 x 1080 x 3) pixels
PROJECTION LENS SHIFT
Manual, Vertical: +/- 71%, Horizontal: +/- 25%
SCREEN SIZE
40" to 300" (1,016 mm to 7,624 mm)
Hardware
PROJECTION LENS ZOOM / FOCUS
Manual (Approx. x1.6) / Manual
Interface
INPUT AND OUTPUT TERMINALS
HDMI (2 INPUTS) – Digital RGB/Y Pb/Cb Pr/Cr, IR IN – Minijack, USB – DC 5 V, Max. 500 mA, LAN - RJ45, 10Base-T/100BASE-TX, REMOTE – RS-232C, D-sub 9-pin (female), TRIGGER - Minijack, DC 12 V Max. 100 mA
Operating Conditions
OPERATING TEMPERATURE / HUMIDITY
5°C to 35°C (41°F to 95°F)/35% to 85% (no condensation)
STORAGE TEMPERATURE / HUMIDITY
-20°C to +60°C (-4°F to +140°F)/10% to 90% (no condensation)
POWER
ACOUSTIC NOISE
22 dB
POWER REQUIREMENT
AC 100 V to 240 V, 3.1 A to 1.3 A, 50/60 Hz
POWER CONSUMPTION
MAX 310 W
VIDEO FEATURES
LIGHT OUTPUT
1800 lm (Lamp mode: High)*
COLOR LIGHT OUTPUT
1800 lm (Lamp mode: High)*
Eco and energy saving
POWER CONSUMPTION (STANDBY) [W]
0.4 W When Standby Mode is set to Low
POWER CONSUMPTION (NETWORKED STANDBY MODE) – TERMINALS
1.0W (LAN) When Standby Mode is set to Standard
STANDBY MODE ACTIVATED
After about 10 Minutes