Audio Technica Direct-Drive Professional DJ Turntable in Silver - AT-LP140XP-SV
Audio Technica Direct-Drive Professional DJ Turntable in Silver - AT-LP140XP-SV
Audio Technica Direct-Drive Professional DJ Turntable in Black - AT-LP140XP-BK
Audio Technica Direct-Drive Professional DJ Turntable in Silver - AT-LP140XP-SV
AT-LP140XP-SV

Or as low as $131.44/month over 6 months. Apply Now
Literature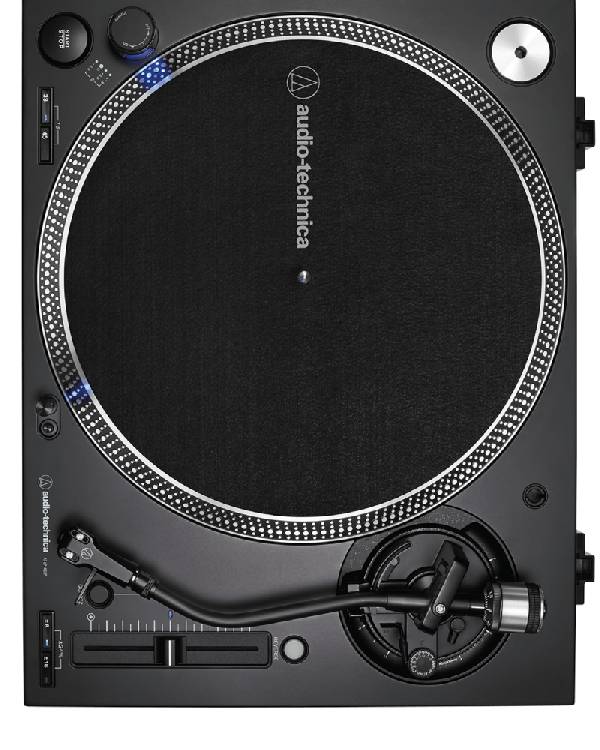 The AT-LP140XP fully manual professional DJ turntable features a high-torque direct-drive motor and anti-resonant, mass-damped, die-cast aluminum platter to ensure stable, on-axis rotation at 33-1/3, 45, and 78 RPM. It is equipped with an S-shaped tonearm with height adjustment, adjustable tracking force (counterweight) and adjustable dynamic anti-skate control.
Audio-Technica has been a leader in phono cartridge design for more than 50 years, and that expertise shows in the durable, high-output AT-XP3 DJ cartridge with 0.6 mil conical bonded stylus included with the turntable. It comes pre-mounted to an AT-HS6 universal ½"-mount headshell.
Designed to connect to components with a dedicated phono input, the turntable comes with a detachable dual RCA output cable and supplies a strong 5.5 mV output.
Additional professional features include a start/stop button; forward and reverse play; selectable high-accuracy quartz-controlled pitch lock and pitch change slider control with +/-8%, +/-16%, and +/-24% adjustment ranges; a stroboscopic platter with speed indicator; a popup stylus target light; and a removable hinged dust cover.
Available in black (AT-LP140XP-BK) and silver (AT-LP140XP-SV).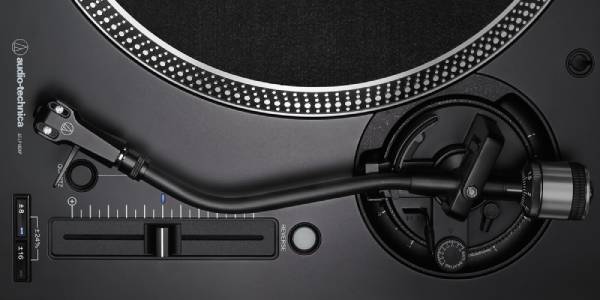 Direct-Drive with High-Torque Motor
Designed for DJs
This high-torque direct-drive deck comes with a high-output AT-XP3 DJ cartridge and is loaded with professional features.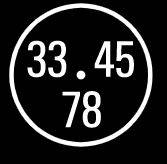 Plays 33-1/3 RPM, 45 RPM and 78 RPM Records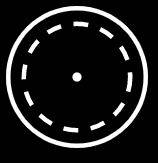 Direct-Drive with High-Torque Motor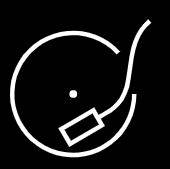 S-Shaped Tonearm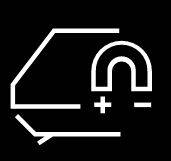 AT-XP3 Dual Magnet™ Phono Cartridge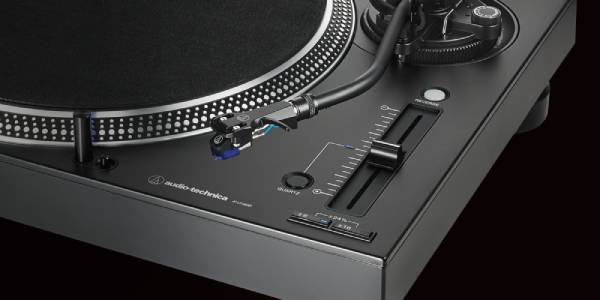 Fully Manual Operation
Take Control
Whether used for DJ gigs or playing records at home, the AT-LP140XP gives you exquisite control over your vinyl listening experience.
Features
Experience high-fidelity audio and professional DJ performance
Direct-drive, high-torque servo motor with speed stabilization
Fully manual operation
Adjustable dynamic anti-skate control
Selectable 33/45/78 RPM speeds
Professional anti-resonance, mass-damped, die-cast aluminum platter with felt mat
AT-HS6 universal ½"-mount headshell and AT-XP3 DJ cartridge with 0.6 mil conical bonded stylus
Balanced S-shaped tonearm with hydraulically damped lift control, height adjustment, and lockable rest
Dedicated phono-level output (5.5 mV)
Stroboscopic platter with speed indicator
Forward/reverse operation and variable pitch control with quartz speed lock
Popup stylus target light for easier cueing in low light
Damped base construction for reduced low-frequency feedback coloration
Includes: detachable RCA output cable (dual RCA male to dual RCA male), power cable, 45 RPM adapter, counterweight, felt mat, and removable hinged dust cover
Available in black (AT-LP140XP-BK) and silver (AT-LP140XP-SV)
Specifications
Type
3-speed, fully manual operation
Motor
High-torque DC motor
Drive Method
Direct drive
Speeds
33-1/3 RPM, 45 RPM, 78 RPM
Turntable Platter
Die-cast aluminum
Starting Torque
>2.2 kgf.cm
Wow and Flutter
<0.2% (WTD) @ 3 kHz (JIS)
Signal-to-Noise Ratio
>50 dB
Output Level
5.5 mV nominal at 1 kHz, 5 cm/sec
Power Supply Requirements
115/230V AC, 60/50 Hz
Dimensions
452.0 mm (17.80") W x 352.0 mm (13.86") D x 158.6 mm (6.24") H
Weight
10.0 kg (22 lbs.), without dust cover
Accessories Included
AT-XP3 phono cartridge; AT-HS6 headshell; dual RCA (male) to dual RCA (male) cable with ground wire; counterweight; felt mat; dust cover; 45 RPM adapter
Pitch Variation
+/-8% or +/-16% or +/-24%
Notes
Tonearm type: Balanced S-shaped tonearm with detachable headshell , Effective arm length: 230.5 mm , Overhang: 16 mm , Tracking error angle: Less than 3 degrees , Applicable cartridge weight: 3.5-8.5 g , Anti-skating range: 0-4 g , Replacement Stylus: ATN-XP3