Daymak 1000W, 48V Offroad Dune Buggies in Black - Dune Buggy JR (B)
Daymak 1000W, 48V Offroad Dune Buggies in Green Camo - Dune Buggy JR (G)
Daymak 1000W, 48V Offroad Dune Buggies in Black - Dune Buggy JR (B)

Daymak 1000W, 48V Offroad Dune Buggies in Black - Dune Buggy JR (B)
Dune Buggy JR (B)
$1,698.00
Features
Forget Mario Kart! Enjoy the real thing with the Dune Buggy Jr. Give your kid the real life experience and enjoy hours of fun racing around in this go-kart. But don't let the size fool you, this thing goes fast for something this small! Make the next gift that you get for them their favourite and let them enjoy the outdoors while they still can!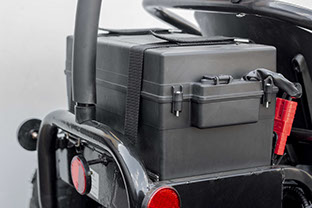 Battery
Keep your fun both quiet and environmentally friendly, with the 48V Lead Acid Battery Pack. Charge in up to 6 hours for over 30 km of range for clean fun and get up to 300 cycles before needing to replace the battery pack.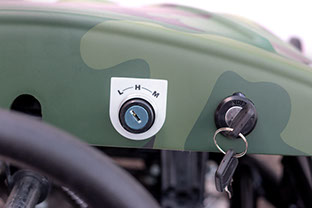 Speed Control
Enjoy the comfort of knowing your little one is safe, with the speed control lock. With it, you can set the speed of the Dune buggy jr. to high, medium or low, quickly and easlity.
'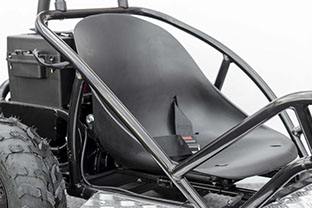 Seat
The Dune Buggy Jr. has a 18 inch bucket seat that can be adjusted forward and backward. It also features an adjustable seatbelt with clip that will ensure that although your kids is going fast they will be safe and secure.
Electrical
Motor
1000W
Battery
48V 20AH Lead Acid
Battery Life
300 charges
Removable battery
No
Charger input
110V-240V
Charge time
6 - 8 hours
Lights
None
Dimensions & Weight
Max load
110 kg
Net weight
225 lbs
Dimensions Assembled
55" x 30" x 35"
In Box Weight
240 lbs
Additional Information
Range
up to 40 km
Climbing incline
15 degrees
Tire size
145/70 – 6
Gauges
Battery level
Brakes
Rear Disc brakes
Key ignition
Yes
Shocks
None