Daymak 350W , 48V Electric Bicycle in Red - Easy Rider (R)
Daymak 350W , 48V Electric Bicycle in Pink - Easy Rider (P)
Daymak 350W , 48V Electric Bicycle in Red - Easy Rider (R)
Daymak 350W , 48V Electric Bicycle in Black - Easy Rider (B)

Daymak 350W , 48V Electric Bicycle in Red - Easy Rider (R)
Easy Rider (R)
$1,998.00
Literature
Features
Take a joy ride on Daymak's comfort cruiser the Easy Rider. This electric bike is built for taking in the scenery and enjoying the outdoors on a leisurely ride. The Easy Rider comes with an ultra-wide 32" handlebar span that curves towards you making it easy to hold and keeps your back upright and stress free. With the 48V lithium ion battery pack and 350W motor, you'll be able to climb hills with virtually no effort. The Daymak Easy Rider also comes with 26 x 2.4 inch tires which gives you the comfort and stability that you need on your ride. The Easy Rider is built to make sure everyone can enjoy an ebike and look good while riding one!
It is important for people during this trying time to avoid crowds to help reduce the spread of infections. By choosing transportation methods like ebikes instead of mass transit, you can help protect yourself and reduce the spread of viruses in an environmentally conscious way.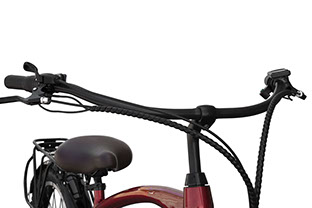 Cruiser Handlebars
The Easy Rider comes with its signature curved handlebars which provide the rider easy control without having to bend over and strain your back. If you are looking to ride for a long time this is the way to go.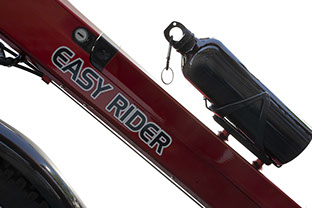 Removable 48V Lithium Battery
With the Daymak Easy Rider, you get a 48V lithium battery pack that fits seamlessly into the frame of the bike. It also comes with a bottle holder built on to it! Bonus!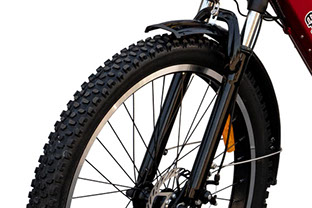 26 x 2.4 Inch Tires
Make sure you don't wipe out with the large 26 x 2.4 tires on the Easy Rider. It's extra wide and thick tread makes it so even if you are riding in the rain you will have the utmost control.
Electrical
Motor
350W
Battery
48V 10AH Lithium Ion
Battery Life
1000 charges
Removable battery
Yes
Charger input
110V-240V
Charge time
2 - 4 hours
Lights
LED
Dimensions & Weight
Max load
136kg or 300lbs
Net weight
60lbs
Frame
19" Seat Tube 23" Top Tube 7"Head Tube
Dimensions Assembled
72"x32"x45"
Seat Height
33"
Seat Width
10"
In Box Weight
80 lbs
Additional Information
Range
Up to 50 km
Top Speed
32 km/h
Climbing incline
25 degrees
Tire size
26 x 2.4
Gauges
Battey Level / Odometer / Speedometer / Trip / Voltage
Brakes
Disc Brakes
Key ignition
Yes
Shocks
Adjustable 3" of Travel
Levels of Pedal Assist
5
Shifters
6 Speed Shimano
Extras
-