Daymak 500W , 72V Ebike in Red - Arrow (R)
Daymak 500W , 72V Ebike in Red - Arrow (R)
Daymak 500W , 72V Ebike in Blue - Arrow (BL)
Daymak 500W , 72V Ebike in Orange - Arrow (O)
Daymak 500W , 72V Ebike in Black - Arrow (B)

Or as low as $257.84/month over 12 months. Apply Now
Literature
Features
The perfect combo of performance and price, the Daymak Arrow ebike is now available. The Arrows edgy fairings and style make for a modern and sporty look. The Arrow comes with rear gas shocks as well as front shocks for smooth riding. It also comes with a 72V 30Ah SLA battery pack that offers a range of up to 60 km on a single charge for a total of 2160Wh of power (50% more than the traditional 72V ebike). With its LED spotlight headlight, ride with visibility day or night. Tweak the performance of the Arrow wirelessly using the Daymak Drive Bluetooth controller with your Android or iOS smartphone. The Daymak Arrow is a great bike for one or two riders and gives you great functionality at a great price. Get the Daymak Arrow available at your local Daymak dealer.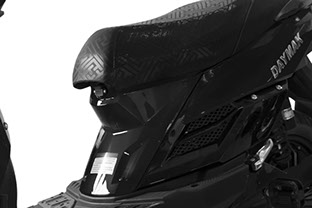 72V 30Ah Battery Pack
Take your ebike further than you have before with 2160Wh Standard Lead Acid battery pack. Travel distances of up to 60 km on a single charge. The Arrow is the perfect bike to take for those long distance trips and is fun while taking it!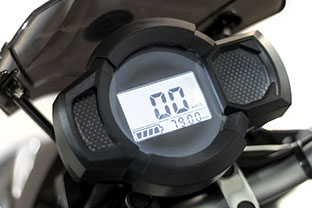 Digital Display
With a modern display the Arrow tells you what you need. The digital display is a back lit LED.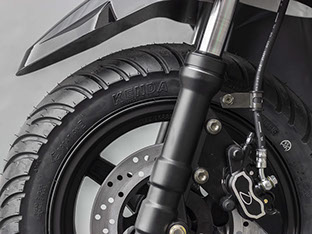 Hydraulic Disc Brakes
With the front and rear hydraulic disc brakes, whether you have a full load or a light one, you can come to a stop on a moment's notice. Make sure when you ride, you ride safe.
Additional Information
Brakes
Rear and Front Hydraulic Disc Brakes
Gauges
Digital and Analog / Battery level / Speedometer / Odometer / Trip Meter
Tire size
120/70-12
Climbing incline
25 degrees
Top Speed
32 km/h
Range
up to 75 km
Dimensions & Weight
In Box Weight
230 lbs
Seat Length
23"
Seat Width
10"
Seat Height
30"
Dimensions Assembled
67" x 29" x 41"
Net weight
210 lbs
Max load
150 kg
Electrical
Lights
LED
Charge time
6 - 8 hours
Charger input
110V-240V
Removable battery
Removable only to replace
Battery Life
300-400 cycles
Battery
72V 30AH Lead Acid
Motor
500W
Additional Information
Key ignition
Yes / Ignition Lock
Shocks
Yes / Rear Gas Shocks
Controller
Daymak Drive Bluetooth
Extras
Rear Carrying Case / Additional Rider Pegs