Daymak 500W Florence Fat Tire Ebike in Black -Florence Fat Tire (B)
Daymak 500W Florence Fat Tire Ebike in Blue - Florence Fat Tire (Bl)
Daymak 500W Florence Fat Tire Ebike in Black -Florence Fat Tire (B)
Daymak 500W Florence Fat Tire Ebike in White -Florence Fat Tire (W)
Daymak 500W Florence Fat Tire Ebike in Red -Florence Fat Tire (R)

Daymak 500W Florence Fat Tire Ebike in Black -Florence Fat Tire (B)
Florence Fat Tire (B)
$3,398.00
Literature
The Florence Fat Tire ebike puts the fun in functional. If you were ever worried about your balance issues, but yearn for the joys of riding, this is the bike for you. The Florence FT has three oversized tires to help keep you balanced and allows even the most novice riders to experience the outdoors as it was meant to. Keep all your belongings close behind you or use it to carry wood to the campfire; this bike is as useful as it is exciting. With the powerful motor and 960Wh battery the only thing you need to worry about is if you'll be home for dinner. Get the Florence Fat Tire ebike and be the author of your new story.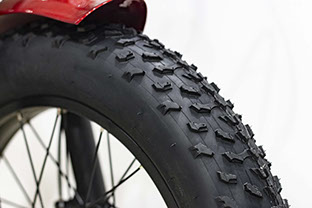 Fat Tire
With its 3, 20 x 4.0 fat tires, the Florence is both comfortable and stable. Don't worry about balance as the 3 wheels helps against tipping, while the oversized fat tires makes sure that you can travel over many different terrains.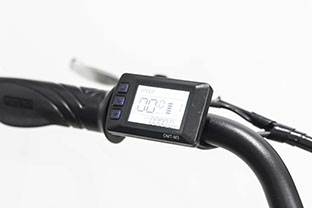 King Meter
The Daymak Florence also features a King Meter KM529 LCD display with 5 levels of pedal assist. Check your battery meter, speed and odometer all with a simple push of a button. Make sure your display is visible even at night by turning on the back light.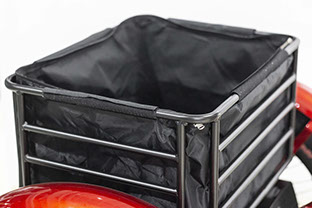 Basket
The Florence Fat Tire has a sturdy iron 19" x 15" x 10" basket that is perfect for carrying an array of goods. Whether you are carrying your groceries or lumber for your campfire, the Florence has enough room for your storage.
Additional Information
Climbing incline
15 degrees
Range
up to 40 km on throttle*
Dimensions & Weight
In Box Weight
85 lbs
Basket Dimensions
19" x 15" x 10"
Dimensions Assembled
74" x 32" x 44"
Net weight
75 lbs
Max load
150 kg
Electrical
Lights
No
Charge time
3 - 4 hours
Charger input
110V-240V
Battery Life
1000 charges
Removable battery
Yes
Battery
48V 20AH Lithium
Motor
500W
Additional Information
Tire size
20" x 4"
Gauges
Battery level, speedometer, odometer, 5 speed pedal-assist mode, Travel Time, Trip Meter
Brakes
Front and back disc brakes
Key ignition
Yes