Daymak 72V Electric Scooter in Black - EM1 (B)
Daymak 72V Electric Scooter in Red - EM1 (R)
Daymak 72V Electric Scooter in Blue - EM1 (Bl)
Daymak 72V Electric Scooter in Black - EM1 (B)
Features
The EM1 electric motorcycle has finally arrived and it is taking the market by storm. The EM1 is the first of its kind, with a design that allows you to sit in a prone position. The EM1 comes with USD front shocks and standard rear shocks making it one of the smoothest rides yet. With its definitive front LED headlights and signal lights, the EM1 is truly the evolution of ebikes. It comes with foot pegs for multiple riders and pedals giving you the ability to pedal if you run out of power. The Daymak EM1 electric motorcycle also comes with an LED back lit speedometer and odometer. Also standard with the EM1 comes the Daymak Drive Turbo controller. With customization features with the Bluetooth controller you can make the EM1 configured exactly how you need it. The EM1 comes with integral security features including remote start, and alarm system, motor lock (via app) and more. This may be the most stylish ebike yet!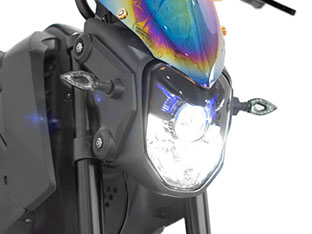 Halo LED Headlights
The EM1 comes with an ultra-stylish set of LED headlights that both provides great vision and night while looking modern and sleek. The accent of blue LEDs around the front main bulb provides a certain hue however does not provide a distraction for oncoming traffic.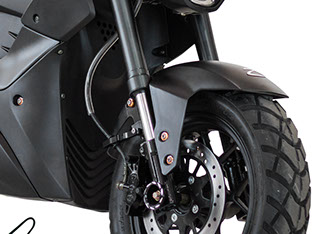 USD Shocks
With the EM1 you get a two USD (Upside Down) shocks that provides one of the smoothest rides for ebikes to date. With it's 4.5" of travel, go over bumps and pot holes and not even realize they are there! These shocks come either gold or black finishes.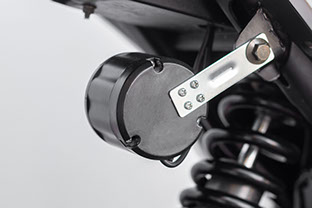 Bluetooth MP3 Player
Listen to your favourite jams while riding on the EM1! Connect to your smart phone or MP3 player via Bluetooth and play your whole music library while you ride. Make some noise from the otherwise quiet Daymak EM1!
Electrical
Motor
500W
Battery
72V 20AH Lead Acid
Battery Life
300-400 cycles
Removable battery
Removable only to replace
Charger input
110V-240V
Charge time
6 - 8 hours
Lights
Halo LED
Dimensions & Weight
Max load
150 kg
Net weight
210 lbs
Dimensions Assembled
67" x 29" x 41"
Seat Height
30"
Seat Width
10"
Seat Length
23"
In Box Weight
230 lbs
Additional Information
Range
up to 50 km
Top Speed
32 km/h
Climbing incline
25 degrees
Tire size
18 x 2.5
Gauges
Battery level / Speedometer / Odometer / Trip Meter
Brakes
Rear and Front Disc Brakes
Key ignition
Yes
Shocks
Yes Inverted
Controller
Daymak Drive Bluetooth
Extras
Bluetooth Mp3 / 12V Outlet / Additional Rider Pegs