Daymak 72V Electric Scooter in Black - EM2 (B)
Daymak 72V Electric Scooter in Red - EM2 (R)
Daymak 72V Electric Scooter in Blue - EM2 (Bl)
Daymak 72V Electric Scooter in Black - EM2 (B)
Features
Bringing the defining qualities of sports bikes to the ebike world, the EM2 is the product of suggestions and requests from people like you! This ebike is as close to a gas motorcycle as you can get without the emissions, and of course license or registration! The perfect combination of sport and substance the EM2 is one of our largest bikes, with a seat height of 30" and 75" total length. Get the most space for you and a second passenger. It also features a Daymak first a 72V 30AH lead acid battery pack for a range of up to 60 km on a single charge! Couple all this in with premium features such as adjustable front suspension with 5.5" inches of travel, Daymak Drive Bluetooth Controller, hydraulic disc brakes, cruise control and more makes it the hottest ebike of the summer. Get your hands on one today and take the road by storm, a quiet storm!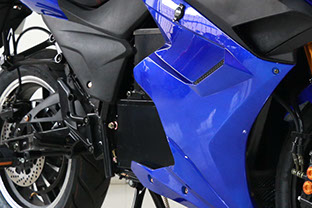 72V 30Ah Battery Pack
Take your ebike further than you have before with 2160Wh Standard Lead Acid battery pack. Travel distances of up to 60 km on a single charge. The EM2 is the perfect bike to take for those long distance trips and is fun while taking it!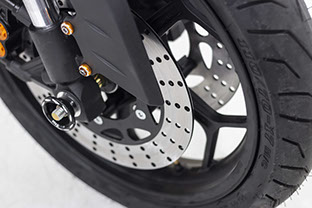 Dual Hydraulic Disc Brakes
To make such a powerful machine as the EM2 come to stop you need real stopping power. That's why the Daymak EM2 comes with hydraulic dual disc front brakes to make sure you stop when you need to. It also comes with a rear hydraulic single disc brakes!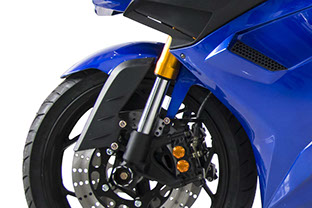 USD Front Shocks
The EM2 comes with dual front shocks with 6" of travel. Don't let the bumpiness of the road detour you from riding. With these shocks you go over speed bumps and potholes with ease. They come either black or gold plated.
Electrical
Motor
500W
Battery
72V 32AH Lead Acid
Battery Life
300-400 cycles
Removable battery
Removable only to replace
Charger input
110V-240V
Charge time
8 - 10 hours
Lights
LED
Dimensions & Weight
Max load
175 kg
Net weight
250 lbs
Dimensions Assembled
80" x 28" x 45"
Seat Height
34"
Seat Width
14"
Seat Length
14"
In Box Weight
270 lbs
Additional Information
Range
up to 60 km
Top Speed
32 km/h
Climbing incline
25 degrees
Tire size
110/70 - 17
Gauges
Digital / Battery level / Speedometer / Odometer
Brakes
Single Rear and Dual Front Hydraulic Disc Brakes
Key ignition
Yes
Shocks
Yes Adjustable
Controller
Daymak Drive Bluetooth
Extras
12V Outlet / Additional Rider Pegs