Daymak 800 W Electric Atv in Orange - GRUNT (O)
Daymak 800 W Electric Atv in Orange - GRUNT (O)
Daymak 800 W Electric Atv in Red - GRUNT (R)
Daymak 800 W Electric Atv in Blue - GRUNT (Bl)
Daymak 800 W Electric Atv in Black - GRUNT (B)
Features
Step it up for even more power, speed and of course fun with Daymak Grunt ATV. Go faster and further with this kids ATV and let your kid embrace their sense of adventure. The Grunt ATV is a blast kids will have hours of fun racing around outside. Take it off road, through parks, driveways; you name it. Perfect for kids 6-14 these electric ATVs are sure to make the kids summer! But that doesn't mean you can't ride it in the winter; with the Grunt's 16 x 8 – 7 tires, ride through sand sleet and snow! Get your kids to embrace the outdoors like we used to with the Daymak Grunt electric ATV.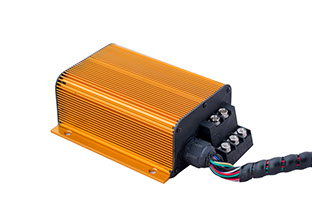 Bluetooth Controller
The Grunt features the Daymak Drive Bluetooth controller which allows you to limit the top speed so kids can safely learn to ride. Increase the top speed, acceleration and fully customize your ATV when your kids is comfortable and able!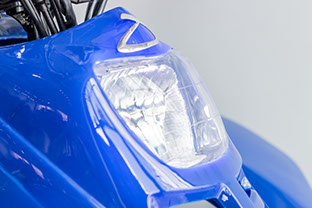 Headlights
If you are playing through the woods, or riding late at night, the Grunt features bright LED headlights that can be turned on and off to provide that extra bit of visibility. Keep an eye out, and make sure traffic keeps an eye on your kid!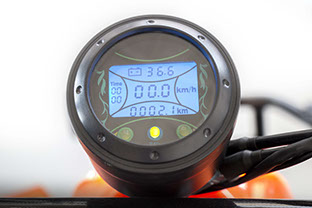 LED Display
Know how fast you're going and how far you have gone with the digital LED display. This display shows your current speed in km/h and a odometer to see how much fun and action this ATV has got!
Electrical
Motor
800W
Battery
48V 12AH Lead Acid
Battery Life
300-400 cycles
Removable battery
Removable only to replace
Charger input
110V-240V
Charge time
6 - 8 hours
Lights
LED
Dimensions & Weight
Max load
90 kg
Net weight
110 lbs
Dimensions Assembled
50" x 31" x 34"
Seat Height
25"
Seat Length
19"
In Box Weight
125 lbs
Additional Information
Range
up to 35 km
Controller
Daymak Drive Bluetooth
Climbing incline
20 degrees
Tire size
16 x 8 - 7
Gauges
Battery level / Speedometer / Odometer
Brakes
Rear Hydraulic Disc brakes / Front Disc
Key ignition
Yes
Shocks
Dual Front 12" Single Rear 9"