Daymak Electric Dirt Bike With Bluetooth Controller In Green - Mini Pithog (G)
Daymak Electric Dirt Bike With Bluetooth Controller In Black - Mini Pithog (B)
Daymak Electric Dirt Bike With Bluetooth Controller In Red - Mini Pithog (R)
Daymak Electric Dirt Bike With Bluetooth Controller In Green - Mini Pithog (G)

Daymak Electric Dirt Bike With Bluetooth Controller In Green - Mini Pithog (G)
Mini Pithog (G)
$898.00
Literature
Make your own motocross with the electric dirt bike the Daymak Pithog. Climb hills, go off jumps and race your friends on this mini dirt bike. Perfect for youth, the Pithog is THE way to get started in the motocross world. Hitting speeds of 20 km/h and going for an hour straight without charge you can boot around the trails for tons of fun. This fully automatic dirt bike requires no gas, and no kick or pull starts. Now with the new bluetooth controller makes it safer for all ages. Limit the speed for younger kids and increase it as they get older! Just as fast as gas with no chains making for easy maintenance. After your done just plug the dirt bike in for a few hours and get back out there. Comes in 3 different colours which you can mix and match with your friends for endless possibilities. Eat dirt hills for breakfast and get your Pithog today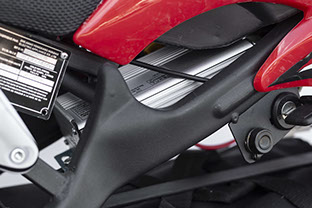 Bluetooth Controller
Set your Daymak Pithog to the level that is perfect for your rider all via smart phone. Whether you want to decrease the acceleration or lower the top speed do it all within seconds. Once they are ready open it up and let them tear it up!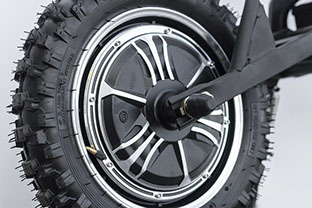 500W Brushless DC Motor
Never worry about over heating engines and running out of gas again. With this electric brushless motor get the easy no mess solution that is quieter and just as fun. Get up to speeds of 20 km/h! Oh and it's good for the environment!
Hydraulic Disc Brakes
The Daymak Pithog comes with the stopping power that you would only trust for your little one. With the hydraulic disc brakes you can be sure that your kid will come to a stop right when they need to. Save your kid from unnecessary bumps and bruises!
Additional Information
Extras
Daymak Drive Bluetooth Controller
Key ignition
Yes
Brakes
Front and Rear Disc Brakes
Climbing incline
15 degrees
Top Speed
20 km/h
Run time
up to 1.5 Hours
Dimensions & Weight
In Box Weight
120 lbs
Dimensions Assembled
48" x 28" x 26"
Net weight
110 lbs
Max load
50 kg
Electrical
Lights
N/A
Charge time
6 - 8 hours
Charger input
110V-240V
Removable battery
Removable only to replace
Battery Life
300-400 cycles
Battery
36V 12AH Lead Acid
Motor
500W