Daymak Electric Bicycle with 36V 7.8AH Lithium Ion in White - Paris 36V (W)
Daymak Electric Bicycle with 36V 7.8AH Lithium Ion in Pink - Paris 36V (P)
Daymak Electric Bicycle with 36V 7.8AH Lithium Ion in Black - Paris 36V (B)
Daymak Electric Bicycle with 36V 7.8AH Lithium Ion in White - Paris 36V (W)

Daymak Electric Bicycle with 36V 7.8AH Lithium Ion in White - Paris 36V (W)
Paris 36V (W)
$1,798.00
Literature
Features
The Paris 36V is back again for another round as one of Daymak's fan favourite electric bicycles. The all new Paris 36V 2021 has some cool new features while staying at such a great price. The Paris 36V 2021, now has front shocks with 4 inches of travel making it a much smoother ride than its predecessor. It also comes with 6 Speed Shimano gear shift, so even if you are not using the battery power you can adjust the ease of your ride with its quick-shift shifters. But let's not forget about the mainstay features that make it one of our most popular ebikes, such as 36V removable lithium battery pack, step through frame and cruiser handlebars. The Paris 36V continues to excel and this year is no different.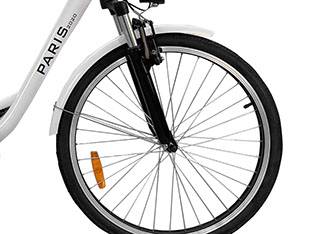 4 Inch Shocks
The Paris 36V comes with shocks with 4 inches of travel so whether you're on the road or on the path you can cruise comfortably.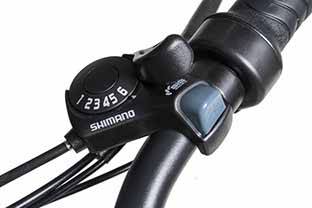 Shimano 6 Speed Shifters
With the Paris 36V 2021, you can choose the difficulty of pedaling with the quick shift Shimano 6 speed shifters. Shift up and down gears with ease and change from ease to speed in a matter of seconds!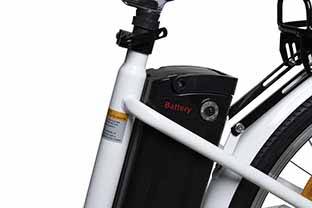 Removable Lithium Ion Battery
The Paris 36V now has an ignition, so you don't have to worry about locking your motor when you park it. Once you take out the key nobody can tamper with it! Just don't forget to lock the bike to something safe!
Additional Information
Climbing incline
20 degrees
Top Speed
32 km/h with pedal assist
Range
Up to 40 km
Dimensions & Weight
In Box Weight
75 lbs
Seat Width
8"
Seat Height
35"
Dimensions Assembled
70"x24"x43"
Frame
18" Seat Tube 22" Top Tube 5"Head Tube
Net weight
57lbs
Max load
125kg or 275lbs
Electrical
Lights
LED
Charge time
4 - 6 hours
Charger
42V 2.0A 110V
Removable battery
Yes
Battery Life
1000 charges
Battery
36V 7.8AH Lithium Ion
Motor
250W
Additional Information
Tire size
26 x 1.75
Gauges
Battey Level
Brakes
V Brake (Front), Drum Brake (Back)
Key ignition
Yes
Levels of Pedal Assist
1
Shifters
6 Speed Shimano