Daymak Offroad Ebike With Hydraulic Disc Brakes in Black - Pithog Max (B)
Daymak Offroad Ebike With Hydraulic Disc Brakes in Red - Pithog Max (R)
Daymak Offroad Ebike With Hydraulic Disc Brakes in Blue - Pithog Max (Bl)
Daymak Offroad Ebike With Hydraulic Disc Brakes in Black - Pithog Max (B)

Daymak Offroad Ebike With Hydraulic Disc Brakes in Black - Pithog Max (B)
Pithog Max (B)
$3,498.00
Literature
Features
Looking for something a little more rugged? The Daymak Pithog Max is now available and it is one of a kind! The Pithog max has an aggressive tread front wheel similar to that you would find on a dirt bike. But that doesn't mean this bike is only for off road, this fully street legal electric dirt bike will tear it up on the road as well. Best of all, the Pithog max comes with a 72V 32AH lithium ion battery, which charges faster, lasts longer and is lighter than a lead acid battery. It's headlight and fender design give the Pithog Max a sharp and stylish look. Listen to your songs while you ride with its Bluetooth MP3 speaker for some epic theme music for your adventure. This is the perfect fun for one electric scooter.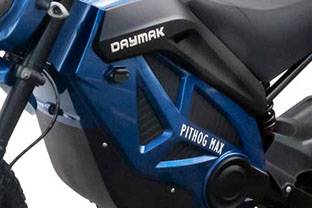 72V 32AH Lithium Ion Battery
The Pithog Max comes with a 72V 32A lithium ion battery that can get up to 70km distance on a single charge. Take your adventure further and have a blast while doing it.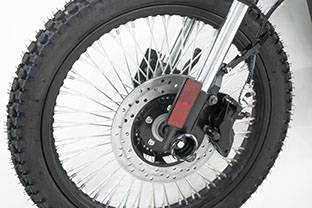 110/70-17 Dirt Bike Front Wheel
The Pithog Max is known for its signature dirt bike front wheel. With its aggressive tread, ride off-road through rugged terrain with ease or cruise as you please on the street.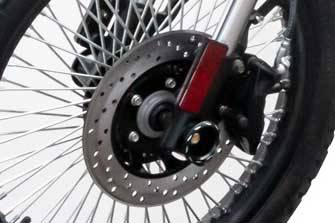 Hydraulic Disc Brakes
The Pithog Max comes with hydraulic disc brakes so that you can stop quickly when you need to. Whether your riding in the streets or riding down a hill the Pithog Max has got stopping power.
Additional Information
Tire size
2.5-17 (F) 130/70-12 (R)
Climbing incline
25 degrees
Controller
Daymak Drive Bluetooth
Range
Up to 70 km
Dimensions & Weight
In Box Weight
146 kg or 320 lbs
Seat Width
7"
Seat Height
32"
Dimensions Assembled
68"x30"x43"
Net weight
114 kg or 250 lbs
Max load
159 kg or 350lbs
Electrical
Lights
LED
Charge time
8 - 10 Hours
Charger input
110V-240V
Removable battery
Removable only to replace
Battery Life
1000 cycles
Battery
72V 32AH Lithium Ion
Motor
500W
Additional Information
Gauges
Battery Level / Speedometer
Brakes
Hydraulic Disc
Key ignition
Key Iginition / Remote Start
Shocks
6" of Travel (F) Coil (R)