Denon 7.2 Channel 8K AV Receiver with 3D Audio, Voice Control and Built in Heos - AVRX1700HBKE3
Free Shipping

Or as low as $166.53/month over 6 months. Apply Now

Denon 7.2 Channel 8K AV Receiver with 3D Audio, Voice Control and Built in Heos - AVRX1700HBKE3
AVRX1700HBKE3
$949.00

Powerful, discrete 7-channel amplifier
Delivers maximum performance and 80W per channel to provide the classic and dynamic Denon sound experience.
Advanced 8K HDMI video with eARC support
Three 8K inputs support the latest HDMI specifications—8K/60Hz, select 4K/120Hz pass-through, VRR, Dolby Vision™, HDR10+, ALLM.

Full 3D audio support with virtual surround sound
Enjoy immersive 3D audio with Dolby Atmos®, Dolby Atmos Height Virtualization Technology, DTS:X®, and DTS Virtual:X™.

Enhanced gaming experiences
Variable Refresh Rate (VRR) and Auto Low Latency Mode (ALLM) care for amazing imaging as well as reduced lag and latency.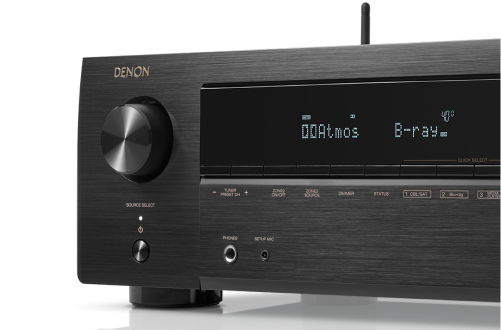 Wireless music streaming
Enjoy music services like Spotify®, Pandora®, Amazon Music HD, and more with HEOS® Built-in.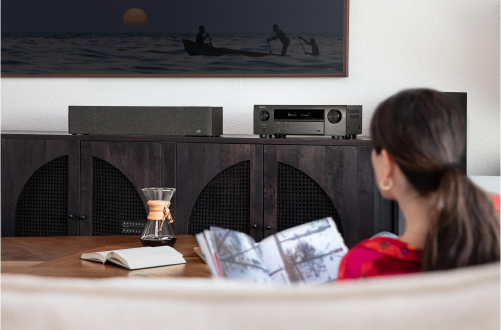 Audyssey room correction
Precisely analyzes the output of each speaker to optimize every channel's performance.
Built-in Bluetooth, Wi-Fi
Dual-antenna transceiver for robust Bluetooth and Wi-Fi streaming even in congested environments.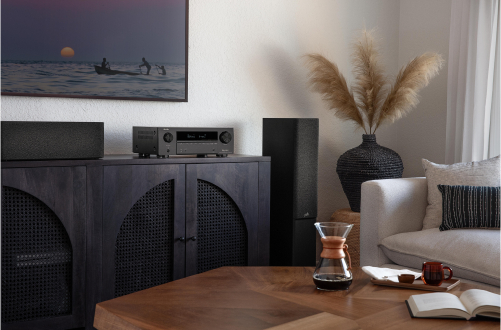 Defining audio excellence
With a deep legacy of firsts and amazing sound.
4K/120Hz pass-through, Variable Refresh Rate (VRR), Auto Low Latency Mode (ALLM), and Quick Frame Transport (QFT) enhance your gaming experience.
High-resolution audio streaming for hi-fi enthusiasts—enjoy high-resolution file playback with FLAC, ALAC, and WAV support as well as DSD 2.8/5.6MHz.
Enjoy your favorite audio through your Bluetooth headphones. Supports Bluetooth-only playback and simultaneous playback with connected speakers.
Works with your favorite voice services. Use your voice to control the AVR, wireless music services, and digital assistants like Siri and Alexa.
Multichannel Surround
DTS HD Master / DTS:X
Yes / Yes
DTS Neo:X / DTS Neural:X
No / Yes
DTS Virtual:X
Yes
Dolby TrueHD / Dolby Atmos
Yes / Yes
Dolby ProLogic II / Dolby Surround
No / Yes
Dolby Height Virtualization
Yes
Multichannel Stereo
Yes
Dialog Enhancer
Yes
Max Number of Processing (Preamp) Channels
7.1
Sound Enhancements
Discrete Power Amplifier
7
Audyssey
MultEQ XT
Audyssey Dynamic EQ / Dynamic Volume
Yes / Yes
Audyssey APP Support
Yes
Compressed Audio Restorer
Yes
Network
HEOS Multiroom and Streaming
Yes
Lossy Formats: MP3 / WMA / AAC
Yes / Yes / Yes
Lossless Formats: FLAC / ALAC / WAV
Yes / Yes / Yes
DSD Audio Streaming
up to DSD5.6
FLAC HD 192/24
Yes
WAV 192/24
Yes
ALAC 192/24
Yes
Gapless playback
Yes (FLAC, WAV, ALAC, DSD)
AirPlay 2
Yes
Roon Tested
Yes
Internet Radio
TuneIn
Spotify Connect* / Tidal* / Deezer* / others *
Yes / Yes / Yes / Yes
Amazon Prime Music* / Pandora*
Yes / Yes
Compatible with Remote APP for Smart Phones
Android / iOS
Compatible with Remote APP for Tablets
Android / iOS / Amazon Kindle
Ethernet Ports
Yes
Wi-Fi
Yes
Bluetooth
Yes
HDMI
HDMI Inputs: Back / Front
6 (3x 8K) / 0
HDCP2.3 support
Yes
HDMI Outputs: Main / Zone
1 / No
HDMI max Resolution (8k / 4k)
8k/60 - 4k/120
HDMI to HDMI Scaling
up to 8K 60/50
HDMI: 8K / 4K / CEC / eARC
Yes / Yes / Yes / Yes
HDMI: Dolby Vision / HDR 10+ / Dynamic HDR / HLG
Yes / Yes / Yes / Yes
HDMI: ALLM / QMS / QFT / VRR
Yes / Yes / Yes / Yes
HDMI pass-though in standby mode
Yes
Multi-room CI
HEOS Multiroom integrated
Yes
TV Sound grouping
Yes
Multiroom zones
2
Main room multichanel audio - Zone stereo downmix
Yes
Zone Audio Source: HDMI / Opt, Coax / Network, USB / Analog
Yes (2ch) / Yes (2ch) / Yes / Yes
Zone Audio Output: Speaker / Preout
Yes / Yes
Webbrowser Setup
Yes
IP Control / RS232 Control / Web Control / App Control
Yes / No / Yes / Yes
Remote In / Out
1 / No
Others
Voice Control - Works with Amazon Alexa
Yes
Voice Control - Google Assist / Apple Siri
Yes / Yes
Auto Speaker Setup by Microphone
Audyssey MultEQ XT
FL Display
1 line
Graphic User Interface - GUI
Hybrid GUI
GUI Languages
3
Setup Assistant
Yes
Quick Select Plus / Quick Select
Yes / No
Firmware Update by: Network / USB
Yes / Yes
Variable Cross Over
Yes
Optimized Bass Redirection
Yes
ECO Mode
Yes
Auto Power Off
Yes
Sleep Timer
Yes
Inputs Outputs
Composite In / Out
2 / 1
Component In / Out
No / No
HDMI In / Out
6 / 1
Multi-room Video Out: Video / HDMI
No / No
Analogue In/out
2 / No
Phono (MM) In
Yes
Digital In: Optical / Coaxial
2 / 1
Multi-room Out: Analog / Digital
Yes / No
Multichannel Preout
Yes (0.2)
Subwoofer Out
2
Speaker Terminal: Gold Plated Screw / Regular Screw
No / Yes
Number of Speaker Terminals
7
Speaker A / B
assignable
Bi-amp Drive
assignable
Multi-Room Speaker Terminal
assignable
Front Inputs: Audio / Composite / Digital (Opt) / HDMI / USB
No / No / No / No / Yes
USB Audio / Made for iPod / Made for iPhone
Yes / AirPlay / AirPlay
Tuner: FM / AM
Yes / Yes
Specifications
Number of Power Amps
7
Power Output (8 ohm, 20 Hz - 20 kHz, 0.08% 2ch Drive)
80 W
Power Output (6 ohm, 1 kHz, 0.7% 2ch Drive)
120 W
Power Output (6 ohm, 1 kHz, 10% 1ch Drive)
175 W
General
Available colors: Black / Premium Silver
Yes / No
System Remote Control
RC-1244
Pre-programmed / Learnable / LCD Display
No / No / No
Power Consumption in W
430
Power Consumption No-Sound (ECO On / Off) in W
29 W / 39 W
Dimensions (W x D x H)
434 x 339 x 151 mm
Standby Consumption in W
0.1
CEC Standby Consumption in W
0.5
Network Control On Consumption in W
2.0
Maximum Dimensions w/ Antenna (W x D x H)
434 x 339 x 151 mm
Weight in kg
8.6
Carton Maximum Dimensions (W x D x H) in mm
523 x 435 x 232
Carton Weight (inc. product) in KG
10.6
Maximum Dimensions Antenna: Horizontal: (W x D x H) in Inches
17.1× 13.3 × 6 ( 17.1 x 13.3 x 8.5)
Weight in LBS
18.96
Carton Maximum Dimensions (W x H x D) in Inches
20.6 x 17.1 x 9.1
Carton Weight (inc. product) in LBS
23.37