Denon Premium Listening Experience And 8K Video From A 2.2-channel AV Receiver - DRA-900H
Free Shipping

Or as low as $175.31/month over 6 months. Apply Now

Denon Premium Listening Experience And 8K Video From A 2.2-channel AV Receiver - DRA-900H
DRA-900H
$999.00
Literature
Enjoy your music and movie collections, including vinyl, CD, Hi-Res, Blu-ray, and even the latest 8K content, all from a two channel system. Plus, with HEOS® Built-in, you can wirelessly stream online music and share it with HEOS-enabled speakers in other rooms.
High-performance two-channel amplifier
Expert sound engineering
Advanced 8K HDMI connection
HEOS® Built-in
Simple, intuitive setup
Built-in Wi-Fi and Bluetooth
Where visual mastery meets audio clarity
Premium listening and 8K video from a 2.2-channel AV receiver.
Your audio setup is only as good as its heart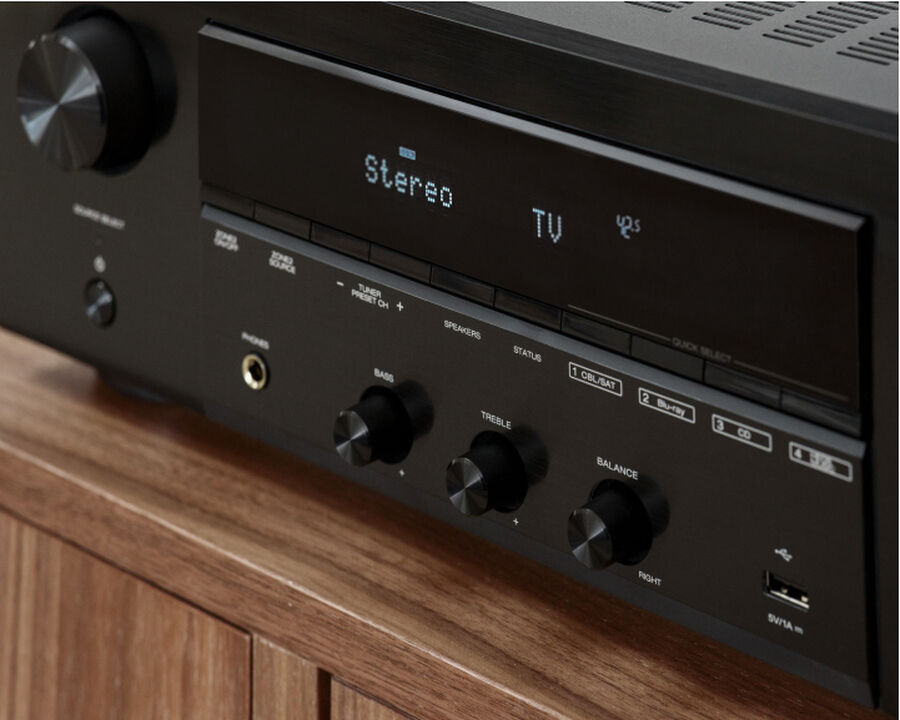 Superb performance
A stereo network receiver seamlessly integrated with the latest AV technologies.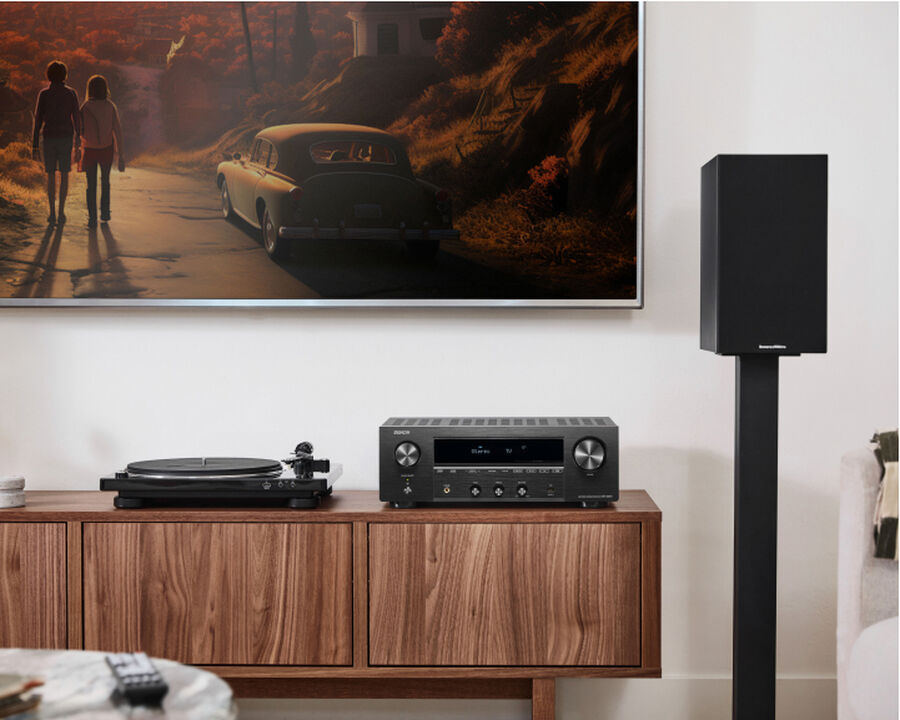 Expertly engineered for all sources
Enjoy your hi-res audio files, vinyl collections, movies, and games with Denon® Hi-Fi sound.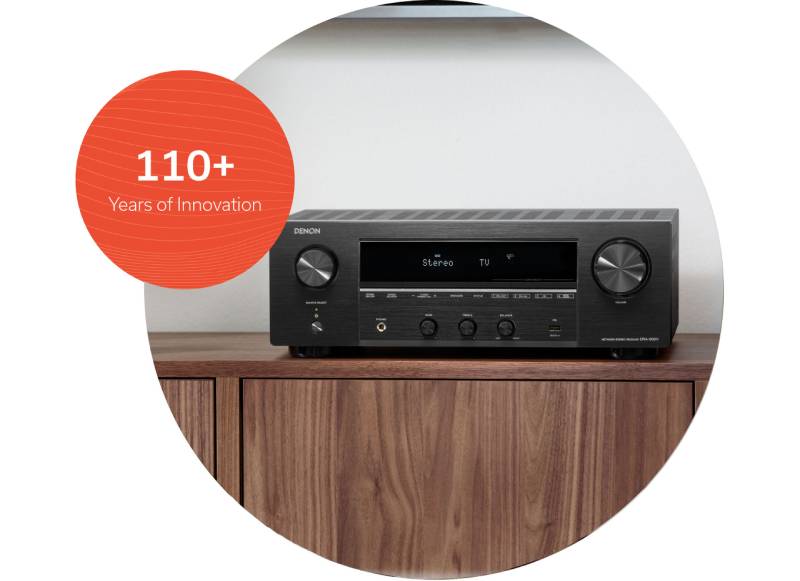 Geared for 8K
Enjoy amazing video quality from the latest 8K technology.
Plenty of power for plenty of devices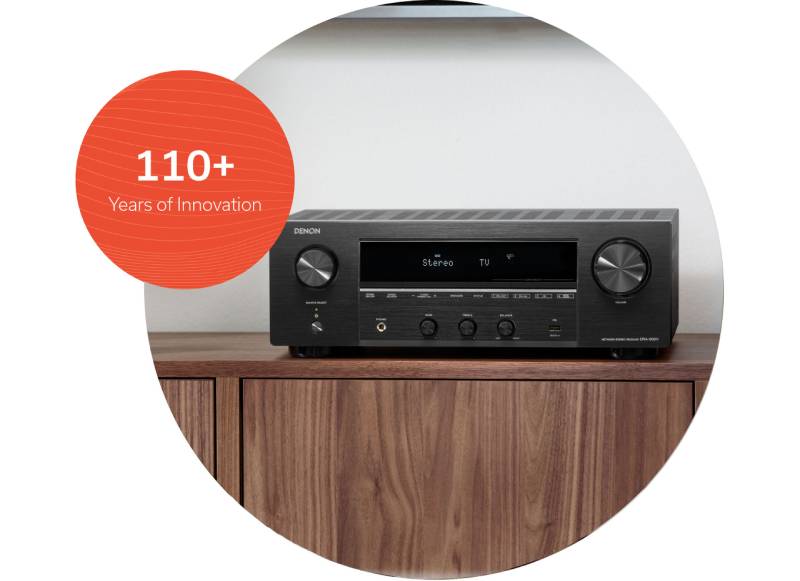 HEOS® Built-in
Access streaming music and share with other HEOS speakers.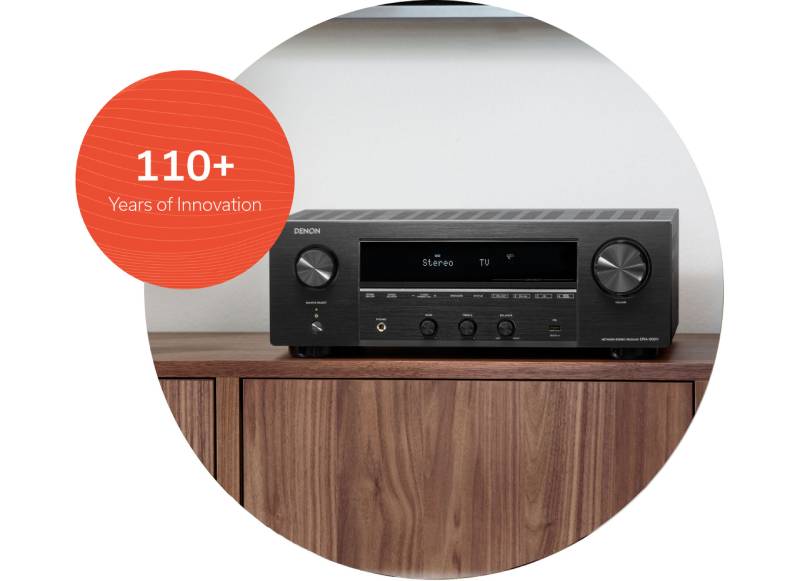 Premium two-channel amplifier
Discrete high-current amplifiers deliver up to 100W per channel at 8 ohms.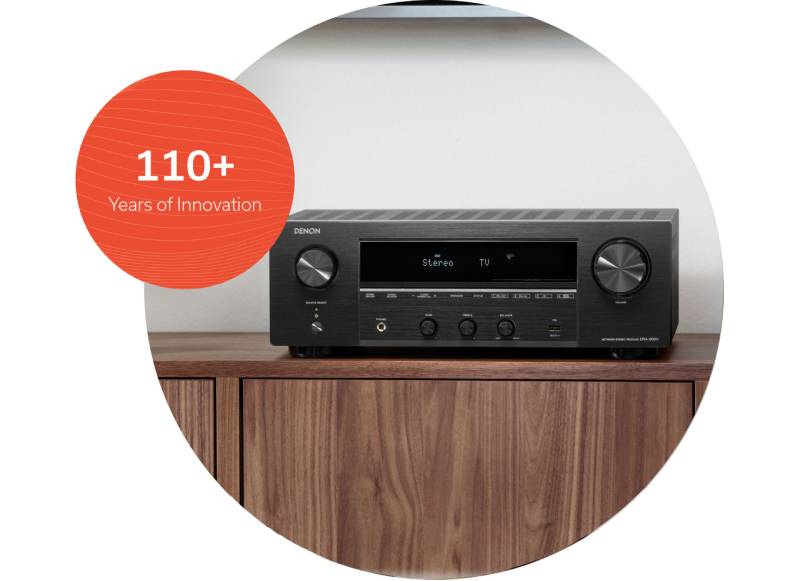 Built-in Wi-Fi and Bluetooth®
Easy connectivity for your wireless network or direct music streaming from your smart devices. Use AirPlay to stream Apple Music.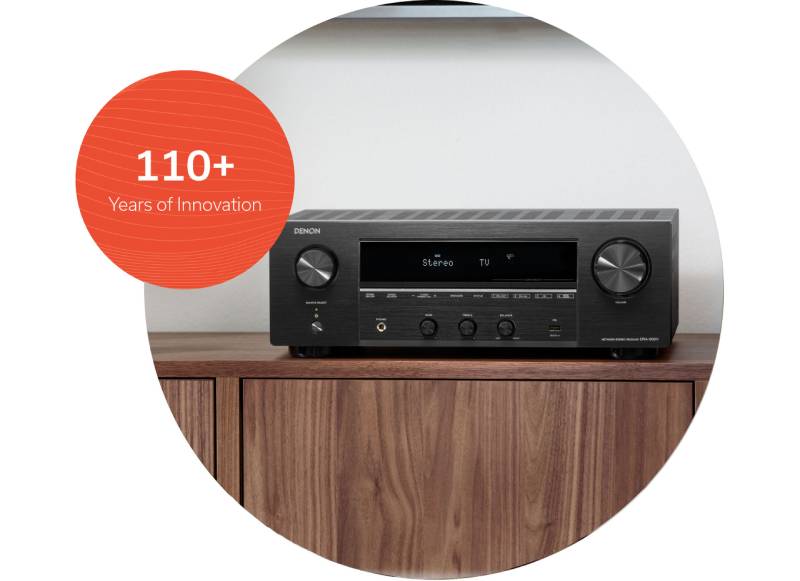 Simple setup
Our award-winning guided setup assistant provides clear, step-by-step instructions to get you started.
Key Technologies
Use your voice to stream your favorite music services through Alexa with HEOS® Built-in. Turn volume up or down, pause, mute and play the next song — all with your voice.
Stream audio or video from your favorite streaming services using your smart device. Hear audio perfectly synced to your speakers from AirPlay 2 sources. AirPlay 2 also supports multi-room audio.
Enjoy Dolby Vision content from a compatible source device and TV. Dolby Vision is a stunning HDR imaging technology that brings extraordinary color, contrast, and brightness to the screen.
Google Home or other devices with Google Assistant built-in can control content across your listening environment. Ask your Google Assistant to control volume, play, pause, skip tracks and more.
Supports HDR (High Dynamic Range), HLG (Hybrid Log Gamma), as well as Dynamic HDR and HDR10+ pass-through to optimize shadows and highlights. HLG offers HDR technology over broadcast content.
Play the same song in every room or select a different song for each connected room via a variety of streaming sources. Add Denon Home speakers to more rooms and control it all with the HEOS app.
The ability to decode Hi-Res Audio ALAC, FLAC and WAV lossless files up to 24-bit/192-kHz, as well as DSD 2.8MHz and 5.6MHz tracks (SACD) lets you enjoy each note exactly as the artist intended.
Josh.ai offers flexible voice control for nearly any aspect of your entertainment environment. Use voice commands to control the thermostat, lights, home appliances, speakers, AV receiver, and more.
Enjoy pristine 8K picture quality on your 8K TV or projector. Supports both 8K pass-through and 8K upscaling of 4K content. Supports HDCP 2.3 for peace of mind when streaming copy protected content.
Connect and play music directly from your smartphone, tablet or other compatible device
With Siri compatibility, users can play music, adjust volume, and switch inputs using voice control. AirPlay 2 features in compatible devices can also be controlled with your voice via Siri.
The Denon AVR Remote control app allows you to turn the receiver on and off, select an input source, adjust volume, and browse music from your phone or in a USB drive when connected to the receiver.
Supports the latest technology on HDMI inputs and output. ARC (Audio Return Channel) or eARC (Enhanced ARC) makes playing TV audio through your AV receiver simple with just a single HDMI connection.
Award-winning guided Denon Setup Assistant provides simple, clear instructions to get started. Just connect your AV receiver to your TV and follow the instructions on the TV screen.
Supports Variable Refresh Rate (VRR), Quick Frame Transport (QFT) and Auto Low Latency Mode (ALLM) for smooth, lag- free gaming experience when connected with the compatible gaming devices.
HDMI
4K Signal Pass-Through / Scaling / GUI Overlay
Yes / Yes / Yes
8K Signal Pass-Through, Scaling, GUI Overlay
Yes / Yes / Yes
3D Signal Pass-Through
Yes
Variable Refresh Rate / Quick Flame Transport / Quick Media Switching
Yes / Yes / No
ALLM (Auto Low Latency Mode) Pass-Through for Gaming
Yes
HDMI 2.0: 3D / 4K / CEC / ARC / InstaPrevue
Yes / Yes / Yes / Yes / No
HDR / HLG / Dolby Vision / HDR10+ / Dynamic HDR
Yes / Yes / No / Yes / Yes
HDMI 2.1: 8K/60 Hz AB / 4K/120 Hz AB
Yes / Yes
8K/60Hz AB / 4K/120Hz AB Pass-Through In/Out
3/1 (up to 40Gbps)
HDMI to HDMI Scaling
1080P/4K to 8K
HDCP2.3 support
Yes
HDMI Outputs: Main, Zone
1 / No
Network
Bluetooth
Yes
HDMI
HDMI Inputs: Back, Front
6 / No
General
System Remote Control
RC-1259
Specifications
Power Output (6 ohm, 1 kHz, 10% 1ch Drive)
175 W
Power Output (6 ohm, 1 kHz, 0.7% 2ch Drive)
120 W
Power Output (8 ohm, 20 Hz - 20 kHz, 0.08% 2ch Drive)
100 W
Number of Power Amps
2
OTHER
AM/FM Tuner
Yes
USB Power Supply on Rear Panel
Yes
USB Audio / Made for iPod / Made for iPhone
Yes / No / No
Front Inputs: Audio / Composite / Digital (Opt) / HDMI / USB
No / No / No / No / Yes
Speaker A / B
Yes
Number of Speaker Terminals
4
Speaker Terminal: Gold-Plated Screw / Regular Screw
Yes / No
Audio
Subwoofer Out
2
Multichannel Pre-out
Yes (2.2)
Multi-Room Out: Analog/Digital
1 / No
Digital in: Optical/Coaxial
2 / 1
Phono (MM) In
Yes
Analog In, Out
2 / No
Video
HDMI In/Out
6 / 1
Others
Sleep Timer
Yes
Auto Power Off
Yes
ECO Mode
Yes
Firmware Update by Network / USB
Yes / Yes
Quick Select Plus, Quick Select
Yes / No
Setup Assistent
Yes
GUI Languages
3
Graphic User Interface - GUI
HD GUI
Front Display
1 Line FLD
Multi-Room / CI
HDMI Diagnostics
Yes
Remote In/Out
Yes / No
IP Control / RS232 Control / Web Control / App Control
Yes / No /Yes / Yes
Zone Audio Output: Speaker / Pre-Out
No / Yes
Zone Audio Source: HDMI / Opt, Coax / Network, USB / Analog
Yes (2ch) / Yes (2ch) / Yes / Yes
Multi-Room Zones
2
HDMI
Auto LipSync
Yes
Audio Return Channel
ARC, eARC
CEC
Yes
HDMI Pass-Though in Standby Mode
Yes
General
UPC Code
747192140212
What's in the Box
Main unit, remote control, batteries, AM/FM antennas, quick start guide, AC cord
Tuning Frequency Range
520 kHz–1710 kHz
Tuning Frequency Range
87.5–107.9 MHz
S/N Ratio
98dB (IHF-A weighted, Direct mode)
Frequency Response
10 Hz–100 kHz — +1, –3dB (Direct mode)
Input Sensitivity
200 mV
Speaker Impedance
4–16Ω/ohms
Power Supply
AC 120 V, 60 Hz
Weight in LBS (Packaging)
23.1
Weight in LBS
18.3
Maximum Dimensions Antenna:Horizontal:(W x D x H) in mm ( Antenna:Vertical :(W x D x H) in mm) [w/o Antenna :(W x D x H) in mm]
17.1× 13.3 × 6
( 17.1 x 13.3 x 8.5)
Network Standby Consumption in W
Less than 2.0
CEC Standby Consumption in W
0.5
Standby Consumption in W
0.1
Power Consumption No-Sound (ECO On / Off) in W
23W/32W
Power Consumption in W
220W
Network
Wi-Fi
Yes
Ethernet Ports
Yes
Compatible with Remote APP for Tablets
Android / iOS / Amazon Kindle
Compatible with Remote APP for Smart Phones
Denon AVR Remote
HEOS App Control
Yes
Pandora
Yes
SiriusXM
Yes
Other Streaming Services
Amazon Music HD/ Amazon Music / TIDAL / Deezer / iHeart Radio / Napster / Soundcloud / Mood Mix
Roon Tested
Yes
Spotify Connect
Yes (connect)
Internet Radio
Yes (TuneIn)
AirPlay Audio Streaming
Yes (AirPlay2)
Gapless playback
Yes (FLAC, WAV, ALAC ,DSD)
FLAC HD 192/24
Yes
WAV 192/24
Yes
ALAC 192/24
Yes
DSD Audio Streaming
Yes (2.8/5.6MHz)
Lossless Formats: FLAC HD 192/24 / WAV 192/24 / ALAC 192/24
Yes / Yes / Yes
Lossless Formats: FLAC / ALAC / WAV
Yes / Yes / Yes
Lossy Formats: MP3 / WMA / AAC
Yes / Yes / Yes
Alexa / Google Voice Assistant / Apple HomePod
Yes / Yes / Yes
HEOS Wireless Multi-Room Technology
Yes
Media Server
Yes
Sound Enhancements
Compressed Audio Restorer
Yes
Gold Plated RCA Terminals
Yes
Discrete Power Amplifier
Yes
Pure Direct
Yes
Multichannel Surround
Max. number of processing (preamp) channels
2.1