Panasonic Blu-ray Player with 4K Upscaling - DMPBDT280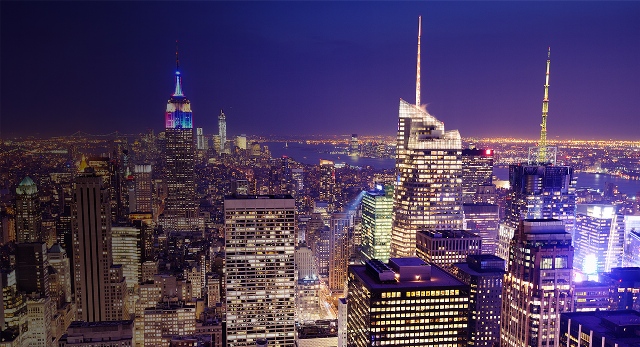 Experience Stunning 4K pictures
If you think Blu-ray movies look good already, wait until you see how great they look after they've been upscalled to 4K resolution. Powerful processing works out how to add millions of extra pixels more than you get in Blu-ray's original Full HD pictures, giving you images filled with so much more sharpness, texture and detail that you feel like you are at a digital cinema.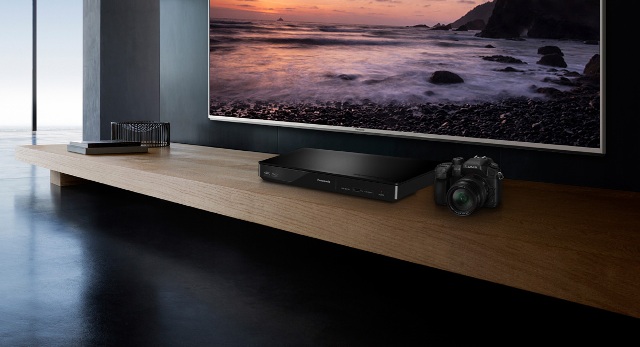 Beautiful Memories on a Large Screen
With the BDT280 Blu-ray Disc™ Player, you can easily playback 4K JPEG that you've taken with your camera or camcorder. This lets you enjoy your vacation memories in all their natural beauty, from magnificent landscapes to precious images of family and friends.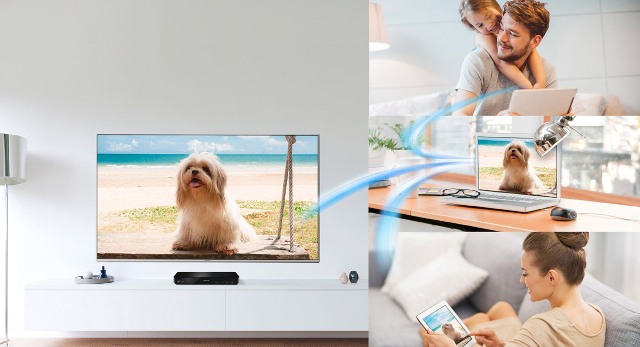 Wireless Multi-room Networking
You can freely share content, such as photos, videos and music, with other connected devices throughout your home. Every member of the family can enjoy the content they want, in their own style, regardless of time and place.
Variety of Online Content
You can access various content and services through the Internet and home networks. The player lets you enjoy various content, including movies, news, games, music and more.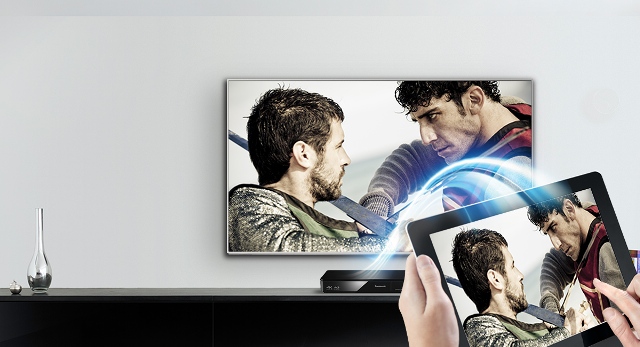 Share content from your smartphone or tablet on your TV
The Miracast feature on this player makes it easy for you to reproduce on your TV photos and videos stored on your smartphones, so you can share them with family and friends. Also, Miracast establishes a direct Wi-Fi connection between your devices, you don't need to have access to a Wi-Fi router.
PLAYABLE DISCS-BD-ROM
FULL HD 3D / BD-Video
Yes
PLAYABLE DISCS-BD-RE / BD-RE DL (Ver.3)
BDAV/ BDMV / JPEG / MPO / FLAC / WAV / AAC / WMA / MP3 / ALAC / DSD
Yes
PLAYABLE DISCS-BD-R / BD-R DL (Ver.2)
BDAV / BDMV / Xvid / MKV / FLAC / WAV / AAC / WMA / MP3 / ALAC / DSD
Yes
PLAYABLE DISCS-DVD
DVD-Video
Yes
PLAYABLE DISCS-DVD-R*1 / DVD-R DL*1 / DVD-RW*1
DVD-Video / DVD Video Recording
Yes
PLAYABLE DISCS
AVCHD
Yes
Xvid / MKV / FLAC / WAV / WMA / AAC / MP3 / ALAC / DSD / JPEG / MPO
Yes (DVD-R / DVD-R DL)
PLAYABLE DISCS-+R*1/ +R DL*1/ +RW*1
Video / AVCHD
Yes
PLAYABLE DISCS
CD, CD-R / -RW CD-DA
Yes
Xvid / MKV / FLAC / WAV / WMA / AAC / MP3 / ALAC / JPEG / MPO
Yes (CD-R / -RW)
Audio System
Dolby Digital / TrueHD
Yes - Decode (2ch) and Bitstream Output
Dolby Digital Plus
Yes - Decode (2ch) and Bitstream Output
DTS-HD Master Audio / DTS-HD High Resolution Audio
Yes - Decode and Bitstream Output
FLAC
Yes [192 kHz / 24 bit (5.1 ch)]
WAV
Yes [192 kHz / 32 bit (2 ch)]
ALAC
Yes [192 kHz / 24 bit (2 ch)]
DSD (DFF,DSF)
Yes [2.8 MHz (2 ch / 5.1 ch), 5.6 MHz (2 ch only)]
USB
Slot
Yes
Front
For Playback
USB Standard
USB 2.0 High Speed
USB-Playback
Xvid / MKV / MP4 / MPEG-2 / FLAC / WAV / WMA / AAC / MP3 / ALAC / DSD / JPEG / MPO
Yes
HIGH QUALITY PICTURE
4K Upscalling
Yes
4K JPEG Playback
Yes
2D-3D Conversion
Yes
3D Effect Controller
Yes
Deep Colour
Yes
x.v.Colour
Yes
HIGH QUALITY SOUND
High Quality Network Audio Playback (DLNA)
Yes (FLAC / WAV / WMA / AAC / MP3 / ALAC / DSD)
EASY OPERATION
Quick Start Mode
Yes
HDMI-CEC
Yes
Stylish GUI / Wallpaper Yes /
Yes
SMART NETWORKING
MiracastTM
Yes
Internet Apps
Yes
Web Browser
Yes
Wireless LAN System
Yes (Built-in)
DLNA (DMP & DMR)
Yes
External HDD Playback
Yes
Network Drive Access
Yes
BD-LiveTM
Yes*8
TERMINAL
HDMI Output
Yes
LAN (Ethernet) Terminal
Yes (for DLNA, BD-LiveTM*8, Internet Apps*6 and Firmware Update)
Others
Video System
NTSC
Power Supply
AC 120 V, 60 Hz
OTHERS-Power Consumption
Normal Use
13 W
Others
Standby (Quick Start Off)
0.5 W
Standby (Quick Start On)
5 W
Dimensions & Weight
Dimensions (W x H x D)
312 x 43 x 180 mm*9
Weight
1.0 kg