Panasonic True High-Resolution Compact audio - SC-PMX90
Free Shipping

Or as low as $70.19/month over 6 months. Apply Now

Panasonic True High-Resolution Compact audio - SC-PMX90
SCPMX90
$399.99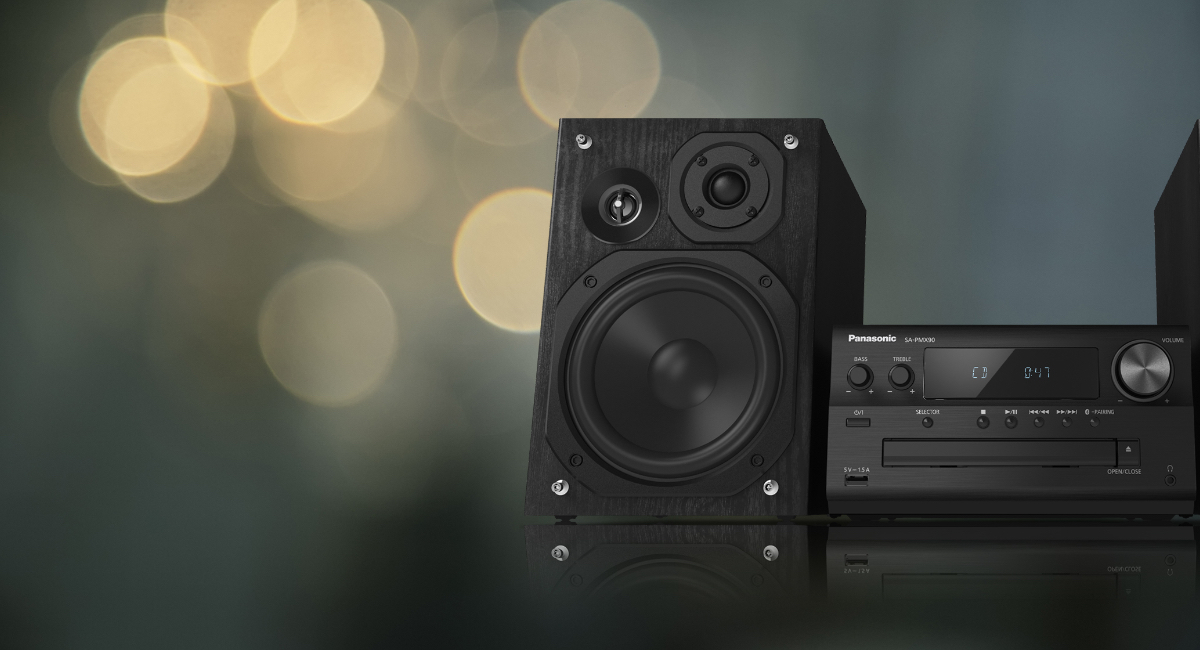 Clear and dynamic sound
The PMX90 produces a beautifully expressive, dynamic sound perfectly suited to high resolution audio. This is thanks to its combination of a 3 way speaker design and a silk dome tweeter capable of reaching frequencies as high as 50 kHz.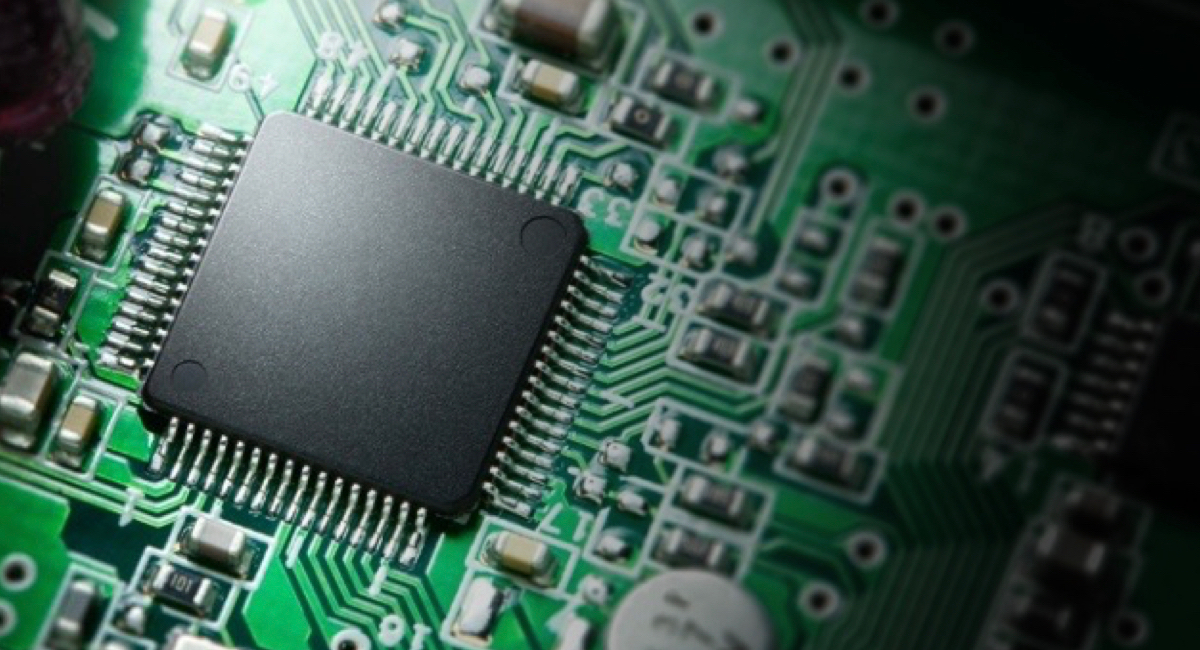 Natural sound with minimal interference or distortion
Experience music exactly as it was meant to be heard thanks to the LincsDAmp. The latest innovative version of this technology manages to correct issues such as jitter and power supply noise that usually cause distortion in digital music playback.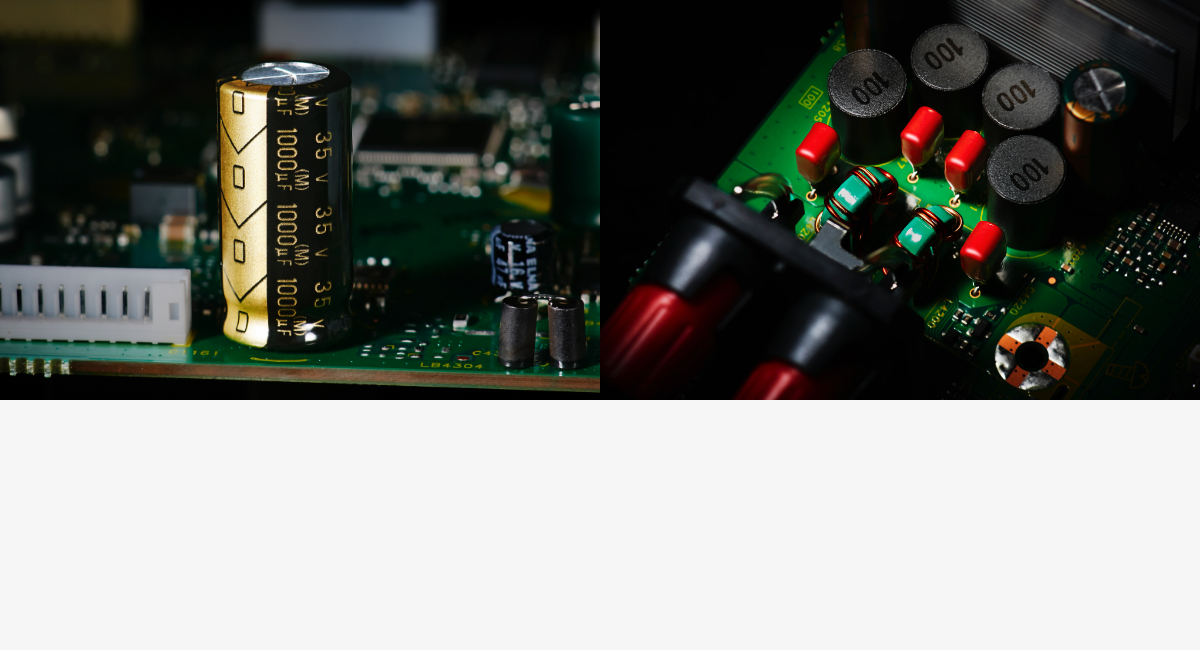 High quality audio parts unlock the full potential of high-res sound
To get the best sound quality from today's high-res audio formats, you need to use the best quality components. This is why Panasonic has left no stone unturned in sourcing only the finest materials for the PMX90 to ensure it's built to make a genuine HiFi difference.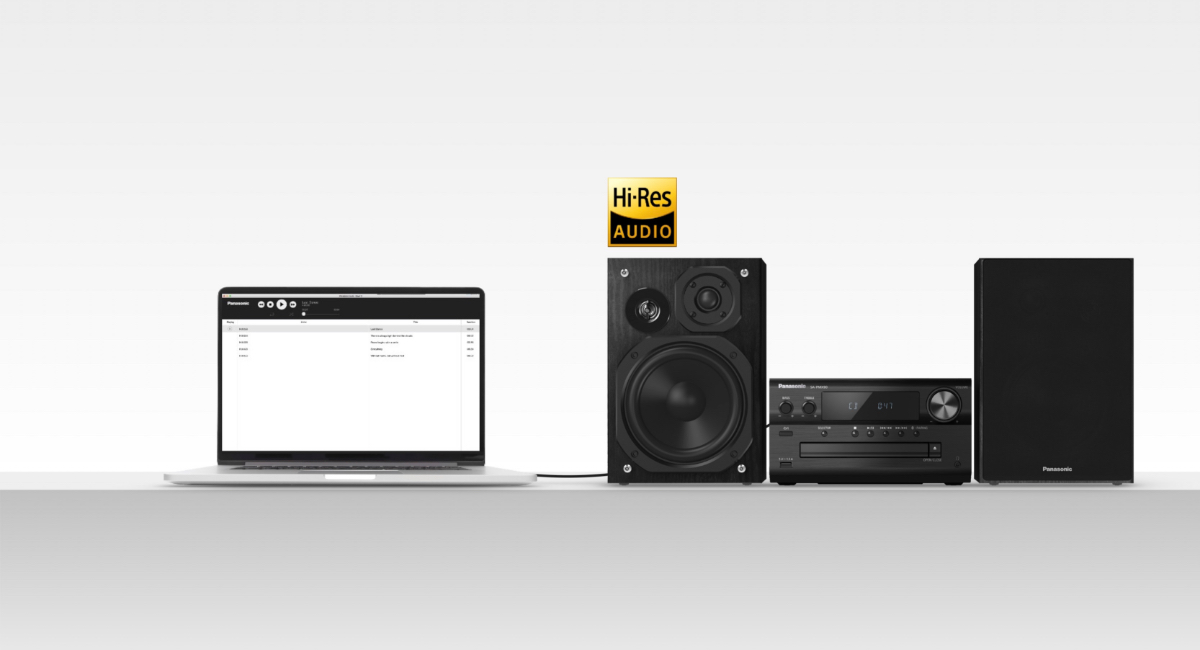 Rich sound from Hi-Res sources
The PMX90 uses a unique DAC controller and USB driver system to ensure you get to hear all the detail and richness of today's high resolution audio formats such as DSD, FLAC, WAV and AIFF.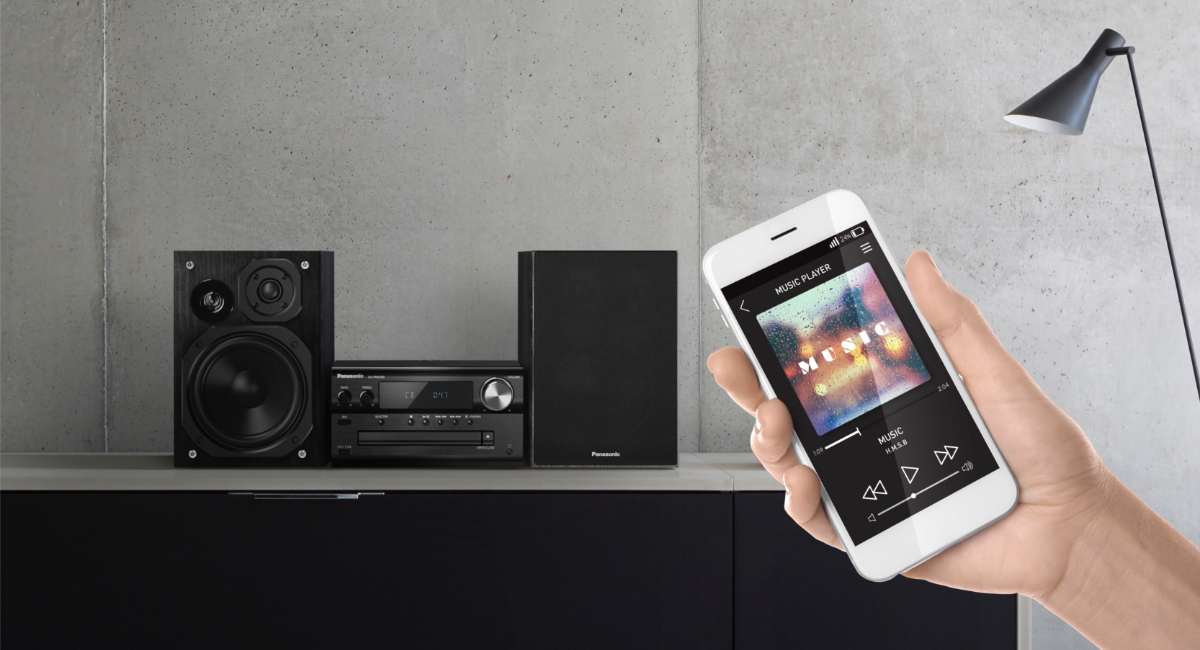 Rich sound expression
Bluetooth® ReMaster compensates the signals that are lost due to data compression when streaming Bluetooth® sounds. It gives you high quality playback of sound sources from Bluetooth® compatible devices such as smartphones and tablets.
AUX-IN Auto Play for audio devices & streaming devices
Simply connect your existing audio device or streaming device, such as Chromecast Audio, to AUX-IN. Even if the PMX90 power is turned off, the sound signal from the device will be recognized, the power will be automatically turned on, and music will be played from the AUX terminal.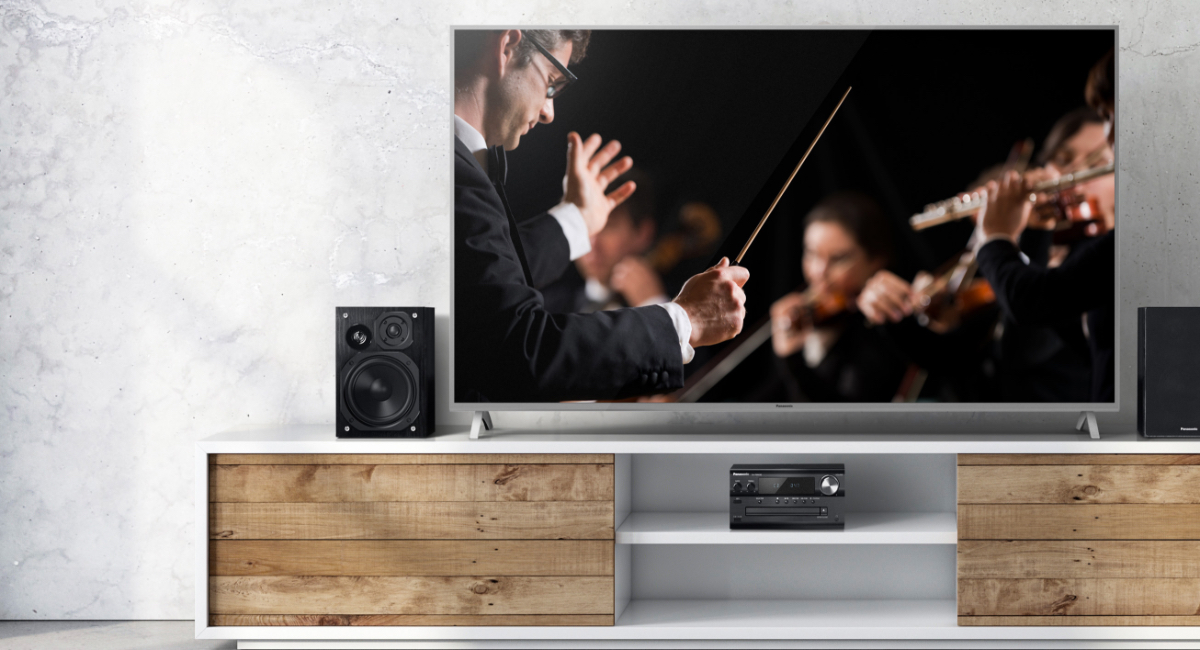 Experience TV with greatly improved sound quality
The PMX90 is equipped with optical input terminals for easy connection with your TV. Enhance your viewing experience with superb quality sound.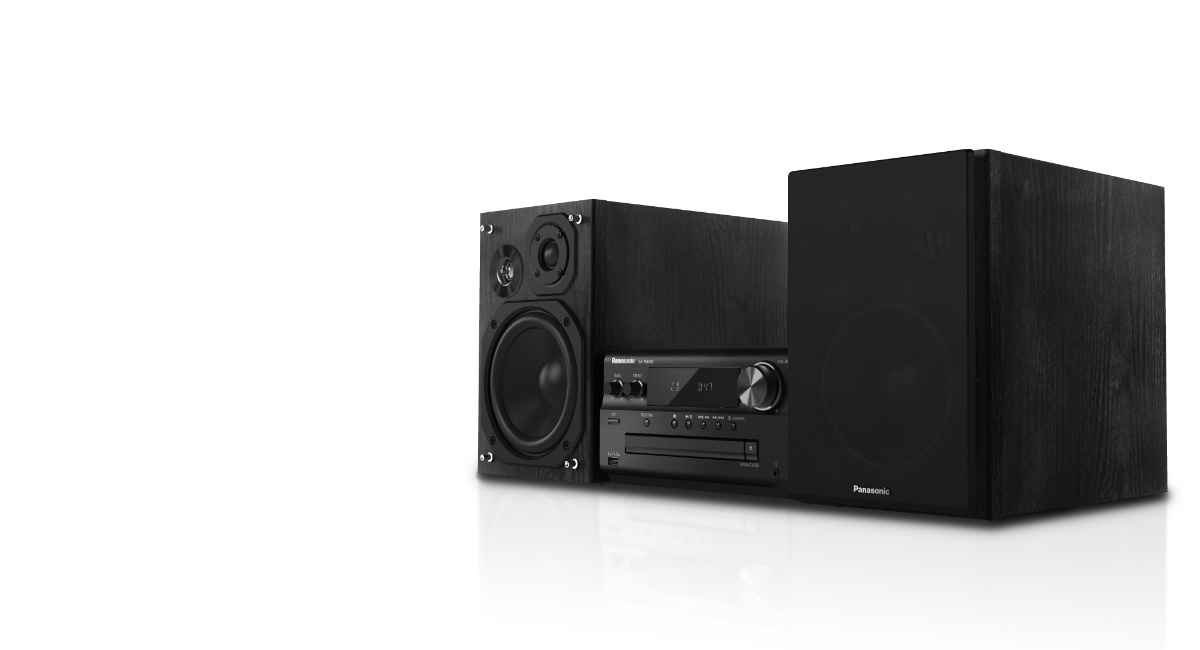 Elegant, compact design
Designed to suit every room decor. Aluminum is used in the main unit's front panel, top panel, and sound volume dial, to provide a simple, high grade appearance.
Amplifier
Amp Type
Lincs D-Amp™ (3rd generation)
RMS Output Power - Front channel
60 W per channel (3 ohms, 1 kHz, 10 % THD)
RMS Output Power - Total RMS stereo mode power
120 W
Speaker System
Bass expansion
Bass reflex port
Front speaker - Type
3 way, 3 speaker system (bass reflex)
Front speaker - Speaker unit
Woofer: Bamboo charcoal PP 14 cmTweeter: Silk dome 1.9 cmUltra tweeter: Piezo 1.5 cm
CD / DVD
Playback disc *¹
CD-R / RW
Format
CD-DA / MP3
USB
USB standard
USB 2.0 high-speed
Playback format
DSD (2.8 MHz *Does not support 5.6 MHz), MP3, AIFF, AAC,FLAC (up to 192 kHz/24 bit), WAV (up to 192 kHz/24 bit)
Playback
Yes*²
Battery charge
Other portable device (1.5 A)
USB-DAC function - Playback format
DSD (2.8 MHz *Does not support 5.6 MHz), MP3, AIFF, FLAC (up to 192 kHz/24 bit), WAV (up to 192 kHz/24 bit)
USB-DAC function - Player application (Windows / Mac OS)
Yes
RADIO
Auto tuning
Yes
Antenna terminal
75 ohm unbalanced
Station presets - FM
30 stations
Network
AUX-In Auto Play
Yes
Bluetooth - Version
Bluetooth® Ver 2.1 + EDR
Bluetooth - Class
Class 2 (2.5 mW)
Bluetooth - Wireless audio playback function
Yes
Bluetooth - Remote control function
Yes
Bluetooth - Codec
SBC, AAC
Bluetooth - Multi-pairing
Yes (MAX 8 Devices)
SMARTPHONE APP
Panasonic Music Streaming App - Supported OS
iOS*³(Bluetooth), Android*³(Bluetooth)
SOUND FUNCTION
Super Sound EQ, Super Bass Sound
D.Bass
Surround
Yes
XBS Master
Yes
High-Res AUDIO
Yes
EQ - Preset
4 Preset
EQ - Manual
Bass / Treble
Re-Master - Bluetooth
Yes
Terminals
USB Port
USB Type-A x1 / USB Type-B x1
Audio IN
RCA Pin Jack (AUDIO IN) / 3.5 mm Stereo mini (AUX IN) / Opt-In (for LPCM)
Audio OUT
Phones (3.5 mm)
Speaker terminal
Screw type
General
Power supply
AC 120 V, 60 Hz
Dimmer
Yes
Auto Off
Yes
Power consumption - Normal Use
40 W*⁴
Power consumption - Normal Standby
0.25 W*⁴
Power consumption - Bluetooth Standby
0.35 W*⁴
Timer - Sleep
Yes
Timer - Clock
Yes
Timer - Play
Yes
Dimensions, Weight
Main unit - Dimensions (W x H x D)
211 x 114 x 267 mm
Main unit - Weight
2.8 kg
Speaker unit - Dimensions (W x H x D)
161 x 238 x 262 mm
Speaker unit - Weight
2.6 kg
NOTIFICATIONS
NOTE
*1 Playability may vary depending on the contents, discs and quality of the recording.*2 Only a USB flash drive. Playback is not possible from a portable device (Apple, Android, etc.) using a USB extension cable.*3 Download on the App Store. Download on Google Play™.*4 Specifications are subject to change without notice. All numbers given here are approximate.
LEGAL NOTICE
Recording and playback of content on this (or any other) device may require permission from the copyright owner. Panasonic has no authority to and does not grant you that permission and explicitly disclaims any right, ability or intention to obtain such permission on your behalf. It is your responsibility to ensure that your use of this or any other device complies with applicable copyright law in your country.