Alpine Complete 9-Speaker Powered System Upgrade Package - PSS-24WRA

Or as low as $240.64/month over 12 months. Apply Now
Alpine Complete 9-Speaker Powered System Upgrade Package - PSS-24WRA
PSS-24WRA
$2,799.00
Literature
PRODUCT OVERVIEW
Get 300-Watts of powerful, top-off sound in your 2018 - Up Jeep® Wrangler and 2020 – Up Jeep® Gladiator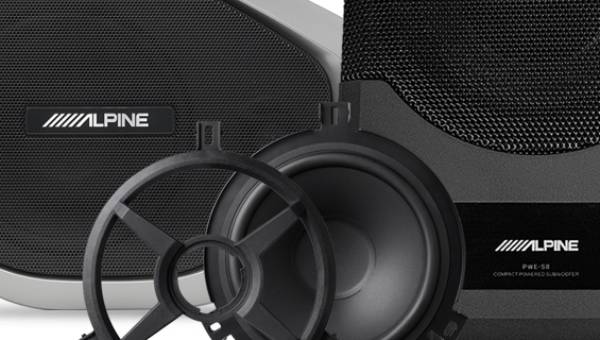 FEATURES
Complete, five-channel powered sound system upgrade package
Compatible with four-door, non-amplified 2018 - Up Jeep® Wrangler and non-amplified 2020 – Up Jeep® Gladiator
Also compatible with two-door, non-scissor front seats in 2019 - Up Jeep® Wrangler
Includes Alpine's SPV-65X-WRA, SPV-65-JLT, PWE-S8, and KTP-445U
180W, 4-channel Power Pack amplifier
120W, 8" powered subwoofer
(2x) 6.5" weather-resistant mid-bass drivers
(2x) 1" weather-resistant teteron dome tweeters with vehicle-specific connectors and crossovers
Vehicle specific front speaker pods with vehicle-specific connectors
Tweeter adapter plates allow for use of the original factory tweeter locations
SPV-65-JLT weather-resistant rear soundbar speaker system
Rugged, premium grills designed to emulate the factory look and appeal
Vehicle-specific connectors for plug-and-play speaker installation 
Utilizes factory bolt locations
Durable stamped, steel frame speaker basket design
Includes template for mounting
Vehicle specific T-harness for installation with OEM radio into compatible 2018 – Up Jeep® Wrangler and 2020 – Up Jeep® Gladiator vehicles
Vehicle specific mounting brackets allow for the powered sub and amp to be secured under the passenger seat without drilling
What's in the Box:
KTP-445U Universal 4-Channel Power Amplifier
PWE-S8 8" Compact Powered Subwoofer
SPV-65X-WRA Front Component Speakers
SPV-65-JLT Rear Sound Bar Speakers
ALP-POD-JLT Front Speaker Pod
PSU-BKT-JL-R PWE Right Bracket JL
PSU-BKT-JL-L PWE Left Bracket JL
ALP-HRN-PSU300 PSU Power Harness
ALP-THRN-CH2 Chrysler T-Harness
CT6 6" Cable Ties
PHPSM412 Pan Head Phillips Screw M4x12
SLWM4 M4 Split Lock Washers
PHSCR832 8-32 Pan Head Phillips screws
PSS-WRA-IM Installation Manual
TOP-OFF SOUND
Your Jeep® begs for top-off drives, whether cruising down the highway or weaving through trails, so you need a sound system that delivers music for all your adventures. The PSS-24WRA is a 300-Watt Complete Sound System Upgrade Package for the four-door, non-amplified 2018 – Up Jeep® Wrangler and non-amplified 2020 – Up Jeep® Gladiator.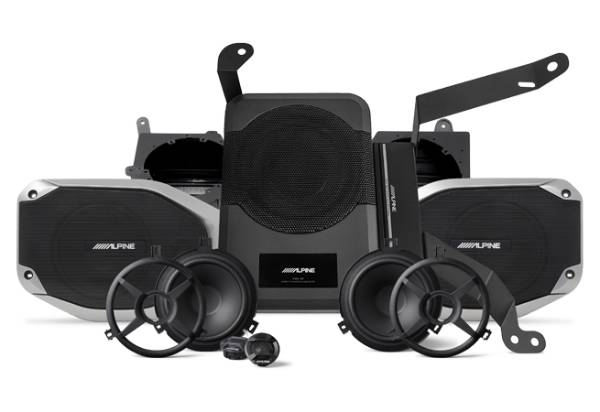 COMPLETE PACKAGE
Go beyond your wildest expectations for sound with this complete sound upgrade package. The PSS-24WRA has 5-channels of powered sound that replaces your factory system. The package includes two sets of 6.5" weather-resistant mid-bas drivers and 1" weather-resist tweeters that replace the front and rear soundbar factory speakers, an 8" powered, compact subwoofer and a 4-channel power pack amplifier.
Tuned for Jeep®
The PSS-24WRA sound system is tuned for the unique cabin environment of the 2018 - Up Jeep® Wrangler and 2020 – Up Jeep® Gladiator. The weather-resistant speakers are designed for powerful, top-off performance that's unhindered by weather, wind, or other noise while driving. The 6.5" mid-bass drivers bring out the full potential of your sound, while the tweeters capture the high frequencies often lost in music reproduction. The 8" compact subwoofer adds deep, accurate bass that grounds your sound system.
Plug-and-Play Installation
Vehicle-specific speaker connectors and pods designed for the 2018 - Up Jeep® Wrangler and 2020 – Up Jeep® Gladiator are included for plug-and-play installation. Tweeter adapter plates use the original factory tweeter locations to take the guesswork out of installation. Vehicle-specific mounting brackets are included to secure the 8" compact subwoofer and 4-channel amplifier under the passenger seat without drilling.
System Compatibility
The PSS-24WRA is compatible with the i407-WRA-JL 7-Inch Multimedia Receiver and X409-WRA-JL 9-Inch Weather-Resistant Navigation System with Off-Road Mode. The PSS-24WRA also includes a vehicle-specific T-harness for installation with the factory radio into compatible four-door, non-amplified NEW 2018 – 2020 Jeep® Wrangler and non-amplified 2020 – Up Jeep® Gladiator.
Front (SPV-65X-WRA)
Power handling
75 watts RMS (225 watts peak)
Frequency response
65kHz – 22kHz
Nominal impedance
4 ohms
Weather-resistant
IP55
Rear (SPV-65-JLT)
Power handling
90 watts RMS (270 watts peak)
Frequency response
50kHz – 22kHz
Nominal impedance
4 ohms
Weather-resistant
IP55
Powered Subwoofer (PWE-S8)
Frequency response
32 - 150Hz