PowerBass 6.5 Inch Short-Range Speaker Pods With Swivel Thin Mount Clamp System - XLPOD6SR
Free Shipping

Or as low as $103.53/month over 6 months. Apply Now
PowerBass 6.5 Inch Short-Range Speaker Pods With Swivel Thin Mount Clamp System - XLPOD6SR
XLPOD6SR
$589.99
Literature
XL-POD6SR 6.5" Short Range Speaker Pod
Marine Grade 6.5" 2-Way Pod Speakers
Injection Molded UV-Treated Silver Polypropylene Cones
Water Tight TPU Surround
Grill Mounted 25mm SD Mylar Tweeter
UV Inhibited Injection Molded Plastic Pod
UV-treated Aluminum Mesh Grills
Black Chrome Plated Die-Cast Swivel Thin Mount Clamp System
Fits Bar Sizes 1.5" - 2"
4-Ohm System Impedance
Sold in Pairs w/Mounting Brackets
XL-POD6SR 2-WAY 6.5" SHORT-RANGE SPEAKER PODS with Swivel Thin Mount Clamp System
What better way to enjoy your day being out on the trails in your UTV, Jeep or off-road vehicle is listening to your favorite music without worrying about water, mud, dirt and dust.
Great for Short Range listening the XL-SR PODS feature an injection molded UV-Treated Polypropylene cone and a grill mounted 25mm SD Mylar tweeter giving you great sound at a shorter range so you and your passengers can enjoy perfectly clean sound in a not so clean environment.
Mounting the XL-SR POD system with a roof on your UTV is a breeze with our swivel thin mount clamp system you can easily secure your POD on most all bars and even under the roof allowing the POD to be positioned closer to the bar and clear of your helmet for added safety.
Sit back and relax knowing that you have put your music in the engineering hands of PowerBass.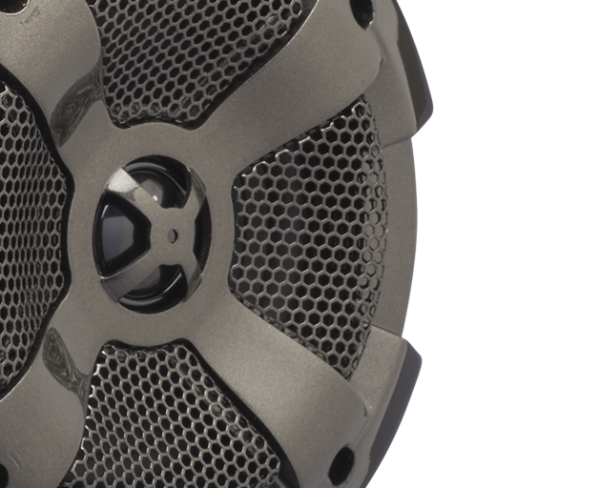 Specifications
Nominal Impedance
4-ohm
Height
9.96" (with mounting clamp)/4.41" (without mounting clamp)
Width
4.41"
Depth
8.65"
Material
UV inhibited pp cone
Sensitivity (1W / 1M)
89 dB
Dimensions (in Inches)
9.96" (with mounting clamp) x 4.41" (without mounting clamp) x 8.65"
Size
6.5"
Sensitivity
89 dB
Frequency Response
60 Hz - 22 kHz
Power Handling (RMS/Peak)
60 / 120watts
Featured Products