PSB Speakers Premium Over-Ear Wireless ANC Headphones in Jet Black - M4U 9 BLK

PSB Speakers Premium Over-Ear Wireless ANC Headphones in Jet Black - M4U 9 BLK
M4U 9 BLK
Literature
The M4U 9 Premium Wireless Active Noise Cancelling Headphones redefine the expectations of PSB's "True to Nature" sonic performance with all-new graphene-infused drivers and improved ergonomic comfort. Pair to your device, play music and make voice calls noise-free thanks to aptX™ Adaptive Bluetooth and cVc™ (clear voice capture) built-in. Powerful technologies like Personal Sound by Audiodo™ allow you to calibrate your left and right headphones separately so the music sounds just right, while PSB's proprietary RoomFeel™ tuning and active noise cancelling leaves you with nothing but natural and open sound.
Premium Wireless Active Noise Cancelling Over-ear Headphones
Bluetooth HD wireless connection with Qualcomm® aptX™ Adaptive and cVc™ technology
Custom sound calibration with Audiodo™
Natural and open RoomFeel™ tuning
Graphene-infused drivers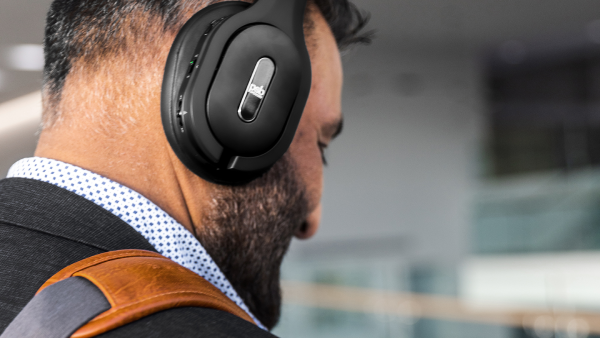 Built for Premium Listening
Utilizing a new graphene-infused driver, the M4U 9 delivers improved damping, stiffness and efficiency for a truly immersive hi-fi audio experience. The M4U 9 Wireless Active Noise Cancelling headphones are at the pinnacle of PSB headphone performance, bringing PSB's award-winning "True-to-Nature" sound signature to new sonic heights and providing crisp and powerful sound that lets you hear every detail of your favourite music and movies, even in the noisiest environments.
In Tune with You
Since each of us hear differently, there is no catch-all headphone setting that works for everyone's unique hearing needs. Utilizing advanced algorithms, Audiodo Personal Sound™ checks your right and left ears separately through a series of audio tests and questions, correcting any hearing anomalies. It then quickly creates a personal hearing profile for you that compensates for anomalies in sound perception and hearing abilities, letting you fully hear PSB's renowned "True-to-Nature" sound signature. The latest implementation of Audiodo includes a Volume Dependent Compensation feature so the M4U 9 can accurately match the timbral balance of the music at any volume level you choose. In addition, there are four EQ presets you can engage for specific music or movies – tighter bass, more detail, better dialogue and the default preset – RoomFeel™.
The full featured PSB Headphones App turns your device into a remote control for your M4U 9's, giving you access to specific sound settings and features that you can adjust for a richer listening experience. With the tap of a few buttons you can create a sound profile using Audiodo, control noise transparency levels, choose from preset EQ settings, check battery level and more.
RoomFeel™ Realism
Created to deliver rich and natural sound through headphones, the next generation of PSB's proprietary RoomFeel™ technology mimics the experience of listening to a pair of high-quality, full-range speakers properly set up in a good room. Carefully developed, using research and expertise around 'Room Gain' – the energy and warmth that room boundaries add to the response curve of a flat-measuring loudspeaker, RoomFeel makes the music feel less 'in your head' by recreating an open and natural in-room listening experience through the M4U 9. Regardless of the environment you're situated in, RoomFeel brings you the most natural, non-fatiguing listening experience even during long work days, journeys on transportation or binge watching sessions.
Active and Adaptive
Using adaptive technologies, the M4U 9 headphones adjust to your environment while you move, work and play. Pair the headphones to your device seamlessly with aptX™ Adaptive Bluetooth, a 24-bit, HD universal Bluetooth technology that uses a variable bitrate to enable low-latency audio reproduction for playing games or watching movies while still offering the best possible sound quality. To block out the noise, the M4U 9's all-digital active noise cancelling (ANC) capabilities utilize 4 digital MEM microphones to decrease audio conversion errors in audio processing for pure, focused listening, with two additional mics for cVc™ (clear voice capture) technology that delivers crystal clear voice quality for all your voice calls.
Luxe Mobile Listening
The epitome of comfortable listening is at your fingertips so you can listen longer and with noise-free focus throughout the entire day or night. Enjoy up to 25 hours of run time in Active Mode, or if you're running low on battery, switch to two different modes of wired operation: 3.5mm wired connection, or via USB-C from the computer which recharges the batteries while you listen. Toggle between three different listening modes: ANC with RoomFeel, Active with RoomFeel or a Passive mode, using the physical switch on the headphones and mix in your surroundings by adjusting transparency levels through the PSB Headphones App Super soft earpads – fabric and leatherette – are included with the M4U 9, providing excellent seal so all that's left is rich, detailed sound. The gyro-suspended earpads are tilted at 15 degrees for ideal ergonomic support, while the expandable headband features a fabric inner cover for optimal comfort.
Premium wireless noise cancelling headphones
PSB's award-winning "true-to-nature" sound signature
Graphene-infused, 40mm drivers
aptX™ Adaptive wireless HD Bluetooth
All-digital adaptive noise cancelling (ANC) for pure noise-free listening
Personal Sound calibration with Audiodo™
Connects to PSB Headphone App for more control and personalization
Up to 25 hours of battery life for all-day wireless playback
Powerful rechargeable battery with a USB C charger
Compatible with iOS and Android devices
CABLES
Standard Cable
2m (78 3/4") Detachable, braided Tangle-free
Weight
Shipping weight
1.6kg (3.45lbs)
Net weight
362g (12.8oz)
Dimensions / Weights / Finish
Travel Case
180 x 220 x 98mm (7 1/16" x 8 11/16" 3 7/8")
Ear Cushion Outside
84 x 114 x 17mm (3 5/16" x 4 1/2" x 11/16")
Overall
200 x 200 x 90mm (7 7/8 x 7 7/8 x 3 9/16")
Construction
Travel Case
EVA
Driver Enclosure
ABS + Polycarbonate
Earpads/Headpad Cover
Leatherette and Cloth
Headband
Spring Steel
BATTERY LIFE
Wireless Active Mode
25 hrs
Wireless ANC Mode
18 hrs
Connection
Cables
Standard Cable - 2m (78 3/4") Detachable Tangle-free, USB Cable - 2m (78 3/4") Detachable Tangle-free
Connection
3.5mm (1/8") stereo jack (left or right), Bluetooth aptX™ Adaptive, AAC, USB C
EAR COUPLING
Ear Coupling
Circumaural
TRANSDUCER
Size
40mm
Operating Principle
Closed
Type
Dynamic, graphene-infused
Power Handling
Maximum
30mW
Impedance
Passive
32 Ohms
THD, TOTAL HARMONIC DISTORTION
ANC: OFF (1kHz/1mW)
0.25%
ANC: ON (1kHz/1mW)
0.5%
Frequency Response
Within ±1.5dB
20Hz to 23kHz
LF Cutoff -3dB
15Hz to 23kHz
LF Cutoff -10dB
10Hz to 23kHz
Finish
Finish
Jet Black
CABLES
USB Cable
2m (78 3/4") Detachable, braided jacket Tangle-free