Daymak 250W , 24V Mobility Scooter in Blue - Boomerbuggy IV (Bl)
Daymak 250W , 24V Mobility Scooter in Blue - Boomerbuggy IV (Bl)
Daymak 250W , 24V Mobility Scooter in Red - Boomerbuggy IV (R)

Daymak 250W , 24V Mobility Scooter in Blue - Boomerbuggy IV (Bl)
Boomerbuggy IV (Bl)
$2,598.00
Features
The Boomerbuggy IV has gotten a cool little overhaul for 2018. The Boomerbuggy IV is the mini 4 wheel mobility scooter that proves good things come in small packages. Keep your balance very easily, and adjust your speed to go as fast or slow as you need to. With its push and pull throttle, drive with either hand with ease in both forward and reverse. Other features include LED headlights and turn signals, adjustable tiller and seat. The perfect mobility scooter for people living in apartments and condos, the Boomerbuggy IV can get in the smallest of spaces. Get out and enjoy outside like you've always wanted.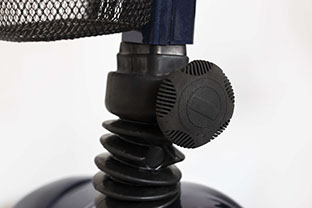 Adjustable Tiller
The Boomerbuggy IV features an adjustable tiller. This allows you to pull the steering column closer or further from the rider. Simply spin the knob to loosen it and tighten it again once it's at the perfect positon!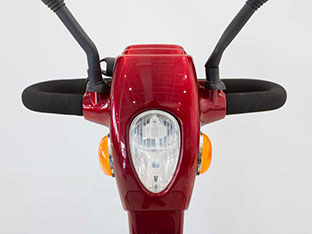 LED Headlights / Turn Signals
The Daymak Boomerbuggy IV also features LED headlights and turn signals. These bright lights are very low in battery power usage, and allow you to indicate which direction you are turning. Make sure you are visible to all on comers.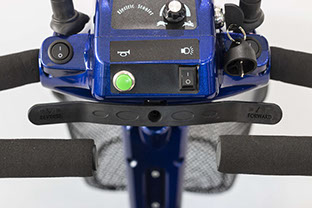 Push / Pull Throttle
Whether you are a righty or a leftie you can easily operate the Boomerbuggy IV with the push / pull throttle. Go forward and reverse with ease by pushing and pulling. Great for those who have a disability in one hand.
Electrical
Motor
250W
Battery
24V 20AH Lead Acid
Battery Life
300-400 cycles
Removable battery
Removable only to replace
Charger input
110V-240V
Charge time
6 - 8 hours
Lights
LED
Dimensions & Weight
Max load
90 kg
Net weight
165 lbs
Dimensions Assembled
44" x 16" x 22"
Seat Height
22"
Seat Width
16"
Seat Length
15"
In Box Weight
185 lbs
Additional Information
Range
up to 30 km
Top Speed
13 km/h
Climbing incline
15 degrees
Tire size
2.8 / 2.5 - 4
Gauges
Digital / Battery level
Brakes
Electronic Brakes
Key ignition
Yes
Shocks
No
Extras
Push and Pull Throttle / Adjustable Tiller