Daymak Roof Mobility Scooter With Built In Backup Camera In Black - Roadstar 4 Wheel (B)
Daymak Roof Mobility Scooter With Built In Backup Camera In Red - Roadstar 4 Wheel (R)
Daymak Roof Mobility Scooter With Built In Backup Camera In Blue - Roadstar 4 Wheel (Bl)
Daymak Roof Mobility Scooter With Built In Backup Camera In Black - Roadstar 4 Wheel (B)

Daymak Roof Mobility Scooter With Built In Backup Camera In Black - Roadstar 4 Wheel (B)
Roadstar 4 Wheel (B)
$3,998.00
Literature
Features
Looking for the speed and style of the Roadstar with just a little more balance? Look no further with the all new Roadstar Four Wheel mobility scooter from Daymak! The Roadstar four wheel gives those who have balance issues that extra bit of stability and peace of mind. It also comes with a hard-top canopy and windshield that provides a bit of shelter from the raid and shade from the sun! It's built-in rear-view camera display right on your dashboard with a flick of the button so you can make sure you don't have any unexpected bumps while backing up! You can also play your favourite videos and songs right on the digital dash via USB key, or connect wirelessly through Bluetooth to play songs, listen to the radio and even answer phone calls! The Roadstar Four wheel has lots of features to make every outing whether it's along the beach or even just to get groceries a memorable one. Don't let your mobility or balance issues stop you from enjoying the outdoors. Get the Daymak Roadstar Four Wheel today!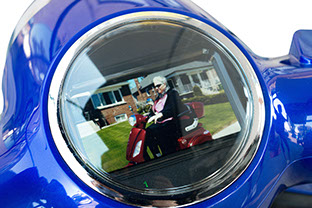 Full colour display with MP4 Playback
The Roadstar Four Wheel comes with an interactive full colour display that can play MP4 videos right off a USB stick! Now you can sit and enjoy your favourite shows when you need a break from riding!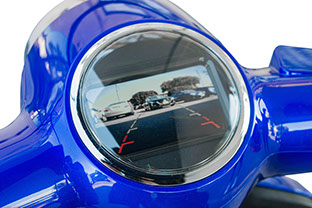 Built in Back Up Camera
With the Roadstar Four Wheel, you get a built in back up camera that warns you as you back up. Keep your mobility scooter looking fresh and prevent it from getting unnecessary and unsightly dings!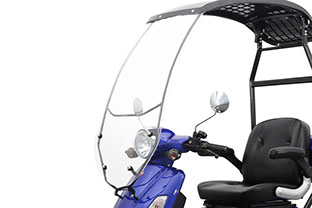 Hard Top Canopy / Windshield
With the hard-top canopy, you get a windshield that will help protect your face, with a canopy to help keep you dry and give you some shade while still getting fresh air! Just don't expect to stay completely dry if it rains!
Additional Information
Extras
Interactive Full Color with video / Steering Lock / Alarm / Radio, MP3 and MPEG Playback
Controller
Standard
Shocks
Dual Coil
Key ignition
Yes
Brakes
Disc Brakes
Gauges
Battery level / Speedometer / Odometer / Trip Meter
Rear Wheel
3.0 - 10
Front Wheel
3.0 - 8
Climbing incline
20 degrees
Top Speed
up to 23 km/h
Range
up to 40 km
Dimensions & Weight
In Box Weight
322 lbs
Seat Length
17"
Seat Width
19"
Seat Height
29"
Dimensions Assembled
73" x 29" x 68"
Net weight
266 lbs
Max load
158.7 kg
Electrical
Lights
LED
Charge time
4 - 6 hours
Charger
60V 3A
Removable battery
Removable only to replace
Battery Life
300 cycles
Battery
60V 20AH Lead Acid
Motor
1000W