Daymak 800W , 24V 4 Wheeled Mobility Chair Scooter in Red - Boomerbuggy V (R)
Daymak 800W , 24V 4 Wheeled Mobility Chair Scooter in Blue - Boomerbuggy V (Bl)
Daymak 800W , 24V 4 Wheeled Mobility Chair Scooter in Red - Boomerbuggy V (R)
Daymak 800W , 24V 4 Wheeled Scooter in Black - Boomerbuggy V (B)

Daymak 800W , 24V 4 Wheeled Mobility Chair Scooter in Red - Boomerbuggy V (R)
Boomerbuggy V (R)
$3,598.00
Literature
Features
This 4 wheeled scooter is stylish and sturdy. With extra stability and great maneuverability it's great for both indoors and outdoors. Comfort features include: Easy operation, fashionable design, Comfortable Deluxe Captain's style seat, 330lbs user weight capacity, sturdy and stylish steel tubing, Dual-direction rotation seat, Quick release tiller angle adjustment, Height & width adjustable flip-up armrests, adjustable headrest height. Comes standard with anti tippers and large carry basket. Offers good performance on indoor and smooth outdoor surfaces. Rear-wheel drive and compact size provide optimum maneuverability and accessibility.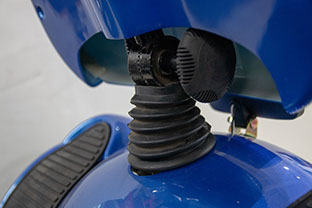 Adjustable Tiller
The Boomerbuggy V features an adjustable tiller. This allows you to pull the steering column closer or further from the rider. Simply spin the knob to loosen it and tighten it again once it's at the perfect positon!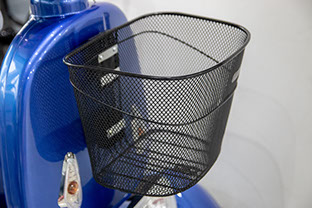 Front Mesh Basket
The Boomerbuggy V gives you a little bit of extra storage room with its mesh basket. Take this mobility scooter to the grocery store to pick up whatever you need or use it as a storage space for your bag or purse.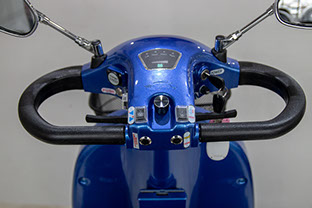 Push / Pull Throttle
Whether you are a righty or a leftie you can easily operate the Boomerbuggy V with the push / pull throttle. Go forward and reverse with ease by pushing and pulling. Great for those who have a disability in one hand.
Electrical
Motor
800W
Battery
24V 55AH Lead Acid
Battery Life
300-400 cycles
Removable battery
Removable only to replace
Charger input
110V-240V
Charge time
6 - 8 hours
Lights
LED
Dimensions & Weight
Max load
170 kg
Net weight
275 lbs
Dimensions Assembled
48" x 24" x 24"
Seat Height
29"
Seat Width
18"
Seat Length
19"
In Box Weight
300 lbs
Additional Information
Range
up to 50 km
Top Speed
13 km/h
Climbing incline
15 degrees
Tire size
15"
Gauges
Digital / Battery level
Brakes
Electronic Brakes
Key ignition
Yes
Shocks
No
Extras
Push and Pull Throttle / Adjustable Tiller / Adjustable Speed Knob