Daymak Electric Mobility Scooter With Bluetooth in Black - Roadstar Deluxe (B)
Daymak Electric Mobility Scooter With Bluetooth in Black - Roadstar Deluxe (B)
Daymak Electric Mobility Scooter With Bluetooth in Blue - Roadstar Deluxe (Bl)
Daymak Electric Mobility Scooter With Bluetooth in Red - Roadstar Deluxe (R)

Daymak Electric Mobility Scooter With Bluetooth in Black - Roadstar Deluxe (B)
Roadstar Deluxe (B)
$3,998.00
Literature
Features
The all new Daymak Roadstar Deluxe is now available. One of the biggest hits of last year has been upgrade and outfitted to be the hottest new mobility scooter this year! The Roadstar deluxe comes with all the features that made the original roadstar so popular; up to 40 km range, bluetooth mp3, lockable rear carrying case. Now the deluxe version has expanded on that and has built in hands free calling, so you can make phone calls on the road. Keep in touch with those important to you wherever you go. The Roadstar deluxe also comes with a single spotlight headlight that gives it a classic yet stylish feel. Get the new Roadstar Deluxe and see the reason why its truly a road star!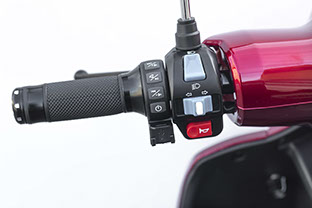 Bluetooth MP3
The Roadstar Deluxe comes with an MP3 module that connects to your phone to play your favourite songs.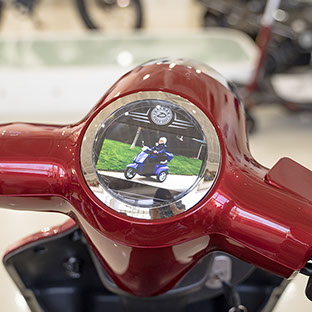 Interactive Display with Video
The Roadstar deluxe comes with an MPEG video player that can play videos right on your digital dashboard using a USB drive. Watch your favourite show or movie while your out on your errands. Remember, to pay attention to the road!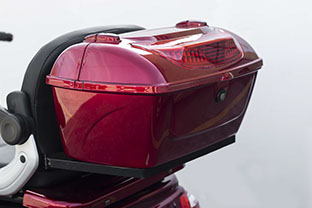 Rear Lockable Carrying Case
The Daymak Roadstar also features a rear lockable carrying case that allows you to make quick stops to the grocery store and pick up whatever you need or store your personal belongings for safe keeping. Don't let your mobility stop you from running your errands!
Additional Information
Gauges
Digital / Battery level / Speedometer / Odometer
Tire size
3.00 - 10
Climbing incline
20 degrees
Top Speed
up to 24 km/h
Range
up to 40 km
Dimensions & Weight
In Box Weight
270 lbs
Seat Length
17"
Seat Width
18"
Seat Height
29"
Dimensions Assembled
69" x 24" x 43"
Net weight
250 lbs
Max load
125 kg
Electrical
Lights
LED
Charge time
6 - 8 hours
Charger input
110V-240V
Removable battery
Removable only to replace
Battery Life
300-400 cycles
Motor
650W
Battery
60V 20AH Lead Acid
Additional Information
Extras
Locakable Carrying Case / Speed Adjustment Dial / Radio and Bluetooth MP3 Module / Hands Free Calling
Controller
Standard
Shocks
Yes
Key ignition
Yes
Brakes
Front Hydraulic Disc Rear Drum Brakes