Daymak 500W , 60V Offroad Electric Scooter in Black - BEAST 2 (B)
Daymak 500W , 60V Offroad Electric Scooter in Red - BEAST 2 (R)
Daymak 500W , 60V Offroad Electric Scooter in Black - BEAST 2 (B)
Daymak 500W , 60V Offroad Electric Scooter in Black - BEAST 2 (B)
BEAST 2 (B)
$3,198.00
Literature
Features
The Beast 2, a kick ass off road electric scooter that is too much fun to ride. The perfect solo getaway, take the Beast quietly through forest, and fields with nothing more than the sound of leaves crunching around you. The Beast 2 has comes with a Bluetooth controller so you can adjust performance on the fly. Take new paths and try new trails on the Beast 2 and enjoy all that Mother Nature has to offer. But that doesn't mean it can't be taken on road either! The Beast 2 is a fully street legal scooter. So whether you're in the city or out in the country, the Beast 2 is built ready to go wherever you want to.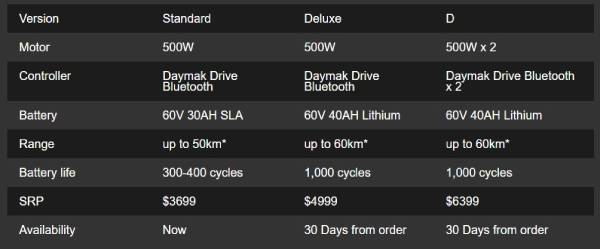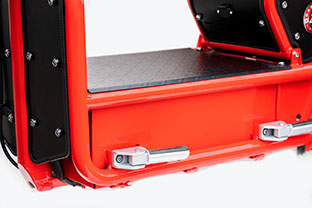 Battery Pack
The Beast 2 standard has a 60V 30 Ah lead acid battery pack. This is a 30% increase than the previous model. The Deluxe version comes with a Lithium Pack that is 60V 40ah.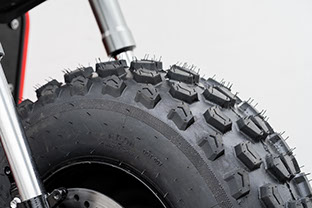 Front Wheel
Great for trails and roads with the signature 21" x 7" x 10". These knobby tires make riding in the outback a breeze. The Beast D version features an extra 500w hub motor on the front wheel. This extra motor will help you climb more difficult inclines and get you out of sticky situations.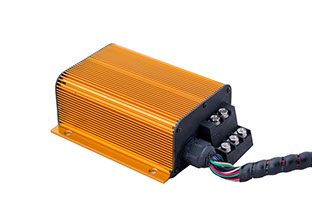 Bluetooth Controller
Configure the Beast 2 to perform exactly how you want with its tablet display and Bluetooth controller. Change your speedometer from km to miles, increase torque, range, and adjust your acceleration curve and more.
Additional Information
Climbing incline
15 degrees
Range
up to 50 km on throttle*
Dimensions & Weight
In Box Weight
TBA
Dimensions Assembled
TBA
Net weight
300 lbs
Max load
150 kg
Electrical
Lights
LED
Charge time
6 - 8 hours
Charger input
110V-240V
Removable battery
Removable only to replace
Battery Life
300-400 cycles
Battery
60V 30AH Lead Acid
Motor
500W
Additional Information
Tire size
21" x 7" x 10"
Gauges
Battery level, speedometer, odometer.
Brakes
Front and back disc brakes
Key ignition
Yes