PSB Speakers Centre Channel Speaker In Walnut - Alpha C10 (W)
PSB Speakers Centre Channel Speaker In Black Ash - Alpha C10 (B)
PSB Speakers Centre Channel Speaker In Walnut - Alpha C10 (W)

PSB Speakers Centre Channel Speaker In Walnut - Alpha C10 (W)
Alpha C10 (W)
$449.00
Literature
Make your home theatre come alive.
Leveraging the Alpha's classic award-winning design, yet reimagined for the modern home theatre, the C10 is a must for a more immersive experience whether you're streaming a movie, watching the big game, or enjoying your favourite show. With a black anodized aluminium dome tweeter, two 5¼" (133mm) custom woofers, and a rear-firing port, the affordable C10 delivers crystal-clear dialogue and cinematic sound that will bring movies to life. The high-quality MDF cabinet is finished in a beautiful woodgrain vinyl and can easily be set up under a TV for seamless integration with your home sound system no matter how you listen.
¾" (19mm) Black anodized aluminium dome tweeter with front waveguide
Two 5¼" (133mm) Textured polypropylene woofers with rubber surround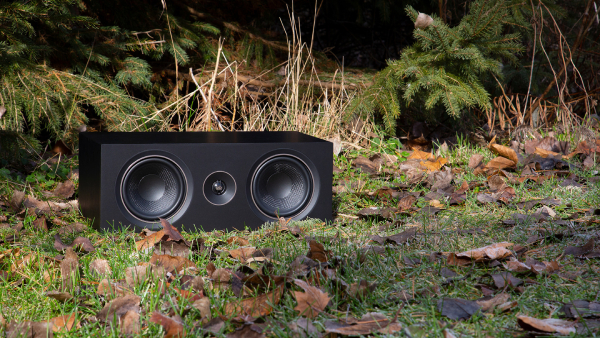 Hear everything in full detail
The C10 uses a ¾" (19mm) black anodized aluminium dome tweeter to extend the high-frequency response further than any Alpha ever before, while lowering distortion to deliver a layered soundstage full of detail and clarity. Unlike lesser designs at this price, all the new Alpha Series tweeters employ ferrofluid cooling to prevent dynamic compression and a neodymium magnet for high sensitivity. The tweeter's front waveguide and its unique placement below the woofer work together to smooth the response at the crossover and perfect on and off-axis performance.
Bring the cinema home
When paired with the Alpha Series' newly designed tweeter, the C10's custom 5¼" (133mm) woofer provides remarkable low-frequency response and the highest speaker efficiency in its class. The woofer is constructed from a special textured polypropylene compound that minimizes cone breakup and lowers distortion at full excursion. It's also supported with dual layer voice coils and a bass reflex design that uses the rear-firing port tube to control the bass response down to room-shaking levels.
Matched to perfection
The Alpha Series' new crossover exceeds speaker standards with a special custom design that does more than direct low and high frequencies to the individual drivers–it delivers the tightest control and the flattest frequency response. An unusually complex Acoustic Linkwitz-Riley filter design has also been incorporated into the crossover design to lower distortion and create a seamless soundscape in any type of two-channel setup or surround sound system.
Seamless home theatre integration
A unique combination of wall thickness and bracing controls resonances and provides a perfect platform for the C10's driver components, while its internal damping material is from PSB's flagship lines and has been positioned precisely for optimal effectiveness. Finished with a high-quality wood grain vinyl and magnetically attached grilles that are acoustically transparent, the C10 is perfectly designed to sit alongside your furniture and provide rich, detailed sound.
¾" (19mm) Black anodized aluminium dome tweeter with front waveguide
Two 5¼" (133mm) Textured polypropylene woofers with rubber surround
Bass reflex cabinet design with a rear-firing port
Acoustically-transparent detachable magnetic grilles
Dual five-way gold-plated binding post speaker terminals
High-quality woodgrain vinyl finish
Available in Black Ash or American Walnut
Frequency Response
On Axis @ 0° ±3dB
55-21,000Hz
On Axis @ 0° ±1 1/2dB
65-20,000Hz
Off Axis @ 30° ±1 1/2dB
65-10,000Hz
LF Cutoff -10dB
37Hz
Sensitivity
Anechoic Chamber
88dB
Listening Room
90dB
Impedance
Nominal
8 Ohms
Minimum
6 Ohms
Input Power
Recommended
15 – 120 Watts
Program
60 Watts
Acoustic Design
Tweeter (Nominal)
3/4" (19mm) Black Anodized Aluminium Dome with Ferrofluid and Neodymium Magnet
Woofer (Nominal)
2 x 5 1/4" (133mm) Textured Polypropylene Cone with Rubber Surround
Crossover
2,500Hz, LR4
Internal Volume
0.44 cu ft (12.5L)
Design Type
Tuned Port Bass Reflex 2" (49mm) Rear Port
Dimensions / Weights / Finish
Size (W x H x D)
17 3/4" x 6 3/4" x 9 3/8"*, (450 x 170 x 243mm)
Weight
17lb (7.7kg), 19.9lb (9.0kg)
Finish**
Black Ash, Walnut